ユーキューホルダー! Manga Review
UQ Holder Chapter 87
SPOILER Summary/Synopsis: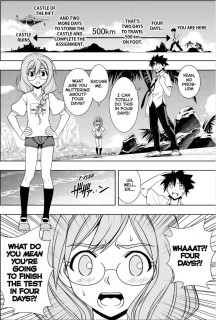 Kirie is not happy with Touta's desire to get their task done in four days. Even if they get to the castle in two days, Kirie suspects that it will take more than two days to achieve their objective and she's suspicious of Dana's giving them a month to complete their task.
Touta tries to take off, but Kirie stops him since she wants to make a save point. She points to a nearby castle, that looks a lot like Dana's castle, where Kirie has been training in magic. As such, Kirie knows her save point will work here. Touta impatiently waits for Kirie to set up a save point that has to last a month. When she's done, he immediately takes off, causing Kirie to have to stop him again so she can summon a familiar and have it make a map.
Kirie lets Touta know that she secretly set up a mana beacon at Dana's castle, so now they know which direction to go. The direct path is 50KM of ocean. She's about to offer him a ride on her broom when a giant squid-like monster emerges from the water, sending out tongue tendrils at Kirie. Touta takes the hit and gets pierced and torn to pieces before being consumed. Using shundou, Touta bursts out of the monster and regenerates.
Kirie makes Touta get cleaned up, where she scolds him about dying so often. He returns that on her by pointing out how many times she says she's used to the pain of dying for her save points. She says that he has a long way to go as a real master wouldn't even have allowed that monster to touch him. He wants to know more, but he's ready to go, much to her annoyance.
She tries to give him a lift on her broom, but it doesn't work with him on it. Using shundou, Touta is able run on the surface of the water as he is determined to make his meeting with Kitty in 63 hours.
Thoughts/Review:
The one thing I note from this chapter is that Akamatsu-sensei is attempting to explain how Eva has a castle in her diorama like Dana's rift castle. We learn that there's such a castle nearby (conveniently) where Kirie did her magic training. So presumably, Eva snagged one such castle.
Also, Eva's interlinked diorama locations in Negima! appear to be a poor man's version of what Dana can do when Dana dispatches folks anywhere in space and time.
The next thing I note is that while within Dana's rift castle, Kirie apparently cannot use her save point ability. So I guess if she were killed in there, that would be the end of her, unless she has other immortal abilities to regenerate.
Touta's irritating trait of being a brainless idiot continues in this chapter. "Me want see Kitty so me must run fast. Run fast get there fast, even if me not know which way to go. Run fast get there fast anyway, so no matter which way run. Hey! Me now run on water! Me awesome!"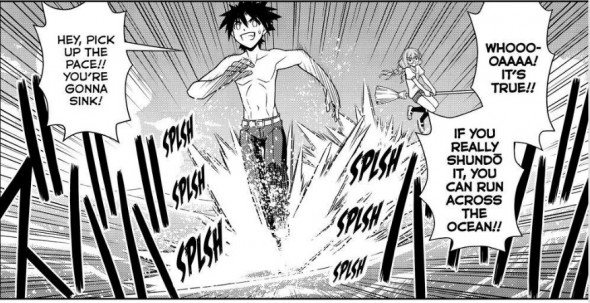 It is a good thing that Touta has Incredible Hulk pants, meaning they are pretty much indestructible.
I was thinking of how the giant squid monster here is what we thought the giant squid monster in Negima! would be, except there, that monster just ate Chisame's clothing to get her naked. Here, we do get the vicious monster type, which allows us to see Touta using his shundou technique in an unexpected way to burst out of the monster.
Kirie's remarks about what an ultimate fighter would be like, combined with the image back of Jack Rakan behind her, one wonders if she was specifically referring to him. She then claimed not to know more about this, but I tend to suspect she does.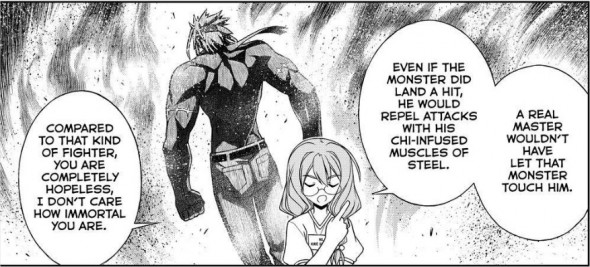 So now the journey begins. We'll see if Touta and Kirie have to do a reset or two (or not). Realistically, I would have to believe that in order to get the job done in four days, a few resets will have to be in order. If nothing else, Kirie might reset to make sure she gets the objective first.
Finally, Akamatsu-sensei was really keen on sexing Kirie up with the chapter's splash page.
In the end, even though I wrote a lot, I really don't have any feelings one way or the other about this chapter.