境界のRINNE ep 21
Kyoukai no RINNE – 21

SPOILER Summary/Synopsis: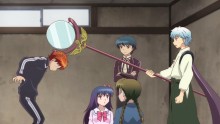 Kain brings his department's cash bonus in a duralumin case, only to find the money replaced with a loud cracker. Ageha comes by Rinne's place, along with Tsubasa and Sakura, to tell Rinne of Kain's misfortune. Sakura notices Rinne has such a case, which he says isn't his and had been left there. When the case is opened, Rinne passes out because of all the money. Kain enters and attacks since it looks like Rinne stole the money. Things go worse for Rinne when Masato causes Rinne to appear to escape, but in fact Masato takes Rinne to the school roof.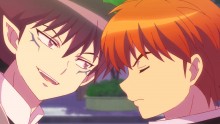 Masato tells Rinne that he'd planned to give Rinne a duralumin case filled with a giant, loud cracker, but when he left the fireworks place in the realm of the dead, he was beset upon and knocked out by a pegasus pulling a cart filled with duralumin cases. When he came to, the only case left was the one he left with Rinne, which happened to have Kain's bonus cash in it. Masato cuffs Rinne to the money case as Kain approaches, so Rinne implies that he's working for Masato and forces him to flee with Rinne in tow. Masato tries to tempt Rinne to spend the money, but Rinne refuses.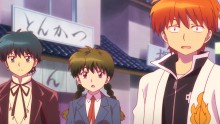 Masato and Rinne go to the scene of the crime, where Rinne learns from the fireworks store owner that Masato not only didn't pay, but set off fireworks in his escape that caused the pegasus to freak out. Later, Kain, Ageha, Tsubasa, Sakura, and Rokumon arrive at the same place, where Kain also talks of how a pegasus ran him down and knocked him out. Rinne is eventually able to determine that the two cases were accidentally swapped in the accident. Masato decides to burn the money out of spite, so Rinne has the case attack Masato, via a Yorishiro Sticker. As payment, Rinne takes ¥10,000 of the bonus to cover his expenses and trouble.
Thoughts/Review:
I don't remember this from the manga at all, so it was either a manga story from beyond where I stopped reading, or it is an anime-exclusive story.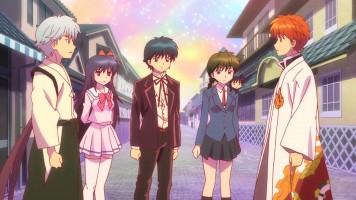 "Who done it" stories aren't my thing, but for what it was, this story was fine. I'm guessing there might have been an element of Detective Conan in it, considering the mystery aspect.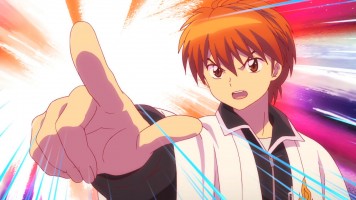 I will admit to chuckling at Rinne passing out due to the sight of so much money in the case.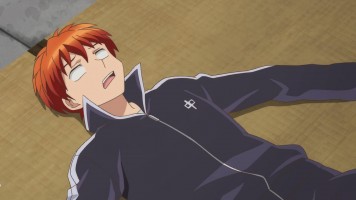 There was mild amusement for me at how Rinne turned the tables on Masato to put him in Kain's crosshairs. Masato's antics, while predictable, aren't annoying like Sabato's are.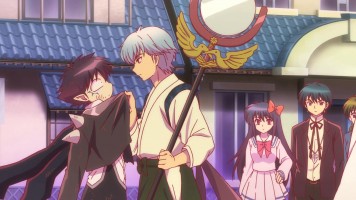 I was also amused by how Rinne didn't want an apology from Kain for jumping to conclusions, and just took ¥10,000 in payment. The shocking part of this is the fact that apparently Rinne still has the money at the end of the episode.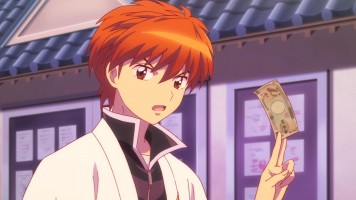 There wasn't a lot for Sakura, Tsubasa, and Ageha to do, but I do like that the group gets together as a group. I'm still going to ship Tsubasa x Ageha. 😉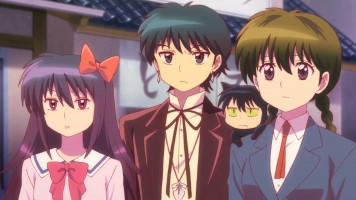 Finally, the yen notes in this episode had Genma from Ranma 1/2 in panda form, which was a nice tribute to that series.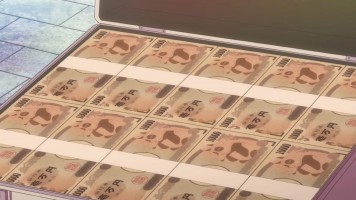 I think Inuyasha also got a nod since the sticker Rinne used the 犬 kanji to make the case become very dog-like.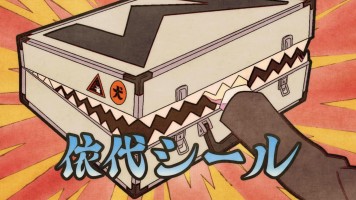 In the end, while this episode's mystery format wasn't my cup of tea, it was entertaining for what it was.