ユーキューホルダー! Chapter 92 Manga Review
UQ Holder Chapter 92
SPOILER Summary/Synopsis: 
Kitty is waiting for Touta when he arrives with Kuroumaru, Kirie, and Santa. When she races up to Touta, tearfully embracing him and going for a kiss, Touta immediately realizes that this is not Kitty. Demanding to know her true identity, Dana sheds the disguise, praising him for having seen through her illusion. Touta fears they didn't make it in time, however, Dana says they did, which is why she wanted to reward him. Kirie demands to know what is going on, so Touta tries to explain that he was going to meet a younger Yukihime for the first time in 287 years. Kirie doesn't understand, so Touta doesn't attempt to explain future.
Touta requests that Dana let him see Kitty. Dana says he'll regret it, but since there's no putting Touta off, she bluntly tells him that after 287 years, Kitty has forgotten all about Touta and her promise to him. Touta is shocked by this, so Dana reminds him that 287 years is a long time and that in that time, memories fade and circumstances change.
Kirie heavily teases Touta about being dumped, but she's dismayed when Touta takes a mature attitude about this, citing how he's happy for Kitty as long as she's happy. Dana praises him for his response and causes a giant, Gothic window to appear. Through this window, Touta will be able to see what Kitty was doing at the moment when she was supposed to meet him. Kirie is irritated when Touta says he doesn't have to check in on Kitty, so Dana baits him by implying that at this time in Kitty's life, she may not be looking forward to her future and that whether he looks or not won't change anything.
Touta takes the bait and leaps up to where this giant window floats above them. Looking down, Kitty appears to be in a giant cathedral, a massive cloak swirled about her, and a massive ring of icy, thorny vines all around, culminating in ice roses. A couple of bat-like wings are on her back and at her feet lay the shattered remains of soldiers whom were apparently frozen. Touta is stunned by this and pounds on the window, screaming the name "Yukihime" until the girl turns and looks his way with a cold, dead stare.
Thoughts/Review:
Well now, well now. This chapter had a lot of positives in it for me, and I hope this leads to a long stretch of seeing Eva's life in the past.
For starters, although I normally hate Touta's being able to do anything, I liked how he was able to see through Dana's illusion. That's because here, it made sense. He'd lived with Eva for a couple of years, so he knew her from that level, and he'd gotten to know her younger self as time flowed for her. As such, it makes sense that he'd know that Eva, whether as Kitty or as Yukihime, would not try to kiss him.
I give Touta credit as a character for again taking a mature route when it came to hearing the news that Eva had forgotten both him and the promise. I've no doubt that he was disappointed, but at the same time, I genuinely believe he was happy for Eva as long as Eva was happy.
Further, I like how Touta's mature attitude was almost as good as Kirie getting a massive, backhanded slap that sends her flying across the room. Kirie has been desperately trying to take over the position of "most irritating character" of late, so I'm happy to see her figuratively smacked down.
For me, as a long time Eva fan, the best part of the chapter was seeing Eva from 450 years ago. It felt like Eva was in some sort of cathedral with the giant Gothic windows (I also had a feeling of the old Diablo game for some reason). We see her with her cloak, which also doubles for bat wings. She seems to have used it as a melee weapon along with some powerful ice magic, possibly after having used ME (but that's really speculating there). The shattered soldier bodies all around her indicate she has just slaughtered them all. This is her Dark Evangel time, I think.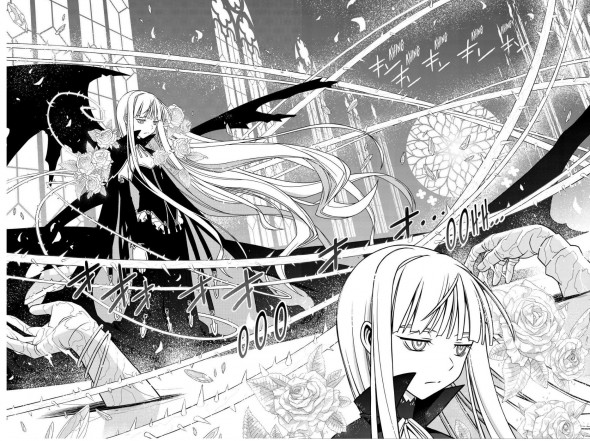 As to the cold look on her face, I was immediately reminded of the scene in Negima when Eva briefly told Asuna and Setsuna a bit about her past. She kept trying to get Asuna to understand all the death that she (Eva) was responsible for and how she knew what she was doing. I think this is the time just before Eva fled to that island, where she's having to kill people left and right. She's become "evil" by her own standards.
I'm REALLY wanting Akamatsu-sensei to delve deeper into Eva's past. Seriously, this is the stuff I was so frustrated we didn't get to explore in Negima, and this is the perfect time to do so in UQ Holder. We've done it somewhat so far, but I want it done a lot more.  I want to see Eva's biography, including how she ended meeting Nagi and Ala Rubra, how she didn't know about Aika, and then finishing with Nagi defeating her, cursing her, and then showing a montage of Eva's redemption through Negi.
The one thing I was disappointed in was not seeing evidence of Chachazero in the the fight. Granted, based on Eva's skills, Chachazero could easily be elsewhere, slaughtering away. I'd actually still like to see when Eva made a pactio with Chachazero and how Chachazero "came to life" as it were.
In the end, this was a highly enjoyable chapter for me. I'm really hoping we continue exploring Eva's past.