K-ON! College Manga Review
けいおん!college Manga Review
***MILD SPOILERS***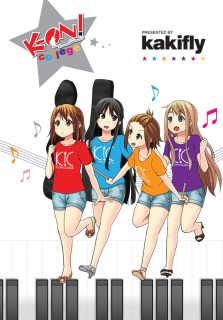 With our musical, female quartet having graduated, it makes sense to have a sequel to the K-ON! manga show our girls in college. Thus we have K-ON! College as one of the two sequels to that original manga series.
As with K-ON!, K-ON! College is mostly a 4-koma manga (comic strip) with an occasional, traditional manga chapter. Mio, Yui, Ritsu, and Tsumugi are attending the same college, living in the same dorm, and naturally join the college's pop music club. Living in their dorm are new characters Sachi, Akira, and Ayame, who are also members of the pop music club and have formed their own band to rival our four girls' band.
K-ON! College continues the slice-of-life stories with Mio and company making new friends with Sachi and company while still having a rivalry of sorts. It was fun seeing Tsumugi taking the decision to separate herself from her ojousama past and stand on her own two feet without the financial backing that she had in high school. The girls having their usual antics with each other are fun, and the new girls in the mix add a lot to the fun as well. So if you liked the K-ON! manga, I think you'll like the K-ON! College manga.
I was kinda hoping we'd see the girls go through their entire college life, but unfortunately, it appears that Kakifly-sensei decided that giving us a single volume showing the girls in college was enough.
On the Yen Press side of things, as before, they included a lot of color pages. As such, throughout the manga, there are color pages when those chapters were colorized in Japan. The core Japanese honorifics are retained.
As before, Yen Press has translator notes (two pages), but also as before, they reverse the flow of things when publishing them. As I said before, I have NEVER understood why some publishers thing that after reading an entire book "backwards" (by Western standards) that we'd suddenly see straight forward text and go, "Hmmm. Text means must read Western style or universe come to end." *_* Being that there are only two pages, it isn't quite as bad, but it still makes NO sense to reverse the flow of page reading just because you have text in the page. It is quite jarring and irritating.
In the end, K-ON! College manga is a fun continuation manga that is a little short. However, it will make it to my reread stack of manga titles.