Kyoukai no RINNE 2 Coming Spring 2016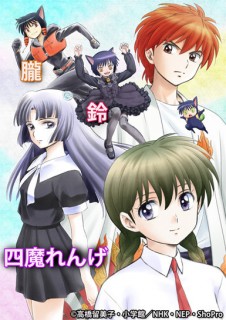 Hey everyone,
One of the anime series I've been episode blogging is Kyoukai no RINNE, which is an adaptation from the manga of the same title (published by Viz as RIN-NE). After nine volumes of the manga, I grew weary of it, but when I tried out the anime adaptation, I was pleasantly surprised that Brain's Base took the manga's various, meandering, random stories and put them together in a more cogent fashion that is both interesting and funny.
For those who don't know, Kyoukai no RINNE is the story of the teenage shinigami Rinne, who's saddled with massive debts, thanks to his worthless father. He attends high school with Sakura, a girl who can see the supernatural and for whom he has a big crush on. Other characters are Tsubasa, a Christian exorcist (though the anime downplays the Christianity part) who knew Sakura in elementary school and for whom he also has a crush on. Rounding out the core cast is Ageha, a rich, teenage, female shinigami who's missing sister actually works for Rinne's criminal father. Rinne makes a living by taking exorcism jobs, and making fake roses in his spare time.
Blog reader D-Omen alerted me to a new, sequel Kyoukai no RINNE 2 series is in the works, slated for the spring of 2016. Since I've enjoyed the first series a great deal more than the anime, I'm rather looking forward to more of the antics of Rinne, Tsubasa, Sakura, Ageha, and others. Since I know that the manga's creator, Takahashi-sensei, has a penchant for adding tons more characters (combined with the new, promo artwork), I will also be interested in seeing how Brain's Base deals with that.
Thanks D-Omen for the alert! 🙂