Here is some SPOILER info for the upcoming UQ Holder Chapter 98, courtesy of 2ch.  (My review of UQ Holder Chapter 98 should come out late Tuesday night or Wednesday, U.S. time, depending on when Crunchyroll publishes the chapter.)
UQ HOLDER Chapter 98 SPOILERS
The UQ Holder Chapter 98 goodness begins.^_^
This looks to be Chapter 98's spoilers. Note: I have included the entire post of the spoiler poster, though it is possible that only half of the post is for spoilers.
いらっしゃいませ お客様

新たな恋人候補の参戦に、歯噛みするのはUQナンバーズ……だけではなかった!!
刀太がしのむもどきといろいろ話しこんでいると雪広お嬢(みぞれ)が乱入
みぞれは刀太がネギ(教え子30人切り)・ナギ(100人ハーレム持ち)の血を引く危険人物扱い
みぞれ「全盛期には視線だけで女を孕ませたと言うわ!」
キリヱ「ちょっ…アンタ意味わかって言ってんの!?」
刀太を見事な格闘術で成敗しようとするが、あっさり返されお姫様抱っこされる
ちょろインいっちょあがりである
みぞれ「私のお婿さんになりなさい!! いいわね!これは命令よ!!」
刀太「ごめんなさい お断りします」
九郎丸「こ…これが 人間の女の子の力…!」

刀太は九郎丸と一緒に修行中
刀太「いやーしかしいきなり お婿になれとはなーあのお嬢様 さすがにビックリしたぜ」
九郎丸「全く…自分で同じことやっといて君は」
刀太「ハハ…そうだな反省するぜ」
だが、刀太はしのむもどきもみぞれも悪く思ってはいない様子
九郎丸「刀太君… 僕も…前から 君のこと す…」
■九郎丸、勇気を振り絞って… い ざ 告 白 ! ?
There's talk of Nagi having 100 pactio partners and Negi having 30. And while it doesn't happen this chapter, there's talk of Kuroumaru confessing. Become a lovely girl already and lets end this not funny joke about Kuroumaru's gender.
And now, a new spoiler source from a spoiler website. They appear to be a little more detailed.
『いらっしゃいませ、お客様』

————————————–

新たな恋人候補の参戦に、
歯噛みするのUQナンバーズ

刀太が忍と色々話し込んでいると
雪広お嬢(みぞれ)が乱入

みぞれは刀太がネギ(教え子30人切り)・
ナギ(100人ハーレム持ち)の血を引く
危険人物扱い

みぞれ
「全盛期には視線だけで
女を孕ませたと言うわ!!」

キリエ
「ちょっ…アンタ意味
分かって言ってんの!?」

————————————–

刀太を見事な格闘術で
成敗しようとするみぞれ

だがあっさり返され
お姫様抱っこされる

みぞれ
「私のお婿さんになりなさい!!
いいわね!これは命令よ!!」

刀太
「ごめんなさい、お断りします」

九郎丸
「こ…これが人間の女の子の力…!」

————————————–

刀太は九郎丸と一緒に修行中

刀太
「いやーしかしいきなり
お婿になれとはなーあのお嬢様
さすがにビックリしたぜ」

九郎丸
「全く…自分で同じ事やっといて君は」

刀太
「ハハ…そうだな反省するぜ」

だが、刀太は忍もみぞれも
悪く思ってはいない様子

九郎丸
「刀太君…僕も…前から…
君のこと…す…」

煽り
「九郎丸、勇気を振り絞って…
いざ告白!?」
OK, now to wait for a gracious person to give us a translation. 😀
Update #1: A translation from Gamen.
Welcome guests

At the participation of a new candidate for lover, The one's grinding their teach are the UQ numbers… but not only them!!

Touta talks a lot about many topics with Shinomu Modoki and young lady Yukihirou (Mizore) butts in.

Mizore treats Touta as a dangerous individual who inherits the blood of Negi (at most 30 students) and Nagi (has a harem of 100 people).

Mizore: "In their heyday with just a look they could get a woman pregnant"
Kirie: "Wait… Do you understand what you're saying!?"

She tries to punish Touta with splendid hand-to-hand combat skills, but she is easily countered and held in a princess carry.

Easily handled.

Mizore: "Become my husband!! It's fine, right? This is an order!!"
Touta: "I'm sorry, I refuse."
Kuromaru: "Th… This is the power of a human girl!"

Touta goes training together with Kuromaru.

Touta: "Haa… But really, suddenly asking me to be her husband- That young lady was really surprising."
Kuromaru: "Seriously… You did the same thing yourself."
Touta: "Haha… That's right, I'll reflect on it"

But, Touta doesn't look like he poorly thinks of either Shinomu Modoki or Mizore.
Kuromaru: "Touta-kun… I also… for a while have li…"

*Kuromaru, muster your courage…. A confession comes!?

(The second spoiler is word for word the same as the first, just formatted differently.)
Man, I'm so tired, I'm missing stuff left and right. Thanks for the translation!
Update #2: First spoiler image, from the spoiler site mentioned above.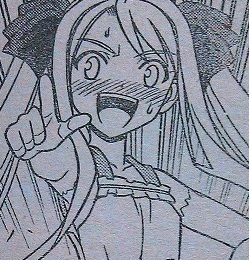 I've been so out of things this weekend. But, here's Mizore. I'm still laughing at the, "In their heyday with just a look they could get a woman pregnant" line. 😆
Update #3: 2ch has more images.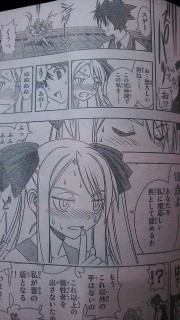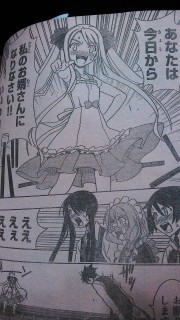 It is actually starting to feel like Negima times with all these early spoiler images. 😛
Update #4: Man, 2ch has really been image happy today. Very unusual.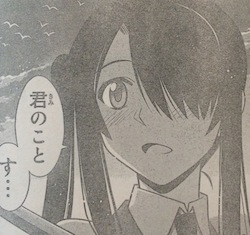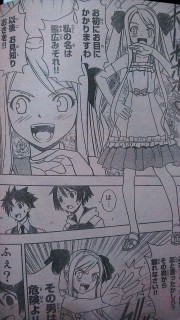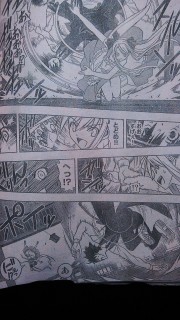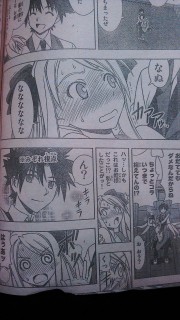 Fun, fun. ^_^