ユーキューホルダー! Manga Review
UQ Holder Chapter 99
SPOILER Summary/Synopsis: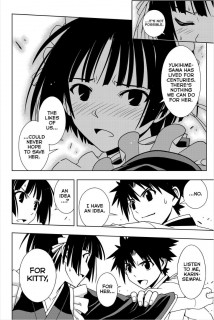 Kuroumaru attempts to confess to Touta, who thinks Kuroumaru's declaration is one of a friend, not romantic love. As such, he states he "loves" Kuroumaru too, but also cites how he loves his other comrades. Kuroumaru can't believe that Touta didn't get it, but in a way is glad that he didn't get it and wonders what would have happened if Touta had gotten it. Touta tells Kuroumaru that he loves her best (as a friend) , which causes Touta to be happy to hear than and then acknowledge that "she" likes Touta as a girl loves a boy.
Shinobu is wearing the inn's maid costume and shows it to Touta, who approves. Mizore greets Touta with a flying kick and as she's also wearing the inn's maid uniform, she wants him to compliment her. She doesn't like how he doesn't approve and leaps on his back, which an annoyed Kirie observes, realizing that Touta is about to be taken, then loudly denying that she's in love with him.
Karin arrives to chastise Touta for not working, but Touta cites that they have no guests, so Karin challenges him to a fight to teach him a lesson. Touta is happy to do so, and Karin is interested in learning if Touta has surpassed her after training with the witch. Karin tells him if he loses the match, he has to leave UQH HQ. Touta happily agrees, saying that if he wins, they'll have tea together. When she questions this, he says he wants to talk to her, which annoys her and she attacks.
As they battle, Touta reveals that he met Yukihime when she was 16. Karin initially doesn't believe it, then realizes that Dana could make that happen and so becomes unbalanced and attacks, wanting to know details. In her frustration, Karin brings out her sword and mallet to continue to attack, so Touta produces a portable hoop so that he can use his powers. He tells Karin that he'll do anything for Yukihime and that he knows Karin will as well. As such, he wants to work with Karin to accomplish this. Karin says there's nothing they can do for Yukihime, but Touta disagrees, saying he's going to save the world for her and he wants Karin to help.
Karin becomes angry and presses her attack. Touta lands a gut punch, which causes Karin's clothing to disappear. Karin is surprised by his power as Touta tells her he's serious about this.
Thoughts/Review:
For most of UQ Holder, I've disliked Touta. Things came too easily for him when it came to gaining more power. He would leap before he looked. He came to whacked assumptions that would make my eyes roll. He was just so unlikable to me. And yet of late, I find that I no longer have a hatred of Touta, and that includes this chapter.
OK, I admit that even in this chapter, Touta has his whacked assumption when it came to Touta's love confession. To be fair though, in the Japanese, Kuroumaru's confession is in what folks have told me is the more masculine version — suki-da. And "suki" can be "like" or "love", depending on how the speaker says it. Touta may have been thick here, but he doesn't know that Kuroumaru is gender-neuter. Further, he thinks that Touta is a guy, so having a guy say what Kuroumaru said, I can understand how Touta took it as more of a, "I like you" confession.
As to Kuroumaru, seriously, Kuroumaru just has to become a lovely girl now. I think that will happen, and time wise, it should be about that time when Kuroumaru chooses a gender, or just becomes a girl automatically. I really want Kuroumaru to take another step and be honest with Touta regarding the fact that Kuroumaru has no gender at present. I can see Touta saying, "If you want to be a girl, that's cool. I still like you best (as a friend)." 🙂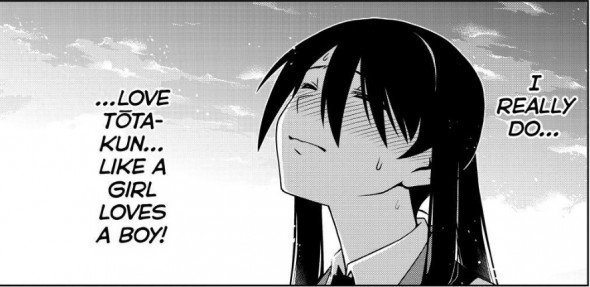 While Shinobu may evoke Shinobu from Love Hina, Mizore takes her ojousama part from Ayaka (obviuosly) in Negima, but she's also part Su, part Sarah from Love Hina. I actually like the way Touta handled Shinobu and how he handled Mizore. I realize this is part of his thickness, but having an unphased harem lead male is something I like. The more he ignores the girl's who come onto him, the more they'll try to get his attention (at least, that's how it usually works with girls in the real world).
As to Touta's battle with Karin, her defeat at his hands didn't make me roll my eyes at Touta as it might have done in the past. Touta's win came from him taking her off her game. The way the fight went, it came off as a calculated ploy on Touta's part. He really wants to have a talk with Karin and he knows how she goes off the deep end when it comes to Eva. As such, he seems to have used that to his advantage.
Plus, there's the fact that Karin lived up to her Japanese fandom nickname of "Useless-senpai". I like Karin as a character, but sadly, the reason she was made useless was to allow Touta to be the hero. As such, Karin goes into things serious, but overconfident. That came off when she challenged Touta, and I get the feeling that Touta, having observed Karin in combat long enough now, understood this as well.
What I'd dearly love to see from Karin's defeat is an exploration of Karin's past and her involvement with Eva. Let her and Touta have their tea where Touta tells his story (off camera, as it were), but we get to see Karin's story after Touta asks for it. That would be great, but somehow, I don't think we'll get it. I do think we'll get some more blushing Karin, who eventually joins the Touta harem (along with Kirie).
Finally, there's the Ayaka and Chachamaru tease of a few weeks ago.  This is the part that irritated me. I'm glad to have seen the two characters, and I know this isn't Negima, but the ONLY reason you tease those characters is bait Negima fans. Unfortunately, Akamatsu-sensei trolls us hard by having them return to wherever they came from without us seeing them chat with Eva,  then leave Mizore behind for whatever reason. (I can't seriously believe that they came to the island so that Mizore could claim Touta as a husband, considering she's still a child.) I only bring this up because this chapter clearly stated that there were no guests in the inn, meaning no Chachamaru or Ayaka.
In the end, I found I enjoyed this chapter a lot, even to the point of actually liking Touta in it.