ハヤテのごとく!/Hayate no Gotoku Manga
Hayate the Combat Butler Chapter 512 Review
SPOILER Summary/Synopsis: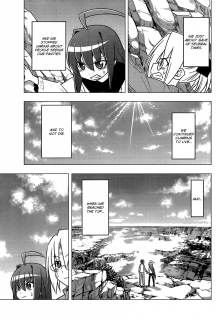 Chiharu is in the Grand Canyon, wondering how they are supposed to find the gold coins worth ¥10 million since the map they were given is pretty worthless. She wants to give up, but the completer isn't responding. To make matters worse, she doesn't even have her phone. After a few hours, there's no help and she's lost.
Deciding to explore a bit more, Chiharu runs into Ruri, who turns out to also be lost, lamenting how her plotting was for naught. As such, they decide to work together to get out of their current situation. They then decide to climb out of the canyon to get a look at the surrounding area. As they climb, Chiharu asks about Ruri's remark on plotting. She says that she was hired to acquire something, but since the item is apparently fragile, she's had to be careful.
Despite wearing a short skirt and being embarrassed by her panties showing, Ruri gets over it as she and Chiharu make the arduous climb out of the Grand Canyon. Unfortunately, while the view is nice, they are still just as lost as they were before.
Thoughts/Review:
Well, this was a chapter much ado about nothing…mostly.
Having a chapter devoted to Chiharu, and eventually Ruri, being lost in the Grand Canyon doesn't make for very riveting reading. Not only that, the attempts at gag humor fell well short of the mark.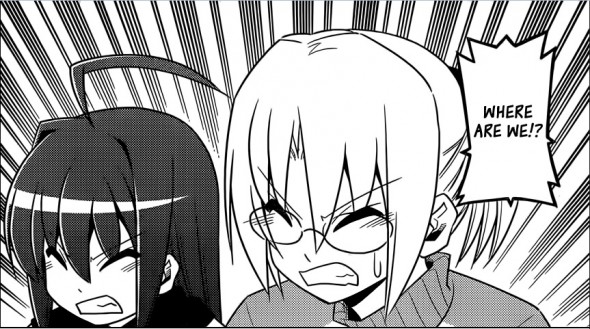 The only thing of note in this chapter is Ruri giving us a bit of tease information about her being hired to do this job to acquire something, presumably the King's Jewel. Whether this turns out to be of any significance remains to be seen.
I do get the feeling that Hata-sensei is doing an acknowledgement of his own failure in plotting and is voicing that through Ruri. At the same time, I think he might also be trolling fans (which he's done before) by that cliffhanger last week turning into nothing.
In the end, this chapter really was much ado about nothing.