ハヤテのごとく!/Hayate no Gotoku Manga
Hayate the Combat Butler Chapter 511 Review
SPOILER Summary/Synopsis: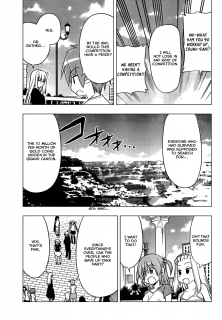 Hayate and Nagi are in a gift shop, looking for souvenirs, but when he learns that a t-shirt costs $20, he decides that he'll bring back toilet paper from the hotel for Maria and Las Vegas sand for Ayumu. Nagi reminds him that he's pretty much rid of his debt, so he may has well spend money. Hayate rejects this, citing the Kochikame Pattern, whereby people who pay off debts get caught up wasting money and get more debt. Since Hayate doesn't want to get a ¥300 million debt, he's going to be frugal.
Elsewhere, a furious Yukiji can't stand the fact that Hayate won ¥150 million when she picked up ¥28 million in debt, which she voices to Kayura and Chiharu.
Back in the hotel, Hina ponders the situation of Hayate paying off his debts, but while she wants to take action, she doesn't know what her next move should be.
Meanwhile, Hayate and Nagi are walking and discussing the forthcoming trip to the Grand Canyon when they run into Kananiwa. She mentions doing another orientation, since her final contest at the Grand Canyon was never done after Hayate got them to do the card game. The angry and frustrated Yukiji shows up, demanding a chance for redemption. Hayate realizes he's being dragged into a situation he doesn't want to be in, which is aided by Isumi who wants to participate.
When Kayura asks about a possible prize, Kananiwa says there are ¥10 million in gold coins hidden in the Grand Canyon. Others want to join this, which Kananiwa is fine with. Hayate doesn't like this, but Nagi says that since his prize money isn't at stake, it is just a fun game. Hayate ponders this and wonders why Yukiji is OK with picking up a mere ¥10 million when she owes ¥28 million. Sister Sonia asks this privately of Yukiji, getting the response that one never knows what will happen in a competition.
Back at the hotel, Sakuya reports to Mikado that Nagi (and Hayate) have Kananiwa's King's Jewel. She says she can get it, but Mikado asks her to leave it alone and warns her to be careful as he thinks an assassin as been sent to get the stone.
Thoughts/Review:
So after a very pointless school trip arc so far, Hata-sensei may have discovered a bit of motivation for writing something a bit meaningful and explain Ruri's presence, which up until now, was merely fanservice for those of use who'd watched the Can't Take My Eyes Off You anime.
Hayate having won the ¥150 million was anti-climactic to me, but while I felt this meant that Hata-sensei wanted to end the manga, I accepted that Hayate had the funds to mostly pay off his debt and wanted to see where Hata-sensei would go from there. With this chapter, Hata-sensei is putting out the notion that Hayate may well end up with ¥300 million in debt before all is said and done. If the status quo is returned with Hayate getting more debt, I think I will be quite angry.
Regardless, we get one more competition where everyone is involved. Suggesting that Ruri might be an assassin is a bit interesting, but she still hasn't been properly set up as a character. Ruri addresses Nagi as "oneechan" in the manga, but that hasn't been touched properly. I can only assume this was done because Ruri in CTMEOY had a story arc where her goal was to get close to Nagi by pretending to be Nagi's younger sister and thus addressed Nagi as oneechan. It is unfortunate that Ruri hasn't properly been set up in the manga.
As to Yukiji, I'm hoping for her to really receive some massive punishment. More than that, wouldn't it be cool if this next sub-arc allowed us to get a deep exploration of Yukiji's and Hina's past?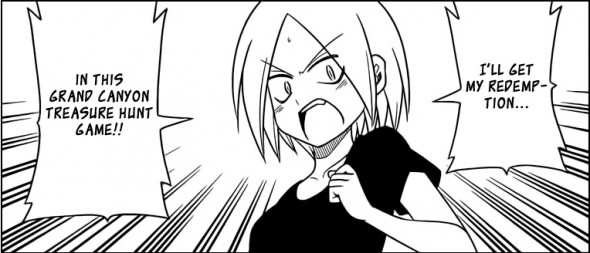 Speaking of which, since we are going to have one more story in Vegas, I suppose it is too much to hope for that Hata-sensei will actually put effort into this and give us something meaningful. I don't mind gags and such, but I want to see really good stuff in terms of characters and plot. How awesome would it be to have Nagi's father brought into the story as he was in the anime? (Not saying the same way, but in a similar way.) Or as I mentioned, a really good look at Hina's and Yukiji's past.
Still, with us going into the holiday season, I can't see us getting too much in the way of plot. Hata-sensei sometimes surprises us, but I figure he'll follow the pattern he did last year (presuming he isn't attempting to get this manga ended as soon as possible).
Finally, I was amused by Hata-sensei's comment on the splash page by naming the chapter, "The More I Drew, the Cuter Kananiwa-san Became." I'd recently chatted with other Hayate fans about Kananiwa vs. Dolly from Can't Take My Eyes Off You, and this topic came up, so it was more meaningful and amusing to me.
In the end, this chapter implies there might be interesting things to come, but also that the status quo might be restored. Nothing to do but wait and see what Hata-sensei decides to do with this.