ユーキューホルダー! Manga Review
UQ Holder Chapter 103
SPOILER Summary/Synopsis: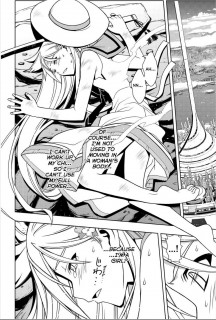 Kuroumaru finds she can't work up her chi because she's not used to a woman's body and is defeated by Asura. Asura asks why Xinxai attacked when Touta's off the capture list (of Fate's), so Xinxai smirks and said it couldn't be helped since Touta attacked him.  Kuroumaru attacks again to save Touta, leading Xinxai to realize she's immortal, even if he doesn't recognize her. They throw her out of the window of the observation level of the tower and defeat her again.
As she sinks into Xinxai's shadow trap, she decides she doesn't want to be protected by Touta as a girl, but fight as his partner. As such, Kuroumaru emerges with her old hairstyle and no female breasts, indicating a shift out of female mode. Kuroumaru rescues Touta, but since the the police are coming, Xinxai and Asura skip out. Kuroumaru scolds Touta for allowing himself to be captured. Touta says he's hopeless without Kuroumaru.
Kuroumaru decides that whether male or female, standing at Touta's side is enough. Sometime later after they complete a training session, Touta remarks on how he found Kuryuu very attractive and wonders if she'll return. This causes Kuroumaru to be unable to sleep again as her attraction to Touta remains strong, meaning nothing has changed for her.
Thoughts/Review:
Man, you just have to LOVE convenient, contrived events in order to tell a weak story to reset the status quo. This chapter had at least three of them, which started at the end of the previous chapter. (Actually, as I think about it, it may be way more than three.)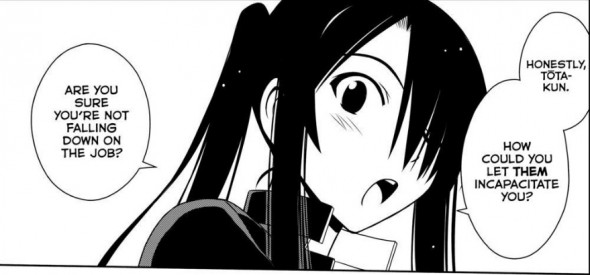 The first is the convenient attack of Xinxai and Asura on Touta and Kuroumaru. They have orders not to attack, but Xinxai being an insane whatever stages things so he can fight and have his excuse when Touta defends instinctively defend himself from a knife to the throat. Of course, the REAL purpose is so Kuroumaru will be in a bad situation as a girl.
The second is how Super Touta was suddenly super worthless. No rising up for Super Touta here as apparently, Xinxai has a big wad of Kryptonite in his pants. Of course the real reason Super Touta has to be shelved is to further the bad situation for Kuroumaru (two powerful villains on a now helpless girl) and so Touta can conveniently not see Kuroumaru undergo the magic girl transformation sequence later.
The third is how convenient it is that Kuroumaru can't use her chi or fight properly because she's not used to a woman's body. Really? Kuroumaru's body structure as a girl is roughly the same as her gender neuter body. Other than growing a pair of breasts, physically, there doesn't seem to be any difference. So what's the bloody holdup there?
If the reason is a biochemical one, then this should have been stated in the manga. Assuming that was the reason, then Kuroumaru didn't become male, but rather shifted back to a gender neutral mode. After all, if Kuroumaru shifted to male, then there should be other biochemical problems negatively at work inside Kuroumaru's body, which would prevent it from being of any use either for the same reasons.
The fourth is how convenient it is that Kuroumaru was able to become Super Kuroumaru to escape the shadow trap at the last second by apparently immediately shedding all of the female aspects of her body and attacking. How lovely that all that body chemistry changes and physical changes and be sloughed off at will. Yay!
The fifth contrived convenience is how Kuroumaru had time to do a magic girl transformation, getting back the black hair when it had been dyed blond, and of course pulling out a spare overcoat to put on, all while fending off her opponents, shifting back to gender-neuter, putting on the coat, and yanking the awesomely worthless Touta out of the shadow trap. Did I mention Kuroumaru managing to put her hair back into a ponytail while all this was going on? Oh yeah, that happened too. After all, we don't want Touta to discover the truth.
The sixth plot contrivance is having the police show up to save the day, whereby Xinxai and Asura bug off. So these two morons had no problem starting a big fight, sending themselves and Kuroumaru out the window, and continuing the fight on the ground, but cops show up (whom they could easily beat) and, "Oh. Well, I guess we should pick up our toys and go home 'cause its cops." Whatever.
Frankly, I'm not sure why Kuroumaru thought that as a girl, she had to be protected by Touta. Were this Shinobu, that kind of thinking would make sense seeing as how Shinobu is not a trained warrior like Touta and would thus need protecting in a bad situation. Kuroumaru is a trained warrior and shouldn't need protecting. Again, why doesn't Kuroumaru know about all of the other powerful Shinmeiryuu women out there, many of which have been the PARTNER of a male wizard to protect said wizard and watch his back?
There were a couple of positive elements in the chapter. First came from Xinxai, who remarked that it didn't matter to him whether his opponent were male or female, he treated them the same. After everything was over, Kuroumaru came to the conclusion that whether male or female, it wouldn't matter as he/she would be Touta's partner.
The second positive thing was Touta's remark on how he found Kuroumaru's female persona to be very attractive and wonders if she'll return. This is another convenient contrivance (the seventh), but it puts Kuroumaru back on the female path and attracted to Touta. Seriously Kuroumaru, learn about the awesome babes of Shinmeiryuu and how they stood by their men, then become a lovely girl once and for all.
That does lead me to another issue — "Kuryuu" had booked a room in the inn. So why doesn't Touta ask, "I wonder when she'll come back to get her stuff?" And where was Kirie and Ikkuu after this fiasco? Don't expect any answers 'cause we have to move onto the next random event. Maybe it is time for another Negima reference.
In the end, this chapter only serves to put the status quo back in place so we can have more "lovely" jokes and debates on Kuroumaru's gender choice.