Carnival Phantasm Review
カーニバル・ファンタズム
***SPOILERS***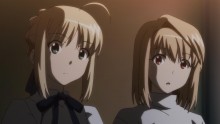 Since the time that I initially watched the first Fate/stay night anime adaptation, I have become a fan of this franchise, more so thanks to the excellent commentary from fans Farray, Garik, and other fans who are very well versed in not only the Fate/stay night franchise, but the entire Type-Moon universe it exists in. Throughout my various reviews of the different Fate titles in the franchise, these knowledgeable fans have also clued me in to the ties to the Tsukihime franchise and how everything works in the Type-Moon universe. As such, the subject of the Carnival Phantasm anime has come up, and at long last, I have taken the time to watch it.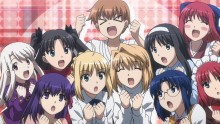 For those who don't know Carnival Phantasm is based in part off of the Take Moon parody manga by TAKENASHI Eri-sensei (best known as the creator of Kannagi: Crazy Shrine Maidens).  Carnival Phantasm takes characters and situations from the various Fate/stay night routes and titles (including Fate/Zero and Fate/hollow ataraxia) and the various Tsukihime routes and puts them into parody situations. Japanese game shows, soap operas, children's stories, Sailor Moon, and of course the Fate/stay night and Tsukihime franchises are all on the comedy parody block. The results can be quite funny, even if you aren't that versed in the stuff being parodied. I knew very little about Tsukihime, but I still found those stories to be quite funny.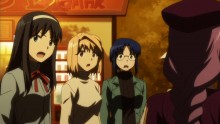 Carnival Phantasm has twelve main OVA episodes, clocking in from between thirteen and seventeen minutes each. Each episode has a bunch of parody stories or segments of various lengths. There are also three additional OVA episodes. The Ilya Castle Special episode has the seiyuu from the anime/game comment on game play that is shown. The EX Season episode clocks in at over 20 minutes and is basically a continuation of the original OVA format, but with more segments. The Hibichika Special Season episode brings in Type-Moon's mobile website characters Chikagi and Hibiki to give the girls some anime love before doing a continuation of the harem date plan of Shiki (Tsukihime) and Shiro (Fate/stay night) from episodes 4 and 12.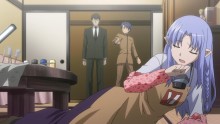 I'd like to highlight some of the best moments I found from the series, in reverse order. First up was the parody of Caster's relationship with Saber from the Fate/stay night series and sequels. Caster is almost never shown without her headgear on, which hides her face and gives her an ominous presence. In Carnival Phantasm, the opposite is true, and the real truth of her character is that of a loving housewife-type who cares a great deal for her Master, Souichirou-sama. However, in secret, she is closet otaku who has a room dedicated to Saber, filled with posters, figures, and cosplay outfits. Obviously, Fate/stay night folks are going to love this the most, but I think even non-fans will find this an amusing tale of otaku acceptance.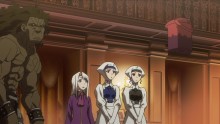 Up next is the episode that had the Berserker's First Errand story in it. I shared that one one previously, but that episode had me in stitches on several fronts. First, the story is told as if it were a child's tale, with the female narrator speaking as if for children and giving all of the male Servant characters the "-kun" honorific. As such, it is just funny hearing "Beserker-kun" or "Gil-kun" or "Lancer-kun" in children's fashion since Fate/stay night is an adult visual novel. Further, the way Berserker wins the Holy Grail War and defeats the other Servants just had me in stitches. And because he won the Holy Grail War, he and Ilya get the reward from the Holy Grail, which also had me laughing since it wasn't what one would have expected.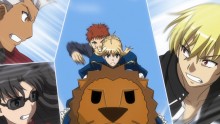 Number three on the list is the Holy Grail Grand Prix, whereupon the Holy Grail War isn't fought as it was in the different Fate/stay night anime titles or the visual novel, but rather it was done grand prix style, with the added twist that in essence, the episode parodied the Hanna-Barbera cartoon series Wacky Races. That element alone makes it accessible to folks who haven't seen Fate/stay night, but as with all of the parodies, fans will get the most out of it. I loved how Berserker transformed into Berser-car for the race, complete with a canon. Assassin gets to be a truck driver. Saber gets to "drive" a coin-fed Lion ride that one might see little kids on. Rider having Shinji in the basket of a mamachari bicycle was just hilarious as could be (complete with an E.T. parody moment).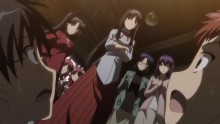 However, the best story crossed three episodes (episodes 4, 12, and the Hibichika Special Season episode). Since both Tsukihime and Fate/stay night are harem titles, the lead males from both series (Shiki and Shirou respectively) meet up to discuss how to deal with the situation. Fans were allowed to vote for whether the two should date the lead female or the entire harem. When the votes came in, episode 12 played the result of that vote — both leads have to date everyone in their respective harems on the same day without letting the girls of the harem know this is what is happening. Hilarity ensues! With the Hibichika Special Season, we get to see the results if Shiki had just gone on date with Arcueid and Shirou had just gone on a date with Saber. Unexpected hilarity ensues!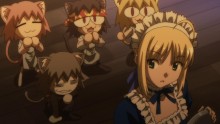 While I highlighted my personal favorite moments from Carnival Phantasm (and notice how my favorite moments were mostly Fate/stay night stuff since that's what I know), that's not to say that I didn't enjoy the other parody bits. I may not have gotten as much out of the Tsukihime episodes or segments, but I still laughed out loud quite a bit for them as well.  It really made me long to know more about the Tsukihime franchise, but I've been told that the anime adaptation is pretty bad and that I should just skip it. Maybe ufotable can properly adapt it one day and then I can come back and rewatch Carnival Phantasm and gain all new laughs from it.
In the end, Carnival Phantasm is a very funny parody series that I would have no problems rewatching again and again. While there is plenty for folks to enjoy who haven't watched/read the various Fate/stay night anime titles or visual novel titles or watched/read the Tsukihime anime/visual novel,  the greater your knowledge of these two franchises (and Japanese culture), the more laughs you'll get.