ユーキューホルダー! Manga Review
UQ Holder Chapter 104
SPOILER Summary/Synopsis: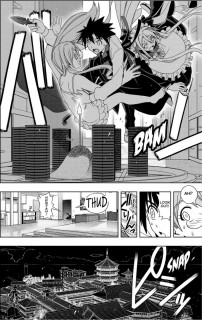 Mizore is not impressed with Shinobu's pod racer, citing how she could get the best quality items for it. Touta breaks up their argument so they can have lunch.
Kirie observes their antics, then scolds Kuroumaru for not making progress with Touta. Kuroumaru tries to act like things are OK, but Kirie isn't having that and even offers to reset time to all Kuroumaru to fix things. The offer is refused as Kuroumaru states support for whichever girl Touta ends up with. Kirie knows Kuroumaru is forcing the issue and states as much.
Karin saves Kuroumaru by arriving and stating that since Kuroumaru was a failure, Kirie should step up to the plate with Touta. Karin presses Kirie on the subject of her infatuation with Touta, causing Kirie to flee.
In her room, Kirie is attempting to relax by hitting the stock market and making more money. Touta and Mizore enter, startling her. Touta has cake and invites her to tea. However, the conversation is halted when Mizore notices Kirie's computer beeping. Kirie has lost ¥300 million and blames Touta for it. She's going to kill herself by cutting her throat to do a reset, but Touta stops her, assisted by Mizore.
Kirie is going for her backup death plan as their struggle takes them back to a closet where her save point is. She's about to fall on it, so Touta causes them to flip so that she lands on him. She ends up kissing him as a result, causing her to panic since it is her first kiss. Kirie sees her save point is broken, but then realizes something is wrong as she took her emergency suicide ill, meaning she should have reset. It is then that Touta notices Mizore frozen in the middle of a fall.
Thoughts/Review:
So, the harem story moves its focus from Kuroumaru to Kirie after touching base with Shinobu and Mizore.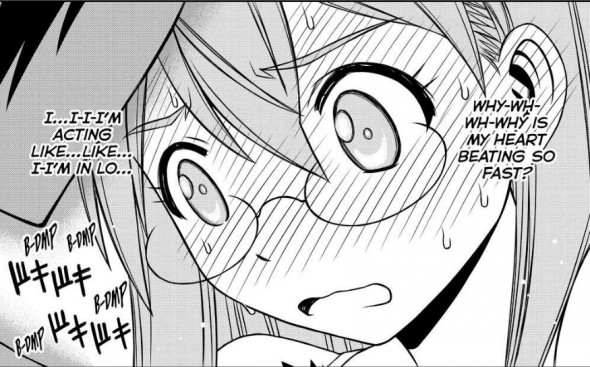 Akamatsu-sensei made another reference to Love Hina by having Shinobu call her pod racer "Tama-chan." I wonder if he'll actually reveal that Shinobu is the descendant of Shinobu from Love Hina.
Kuroumaru may be on the shelf for a moment, but the lovely girl Kuroumaru is clearly going to be brought back at some point, based on how the last chapter and this chapter went.
I'm looking forward to Karin getting her turn at the plate after her remarks in this chapter and her general disdain. I just want to see the "Useless-senpai" forced to acknowledge Touta in a way she hasn't done before. I think it would be a hoot (and I like Karin, but she still needs shaken up).
I'm glad that Mizore isn't acting like the ultra-clingy, jealous type. She may be ojousama to the max, but at least she's not possessive.
As to Kirie, I think it could be interesting to see how her having frozen time so that she and Touta are caught in limbo causes her to face her feelings.
Eventually, I think we'll have a battle harem for Touta. Hopefully, any battles they get into will be better crafted than some of the battles during the Magic World arc in Negima.
Anyway, I had no problems with this chapter. In addition to the harem continuation, I also hope we see a further exploration of Kirie's powers and what impact her resets might be causing.