ハヤテのごとく!/Hayate no Gotoku Manga
Hayate the Combat Butler Chapter 515 Review
SPOILER Summary/Synopsis: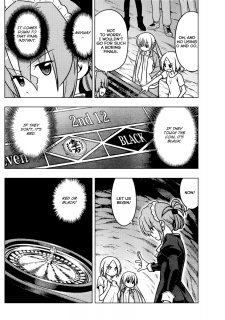 Nagi agrees to Yukiji's demand that she play the roulette game, but then lays down the condition that she gets all the winnings after their debts are covered. Yukiji is forced to accept, but she does insist on a cut of a winning, pleading until Nagi agrees to give a small percentage. Nagi then explains that they'll have to get Maria to agree to some rule modifications since Maria won't lose unless they are allowed to be able to shift their bet. Further, they have to remove 0 and 00 as options. Nagi has one other notion in order to improve their odds.
Maria agrees to Nagi's demands, but says that if they bet on red and then Negi touches the coin, they are forced to change their bet. Nagi agrees. Nagi places the coin on red, then she touches it, causing Maria to believe Nagi is forced to bet on black. Maria throws for a red number, as Nagi changes her bet to red 14. This move stuns Maria, and everyone else is stunned when Nagi wins.
Ruri does the calculations and based on everything, the ¥10 million bet pays off with ¥36 billion. This causes Hayate to wonder if Nagi really needs him.
Thoughts/Review:
Well, this didn't go anywhere like I thought it might. That's why it is so hard to know where Hata-sensei will go with things.
I'm ultra relieved that my fears of Hayate getting saddled with new debt hasn't come true. It still might, but right now, he's safe. Excellent.
While it is in character, I'm surprised that Yukiji only begged for a percentage of the winnings. Considering Nagi won the amount she did, after paying off all the debts, Yukiji should be in for a nice little bit of money.
As to Nagi, I like how she comes off here. Years of playing games and coming up with strategies pays off here. The manga has been slowly setting her up as someone who really will be OK if Hayate and Maria leave. We already know she's a genius, and when she sets her mind to things, she can accomplish anything, including selling a doujinshi manga after years of drawing and writing crap.  The missing element here is why Nagi is so afraid to be alone. I really hope Hata-sensei goes into this. I think he has the answer and I think it is tied to Isumi's attempt to allow Nagi to communicate with her mother after Yukariko.
As to Hayate, his whole purpose for being devoted to Nagi to the degree he is stems from his guilt at having abandoned Athena and left her to her pain. As such, he won't put Nagi through that. However, for the first time, we are seeing him worried that maybe Nagi doesn't really need him. Without Nagi needing him, and without his debt, what does Hayate do? He can't go to Athena at this point since Athena is still trapped in a child's body. Plus, Athena doesn't need him now. So Hayate's fears are understandable.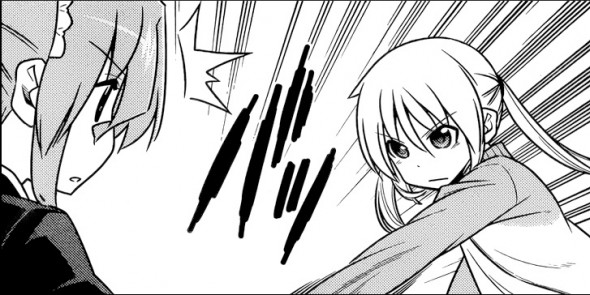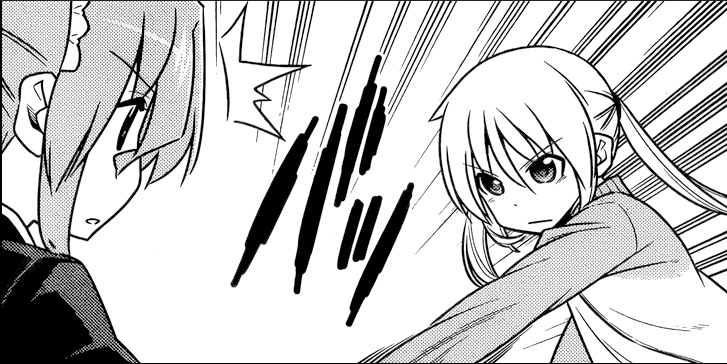 I wonder if this is the hook that Hata-sensei uses to force the Hayate x Nagi love connection that has never existed in ten years of the manga. I hope not because it will come off as forced and unbelievable. However, I cannot shake the feeling that come hell or high water, this is how Hata-sensei ultimately ends the manga — Hayate and Nagi hooking up.
I have no clue what happens next, but I did enjoy this chapter a lot. It is nice seeing Nagi get her game on.