ハヤテのごとく!/Hayate no Gotoku Manga
Hayate the Combat Butler Chapter 519 Review
SPOILER Summary/Synopsis: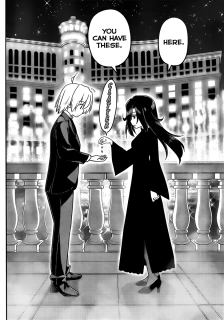 Yukiji is given a cash card worth ¥2.46 billion (~$21.85 million) and Sister Sonia a card for ¥100 million.
At their hotel suite, Maria and Hayate are out on the balcony, discussing Nagi's win and how Maria lost for the first time. Maria even notes that Nagi is now sleeping on her own, whereas before, she always had Maria sleep with her. As they chat, Hayate holds a King's Jewel and hears Yukariko call to him with another request. Hayate asks if they've fulfilled their roles, to which Maria thinks that they have.
Elsewhere in Las Vegas, Tsugumi meets with Mikoto with plans to take the final King's Jewel from Hayate. Mikoto tells Tsugumi to wait since Nagi's butler won the Level 5 school trip. As such, she's going to pay Hayate a visit.
Hayate is (apparently) hearing Yukariko's voice again and looking at the King's Jewel when Mikoto arrives and introduces herself, confirming she is Wataru's mother. After kicking Hayate for looking like the man who married someone important to her (Nagi's father), she gives him the two King's Jewels she has as an apology. Mikoto believes Hayate has heard a godly voice and asks what she said to him.
Thoughts/Review:
Well, after a while away from the plot, the plot returns. No doubt, Hata-sensei would like to wrap this up as soon as possible and keep most of his focus on Ad Astra Per Aspera.
Yukiji has dreamed of having the kind of cash she has right now for many long years. It is almost weird seeing how sober she is with it. The normally greedy Yukiji has zero problem with Sister Sonia taking her cut. So will Hata-sensei come back with a gag chapter on Yukiji blowing everything, or will he make Yukiji a responsible adult for once? Frankly, I'd like to see the later. At the same time, I'd like to see her buy Kaoru-sensei a Gundam model. 😉
The plot thread of Nagi's character growth continues fairly rapidly here with our being shown that Nagi is sleeping on her own. Now that Maria and Hayate are considering their roles pretty much fulfilled, I think we are looking at the manga ending in the not too distant future. That aside, I don't think it will mean Maria will leave Nagi's service as Nagi can afford to pay Maria a lot of money to remain her live in maid. Ditto Hayate as butler.
So now we know where Tsugumi originates in the manga — she's employed by Mikoto. We still don't know jack about her otherwise and I suspect that we never will.
As to Mikoto's meeting with Hayate, initially, the vagueness of her wording in comparing Hayate to Yukariko's husband (and Nagi's father) made it seem as if he and Hayate were related somehow. However, after rereading it and reading other folks remark on it, Mikoto has to be comparing Yukariko with Nagi in that both fell for their butler.
Here's a wild thought that hilariously popped into my head. (And by that, I am not offering this as a theory, but I will laugh my butt off if by some wacky chance, it came true.) What if Hayate is Nagi's father? Don't say that's impossible, 'cause Hayate has already time traveled (I suspect, thanks in part to Yukariko). It has already been well established that Hayate looks like Yukariko's husband. And it would explain why Nagi so easily trusted Hayate on an instinctive level. And Hayate could always tell Yukariko in the past that he's someone different and from America. 😉

That being said, Hayate gets pulled back into the past, say to steal the Kurotsubaki. (Remember that sword?) Yukariko pulls a gun on him, like in the anime, forces him to become her butler, and voilà — the rest is history (without the wood dryad element). It would also explain why Shimoda became an important place for a married ojousama and her husband to come to. It would explain why Yukariko is able to commune with Hayate so easily. It could explain why Hayate is not romantically attracted to Nagi and why Nagi's feelings for Hayate, though real, never quite propel her to to the level of Ayumu or Hina when it comes to unrequited feelings for Hayate. It would explain why Nagi's father looks so much like Hayate, Mikoto couldn't refrain from kicking him.
Ha!ha! The more I thought about this, the more I liked it. It would be the ultimate twist. However, I don't think for one instant that any of this will happen. But it would be hilarious if it did. 😆
In all seriousness though, it does appear that Yukariko is summoning Hayate to do something for her. It will be interesting to see what this something is.
In the end, this was an interesting chapter as we return to the plot. Hopefully, we can keep the plot going for a while. Since I think Hata-sensei wants to end the manga, I think we may get more focus on plot except for times when Ad Astra Per Aspera is taking his focus.