Mobile Suit Gundam: The Origin 02 Review
機動戦士ガンダム THE ORIGIN episode 02
SPOILER Summary/Synopsis: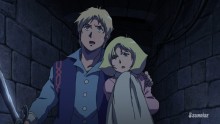 Three years after their escape from the Side-3 (Munzo) colony, Casval and Artesia are now living in Spain with their adoptive Mass family as Sayla and Édouard (Edward) where Sayla helps sick refugees while Édouard is constantly reminded how the Zabi family killed his father.  That evening, Sayla gets sick, so Édouard stays with her. A group of mercenaries attacks the Mass compound, killing Jimba Ral. so Édouard takes the sick Sayla to escape an assailant in a suit of armor, whom he eventually kills. After the attack, the injured Don Teabolo Mass is visited by Shu Yashima and his daughter Mirai to offer them residence on Shu's Side-5 Loum Colony cylinder known as Texas Colony. That way, it will be a signal to the Zabi family that the Don and the adopted Deikun children are no threat to them. Don Teabolo agrees to this.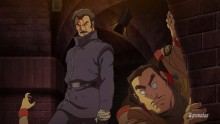 On the Side-3 colony capital cylinder, Ramba Ral is at the Eden night club watching Hamon sing. Some drunk Federation soldiers decide they'd had enough singing, so Ramba beats them all until Dozle Zabi arrives with men with a proposition for Ramba. He takes Ramba and Hamon to the Side-3 Banchi Dark Colony cylinder, where Dozle is working on a secret mecha project and has several of Ramba's former men there. As such, Ramba agrees to work for Dozle on this project, which will help both men. In exchange, Dozle arranges for Hamon to be able to visit the imprisoned Astraia, who is dying, but still a prisoner even though Roselucia has already died. Sometime later, the battered Ramba comes to the Eden club to see Hamon, where she breaks down after recounting to him her visit to her old friend.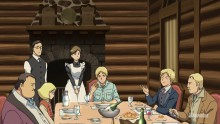 Meanwhile, Don Teabolo, Sayla, Édouard, and company arrive at Texas Colony, who's O'Neil cylinder is half glass to allow eternal lighting in. Texas Colony was originally intended to be an Old West theme park before it ran into financial trouble. There, Sayla and Édouard learn to ride horses and are befriended by Char Aznable, who's father manages the Texas Colony cylinder. Char and Édouard look very similar and are the same age. After settling into their new life, Édouard lets Sayla know that their mother died after receiving a letter from Hamon. Édouard's cold nature starts frightening some, including his adoptive father after Édouard beats a man whom Édouard believed was tailing them. Char gets accepted to the Zeon Military Academy. Later, to Sayla's dismay, Char tells her he too is going to attend the Zeon Military Academy.
Thoughts/Review:
Wow. This episode was another great, character driven drama piece. What bums me out is that there are only four episodes (supposedly). I would so love to have the entire, original Gundam series properly redone.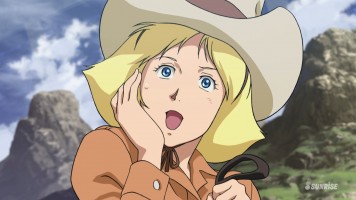 I'm really loving seeing Sayla's and Édouard's past. Knowing the people both become, it is interesting how the two siblings took such different paths. However, it also helps me to gain a greater understanding of why Sayla and Édouard acted the way they did toward each other in Gundam, beyond the normal brother-sister thing.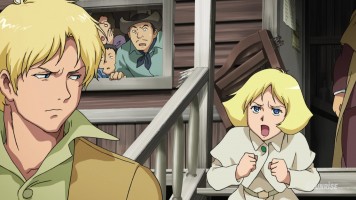 I didn't know the history of Casval/Édouard came up with the name Char Aznable. I had been thinking that Casval assumed the identity of a deceased Zeon person. So it was surprising to see the real Char, even if it is convenient that Char and Casval look so identical. Bad news for the real Char.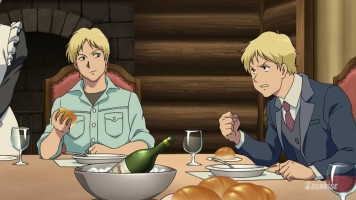 In the original Gundam, I seem to recall Kycilia being somewhat of a sympathetic character to a degree, due to her treatment in the Zabi family. She comes off desperate in this new OVA series with her attempts to assassinate others in order to please her family.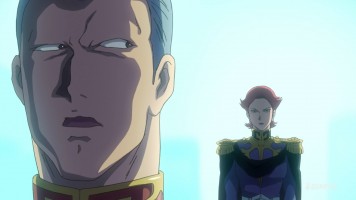 On the other hand, I don't remember Dozle being so sympathetic in the original Gundam. We saw a hint of that in the first episode, but here, the fact that he'd take the enemy of his family in the secret mobile suit project didn't come off as pure family infighting, but rather Dozle being loyal to Zeon, even if he disapproved of some of the things his family is doing.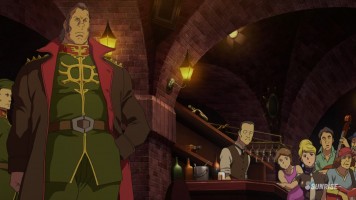 I loved seeing the start of the mobile suits that will eventually become Zaku. It is great seeing how Ramba and the others became such great mobile suit pilots.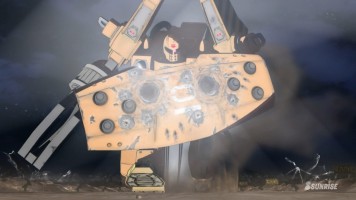 I also got a kick out of Ramba's fight with the Federation soldiers. I guess he has no respect for the Federation, which is why he had no problem fighting for Dozle against the Federation (later on, of course). When Ramba was fighting, I laughingly expected him to start shouting, "This is no Zaku, boy! No Zaku!" 😆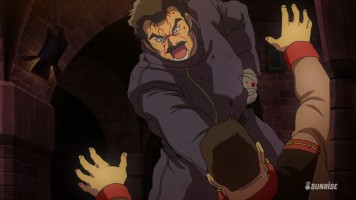 Speaking of Ramba, I love his and Hamon's relationship. For Ramba, Hamon is his rock. She has his back all the way. It was Hamon who realized that Dozle came to the club, not to start trouble, and so stopped Ramba from going off on him. She's fiercely protective of Ramba, which is only natural since she loves him so much. That song she sang in English was clearly written for Ramba, which made it awesome.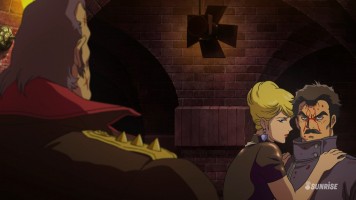 At the same time, Ramba is the only one Hamon can let her guard down for, as seen when she cried as she recounted her visit to Astraia. Hamon in this series is just awesomeness.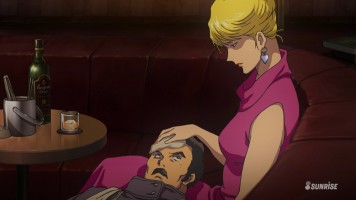 It was sad seeing what had become of Astraia. I'm glad Hamon was allowed to visit her. Three years of isolation, made worse by the fact that Artesia's letters weren't allowed through — no wonder she died.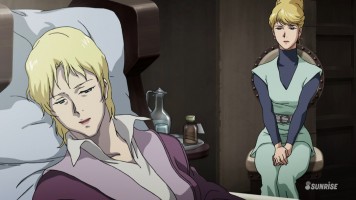 On a more technical front, I'm glad this OVA series is properly showing the Side colonies. In Mobile Suit Gundam, it was initially as if each Side was a single O'Neil cylinder, so it could be quite confusing at times. At least here, we got to see in this episode that for Side-3, there are tons of O'Neil cylinders.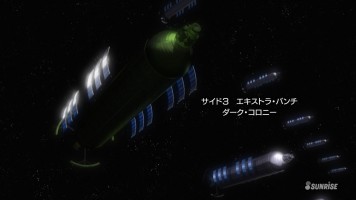 Amuro got a brief cameo in the episode, along with his father and his ball robot, Haro. I liked that Sayla saw him. I don't know if Sayla and Amuro get together in The Origin manga, but I like to think they do as that would make this little moment special.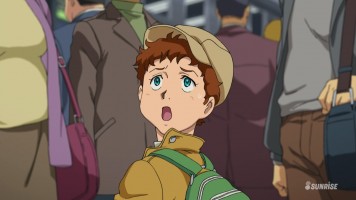 Mirai also got a cameo, along with her father. I loved the moment.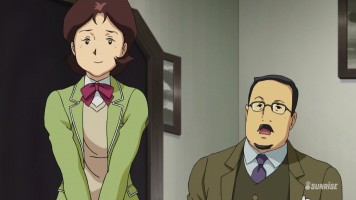 Finally, the subtitles here show why I despise forced-translated Japanese honorifics (although if the honorific is Spanish, it is apparently OK to leave in 'cause reasons). I didn't say anything last episode, but for example, Astraia is addressed as Astraia-sama. This is mostly translated to Lady Astraia. So how does a former nightclub hostess and mistress of a powerful Side-3 leader become ennobled anyway to be addressed with the Lady honorific? Deikun wasn't nobility, but even if he were, Astraia was a mistress, not a wife, and thus would not be entitled to be addressed as such. But I digress.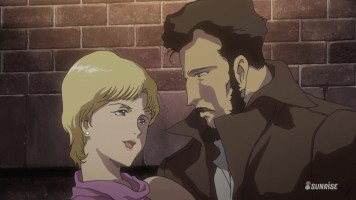 In the end, Mobile Suit Gundam: The Origin 02 was another excellent episode that really helps provide depth to several of the characters from Mobile Suit Gundam. I love it and wish there were a lot more coming that is currently planned.