Here is some SPOILER info for the upcoming UQ Holder Chapter 111, courtesy of 2ch.  (My review of UQ Holder Chapter 111 should come out late Tuesday night or Wednesday, U.S. time, depending on when Crunchyroll publishes the chapter.)
UQ HOLDER Chapter 111 SPOILERS
The UQ Holder Chapter 111 goodness begins. This looks to be the chapter's spoilers. ^_^
まほら武道会会場入り

塔の周辺は麻帆良学園祭とジャカルタ五輪が重なり大盛り上がり
(新東京・ニューシドニー共にジャカルタと同じ宇宙ステーションを使うことから便乗)
本家五輪はメカ技術が解禁されたばかりで魔法禁止のままだが
こちらでは魔法も解禁、来たる新時代の先駆けになろうとしてるとか

刀太は誰と会場を回るのかの取り合いにされかけるが、雪姫の登場で即決着
それを近衛双子は……
■刀太達を見下ろす二人の少女。彼女達の目的は……
The Olympics get mentioned as to the Konoe twins. I think the Mahora Tournament gets a mention too. But as always, we'll need a translation to get the full details.
Updates to come.
Update #1: A translation, courtesy of DerGilga.
entering the Mahora Martial Arts Tournament halls/grounds

at the outskirt of the tower, the Mahora school festival and Jakarta olympics are overlapping and there is a large climax (of emotions)
(taking advantage of the fact that NewTokyio uses together with NewSidney and Jakarta the same spacestation)
about the birthplace of the olympics, with the ban on ?mecha?-technology/arts lifted just recently there is still an inhibition towards magic , but
the lifted ban on magic, at this place they are trying to be the forerunners of a new age which is coming.

Touta is in a struggle of with whom to visit the halls/grounds, but with the appearance of Yukihime it comes to a prompt decision
there the Konoe twins…..

■The two young girls look down on Touta & co. The goal of the two is?
Thanks as always, DerGilga!
Update #2: Images from MK.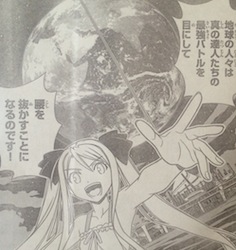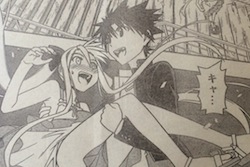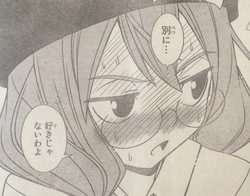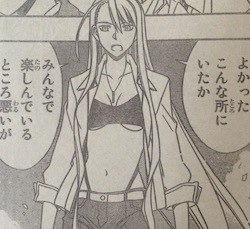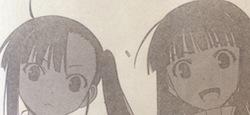 A bit of plot with a side of harem hijinks? 😉