ハヤテのごとく!/Hayate no Gotoku Manga
Hayate the Combat Butler Chapter 517 Review
SPOILER Summary/Synopsis: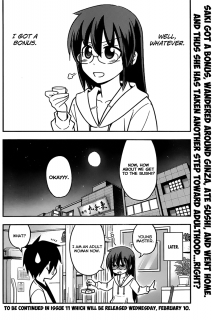 With Wataru's doujinshi shop doing so well, Wataru decides to pay Saki a ¥500 thousand bonus. She's reluctant to take it, but since Wataru knows this might not happen often, he encourages her to take some time off and spend the money on herself.
After putting ¥300 thousand into savings, Saki goes to Ginza to and looks at many expensive things, all of which she can afford. She happens upon a a sushi place, which she presumes is expensive. However, she believes a true Japanese would get sushi upon getting a bonus.
Deciding to be brave, she enters and orders a chilled, dry saki (nihonshu no karachi o hiya) like an adult. Proud of her success, Saki then blows it when the sushi chef asks what she doesn't like, and she answers "spicy curry." After a drink, Saki starts enjoying her sashimi, then she realizes that the walls of this sushi restaurant do not have menu items or prices like normal places do. However, she decides not to worry about it and then proceeds to eat sushi. She comes home drunk, announcing the Wataru hat she's an adult woman now.
Thoughts/Review:
Har! Well, it is filler time, so this time up, it is Saki.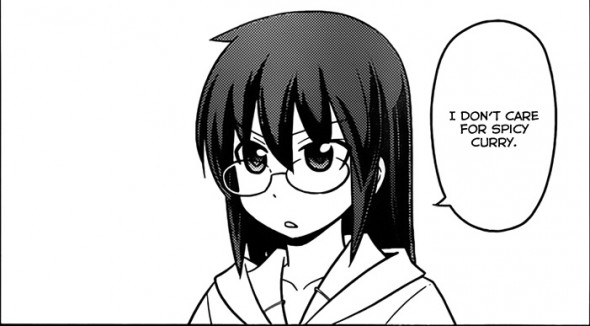 I'm glad that we got a peek on how Wataru's business is coming along. And I'm glad that his business is coming along well. It has been a while since we've seen them, but it didn't seem to be doing all that well before. Maybe I'm not remembering things properly.
As to Saki, I got a chuckle out of her Ginza adventure to becoming a true adult. (Legally, she already is an adult, but she does have a kind of childish personality at times.) I'm not a sushi person myself (some is OK), but I have friends who love it for celebrations, so I understand her sentiment.
Beyond that, nothing else to say. It is clear to me that this filler is due to Ad Astra Per Aspera taking most of Hata-sensei's focus.