ユーキューホルダー! Manga Review
UQ Holder Chapter 112
SPOILER Summary/Synopsis: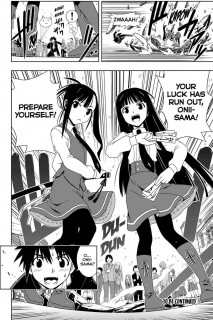 Yukihime takes Touta to the old Mahora school building and to the old 3A classroom that Negi Springfield used to teach in. There, Mana, the elderly Ayaka, Chachamaru, and the ghost Sayo are waiting. After Chachamaru, Ayaka, and Sayo introduce themselves to Touta. After talking about Negi to Touta and gushing over him, Yukihime and Mana bring the matter of why they are actually meeting.
Mana reports that Negi was spotted last night outside on the East Asia Orbit Station. Mana shows an image of Negi and reports that seconds later, Negi disappeared into space. Touta notices that his grandfather appears to be in pain. Yukihime starts to explain, but is interrupted by the mazoku Zazie Rainyday.
After she introduces herself to Touta, she explains that the Mage of the Beginning has a unique skill called resonance, which is what is tormenting Negi. MotB is not immortal, but indestructible, thanks to a revenge mental possession. As such, MotB forcibly takes over the mind of anyone who kills the body of her current possession. As such, Touta's great grandfather Nagi killed one of her victims and was possessed. Negi defeated Nagi and was taken over. Initially, she doesn't completely take them over, but her victim immediately awakens to her unique skill. That is resonance.
Touta asks if Negi's being held captive as the price for saving the world meant that his brains were taken over. Yukihime confirms this. Touta recalls Dana mentioning that his White of Mars power can defeat Yukihime's enemy, which Touta now understands to mean that he's the only one who can save his grandfather. He tells Yukihime that he'll get back the man she loves.
He has further questions, but he's interrupted when Isana and Honoka teleport in. Honoka apologizes to Zazie as Isana sweeps Touta's legs, giving Honoka an opening to blast him outside the classroom with a spell. The surprised Touta lands well outside the school building. The girls leap after him, but he dodges their next attack. Isana gets ready to draw her sword as Honoka prepares ofuda spell slips and tells "oniisama" that his luck has run  out.
Thoughts/Review:
Well, there's a lot of interesting things here.
For starters, I'm glad to finally see the class reunion, even if Ayaka did NOT say "Mistress." (I checked the Japanese raw, and she says "Evangeline-san." Since I don't think the Twins would make this mistake, this has to be on Crunchyroll's part where they simply reused Chachamaru's line of Master, which the Twins have always renamed as "Mistress.")

Sayo seems to be as clueless as ever and as timid. It is cute, but at the same time, I would have liked to have seen her wiser since she's been around for over 100 years — and braver.
I appreciated how Eva and Mana arranged this meeting in order to keep the survivors abreast of the latest things happening with Negi. Since Touta is involved, it makes sense to let him know about things, even if we do get the convenient cutoff in the flow of information being disseminated.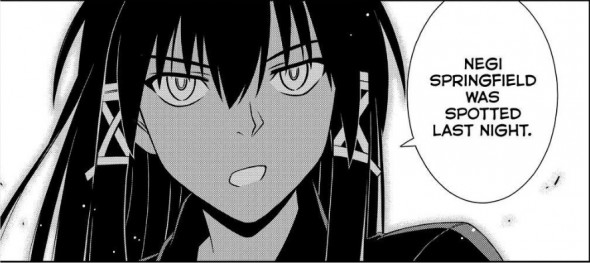 I found it interesting that Eva and the others appear not to have been in contact with Zazie for a while. Everyone seemed pleasantly surprised to see her. I would like for this to mean that we'll see more of Zazie, but I'm not holding my breath.
Zazie's explanation of MotB's powers were interesting. However, I note there's some caginess to the explanation. And there are questions that are now raised.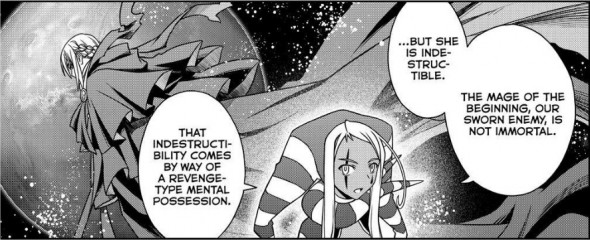 The translation makes specific points of calling MotB's possession a mental one, and that this is in the brain of the victim. That suggests that the possession isn't like Sayo's body possession. Is this possession the same as Sayo's, only more powerful? If not, is the possession more like a remote control of sorts?
If MotB immediately possesses the mind of the person that kills her current victim, and MotB was supposed to be the one who made Eva into a pseudo shinso vampire, and Eva supposedly killed the one who made her thus, then why wasn't Eva possessed?
If MotB immediately possesses the mind of the the person that kills her current victim, then we now have an explanation as to why Nagi wasn't possessed initially. It also means that Jack's story is a lie. (Is this retconning the original story of Nagi defeating MotB? If not, why didn't MotB just kill Nagi immediately?)
Originally, the female body of MotB shown in Negima (while observing Nagi and Ala Rubra) before the fight she had with Nagi and Zecht was assumed by fans to be just someone else MotB possessed. Thanks to UQ Holder, we know this is her true form. So why is she showing her true form at times, and a possessed person at other times?
Supposedly, MotB showed up at the end of the Magic World arc in Negima, then was revealed to be Nagi. If Asuna and Negi "killed" Nagi then, why weren't they possessed instead of the body of Nagi being dissolved?
Why is the text here being cagey regarding Negi defeating Nagi? It doesn't specify that Negi kills Nagi. If that's true, then how's Negi possessed?
If Negi killed his father, then why was Nagi and Negi there when MotB made her appearance to Touta and company?
How does MotB allow possessed people to travel in space without the aid of anything?
Who is MotB? Is she Amateru?
I liked the moment where Touta realized that he's the only one to save Negi. Finally, we have Touta on a legitimate quest, not some silly "get to the top of the tower" dream. (And darn it, I'm gonna ship Negi x Eva!)
Finally, there's Isana and Honoka, who ever so conveniently interrupt the MotB discussion to shift our attention to other things. (After all, we can't be given all the facts, lest some need changing.) I strongly suspect their attack is just to test Touta. Since they know Zazie, and Eva seemed to know them (as she should), I don't see them as enemies. I do predict (for what its worth) that they'll be in the Touta harem eventually.
Why they should choose to address Touta as "oniisama" is more of a mystery, but then Touta may have Konoe DNA in him if he's homunculus.That still doesn't explain things, so we'll see what happens.
So in the end, this was a very interesting chapter, filled with a bit of nostalgia, some info that raises more questions than it answered, and two clone-looking girls out for a good time. 😉