ユーキューホルダー! Manga Review
UQ Holder Chapter 113
SPOILER Summary/Synopsis: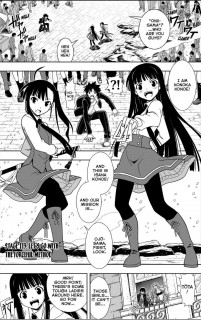 Honoka introduces herself and Isana as Isana notes Mana, Zazie, and Yukihime watching them from the school window. Yukihime tosses Touta Kurobo (Gravity Blade) Honoka opens a portal to teleport Touta over the bridge to Mahora, where a huge parade is ongoing. Touta crashes after Isana attacks, causing damage below. He laments the endangerment of the civilians as Isana does an eight-way split and attacks. In attempting to escape, Kurobo tells him that Isana has driven him into a trap lain by Honoka.
Honoka uses magic to suppon powerful water sprites that take the form of dragons to attack him. Kurobo tells him to perform a midair shundo, but since Touta hasn't mastered that, he goes down one dragon's gullet and is caught. Kurobo tells him Honoka has him and tells him to get his hoop out immediately. As Touta does this, Honoka causes her space ship to rise out of the water with Isana on it at the ready.
Honoka tells him their mission is to take him to Fate and have him join them. Before she can seal him, Touta uses his punch attack that strips Honoka of her clothing. Incensed at Touta's disgraceful technique, Isana attacks him, but she too gets stripped. Isana goes off on Touta for being a pervert, though Touta did this as he didn't want to hurt the girls.
Fate shows up and gives blankets to Honoka and Isana to cover themselves, telling Honoka that he didn't order them to bring Touta to him. Fate asks Touta to excuse the girls and remarks on how much more powerful he's become. Touta is angry and is ready to fight Fate, but Honoka pleads for him to stop, stating that Fate is trying to save their grandfather. She says that he can't save Negi staying with Yukihime since Yukihime wants to kill Negi.
Thoughts/Review:
And so we have a twist, but one that actually makes sense.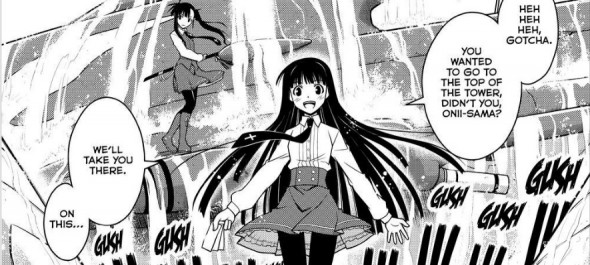 This chapter seems to confirm the idea that the Konoe family are working with Fate. After all, Fate considers Touta to be his, and Touta's "parents" were Konoe family members. That suggests that Touta's
"parents" were working for Fate, then for whatever reason, decided to escape with Touta, leading to Fate killing them.
As I suspected, Isana and Honoka were acting of their own accord. After they discovered Touta's family name to be the same as theirs, I'm sure they researched him, discovered his entire history (as it relates to them and to Fate's goal of rescuing Negi), and so decided to set out on their own to capture Touta, no doubt hoping to earn some praise from Fate at the same time.
Isana and Honoka are quite impressive as a team and as individuals. Isana appears to be at Setsuna's skill level in terms of Shinmeiryuu abilities. Honoka is really impressive as an Eastern mage with her rapid use of spell strips and such. Her use of a teleportation portal reminded me of Majik from Marvel Comics. (I had a massive 2D crush on her as a teen. 😛 ) Put these two together, and it is no wonder that Touta had to resort to stripping them both to get out of the bind he was in.
I had to "laugh" at how Kurobo got retconned into things. Touta didn't bring the sword with him, nor did Eva, but suddenly Eva had it and tossed it too him just as he's going through the teleportation portal. Har!har!
Still, Kurobo was another one of those forgotten characters, but here, the sword does its duty of comic relief. I admit, I was amused at how it praised Touta for stripping the girls, even if it got cut off from expressing more in his comparison of Touta's technique to someone else (I assume Negi).
I note that Isana and Honoka have inherited what appears to be the Great Paru-sama. I'm not surprised the ship shows up here since Akamatsu-sensei has the CG file for it from Negima, making it easy to include in UQH. I would be interested to know how the Konoe family got it from Paru.

I also note with some keen interest that Isana addresses Honoka as "Ojousama." So even though Japanese fans (and some Western fans) have been calling them twins, this strongly suggests that although they have the same family name, they are not related. Indeed, it would suggest to me that they are indeed clones of Setsuna and Konoka, and that Isana has simply been adopted into the Konoe family.
As to the revelation made by Honoka that Eva wants to kill Negi, I'm going to reserve judgement on that. Isana has a weird look on her face when Honoka said that, and I don't believe for a moment that Eva would want to kill Negi. I'm going to assume that Honoka is either uninformed as to Eva's true plan, or she is purposefully misstating the facts to manipulate Touta.
I do note the use of "Oniisama" and "Niisama" when the girls are addressing Touta. Hoodie also addressed Touta as "Niisan." That means all three of these girls acknowledge Touta as being older than them, even though he's supposedly four years old.
In the end, this was quite a good chapter as the plot continues.