Nurse Witch Komugi-chan R 09 Review
ナースウィッチ小麦ちゃんR episode 09
SPOILER Summary/Synopsis: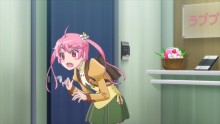 Because of Komugi's real performance during the onsen report filming, she gets lots of request to shoot onsen reports, so after making her run to each location, she always gives a real performance. At a rundown onsen, Komugi causes a problem. She figures her boss at Love Pro will be mad, then overhears Ai talking to Komugi's manager about her being fired (kubi). She runs away in tears and as word spreads, people from the local shopping district become depressed by the news and go to Love Pro to plead for Komugi, but Ai is not changing her mind. These people wonder what they should do as Komugi goes to visit Kokona and Tsukasa, only to find they are out on a shoot.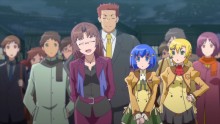 With a monster around, Usa-P convinces Komugi to take out her depression on the monster, who is a yawn (akubi) monster. Komugi gets enraged at hearing "kubi"and beats the thing in rage. That evening, her friends grab her to take her to the shopping district, where a stage has been built by the locals, who want her to sing for them as their personal idol. She does the impromptu concert as Ai and manager Matsukawa drive Kokona and Tsukasa back from their shoot. They see the concert and stop since it wasn't on Komugi's schedule. Komugi tells them she'll keep being an idol, even if she's fired, but then she finds she's playing the part of Kubi (the neck) in the Buri Bara anime adaptation of the card game and wasn't fired.
Thoughts/Review:
I love it when Japanese translators are forced to acknowledge Japanese puns without completely rewriting things to force some idiotic pun on us. Plus, this was a great way to learn three new Japanese words. 😉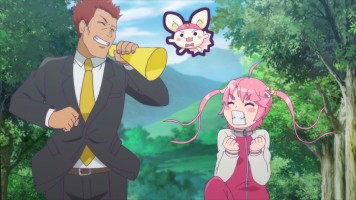 When the series started, I wondered if they'd keep Komugi in a certain role of loser. So while this series may not be much, I have liked seeing that Komugi continues to advance in her career.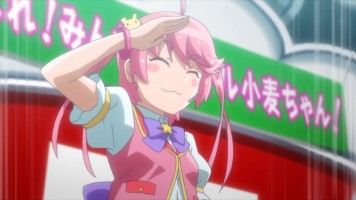 I also like how Kokona, Tsukasa, and Komugi are having tea together, where Tsukasa can be herself. I've no doubt that in the end, this will play out as their magic girl selves to defeat some final boss that has been hinted at.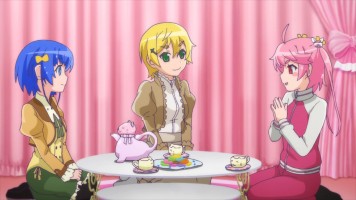 Komugi misunderstanding that she was fired and the subsequent, silly, sentimental reaction of the town was all pretty cliched. Plus, it seemed to be an excuse to have another CD single to sell (the song from Komugi's impromptu concert). 😉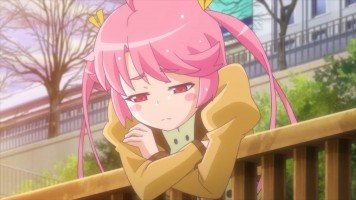 I did get a chuckle out of Komugi not going for the magic girl attacks when attacking the yawn monster, but instead chose to beat the thing nigh to death before going for a finishing move.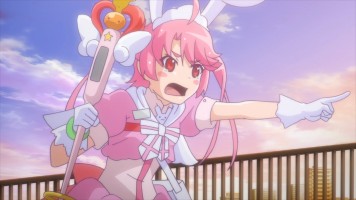 In the end, as is usual for this series, Nurse Witch Komugi-chan R 09 is nothing special, but it was mostly mindless fun.