ユーキューホルダー! Manga Review
UQ Holder Chapter 115
SPOILER Summary/Synopsis: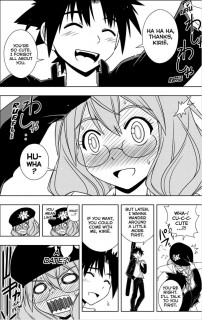 With Yukihime having given Touta a choice, Touta goes off to absorb it. Kirie finds him looking depressed. He decides to skip his time with Shinobu and treats Kirie to tea and cake. She tells him he should talk about whatever is troubling him, but when he doesn't take the hint to talk to her, she goes off on him. He pats her head and calls her cute, but says he wants to wander around a bit before talking. Thus he invites her to tag along with him.
They go around doing things together, as if on a date, with Touta constantly patting her head and calling her cute. She decides she has to know if he's lying about thinking of her as cute, so she goes to ask him when a couple of boys knock her over, causing her to fall into Touta and kiss him. This causes time to stop again.
Touta is concerned about this, so Kirie is forced to kiss him in the open to resume time. When Touta realizes that Kirie's powers can be activated by kissing him, he's very excited about this. Then he has an idea about using her power to solve everything.
Thoughts/Review:
I smell Mahora Festival redux here.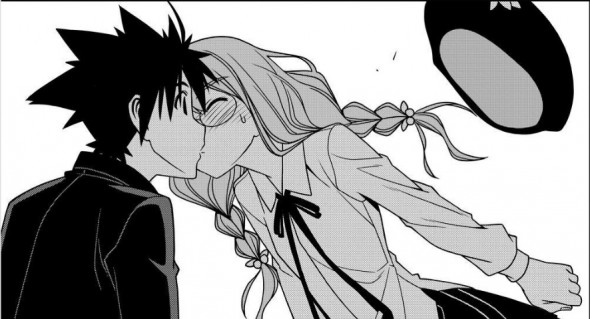 This chapter was similar to the "date" that Yue went on with Negi during the Mahora Festival in Negima. There, you had Negi depressed about something, Yue going along with him, and then Negi being encouraged in the end.
Although the chapter started out with the reminder that Touta has a choice, I have the strongest feeling that Touta wasn't just thinking about that, but was also thinking about everything he has to do. I also base this on Negima, where Negi had all this stuff to do and time needed to be manipulated for him to do it all.
Here, I think he'll have Kirie stop time, they'll go to an event, resume time, do the event, then immediately stop time, head to the next event, resume time, and so forth. That way, he can hang out with Kuroumaru, Santa, Shinobu, and whomever else. UQ Holder chapter 115 would then cover the Kirie time for Touta.
That doesn't mean that Touta isn't also thinking about the choice Eva gave him. He may have some thought on using Kirie's power to do whatever regarding Negi. I just have a feeling that won't be the case for the near term.
Now watch Akamatsu-sensei just skip the tournament and everything and jump into Touta saving Negi and ending the manga. 😆
In the end, this chapter was mostly a Kirie x Touta ship chapter with the groundwork being lain for future events.