Evergreen Volume 2 Manga Review
***SPOILERS***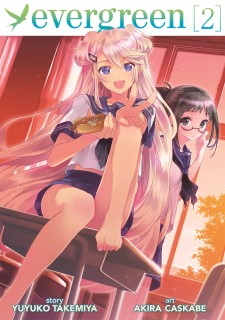 After Niki fends off Sugou and her friends, she learns that Sugou told Hotaku that Niki was using him. She goes off after Hotaku to assure him she wasn't using him, then races off. On-chan (with Soga) forces Hotaku to chase her, where he catches Niki just before she is hit by a truck and saves her. She hurts her ankle, so he carries her home. However, he still wonders what he means to her and if he is being used. Niki pays Hotaku a visit at lunch the following day.
Meanwhile, Soga has a homemade cookie delivered to On-chan. On-chan vehemently rejects the cookie, which angers Soga. On-chan is upset, so Hotaku tries to help. Niki sees this and wonders if she's being a bother to Hotaku since she doesn't know what his relationship to On-chan is. She starts ignoring Hotaku's texts, which causes him to become depressed and distracted. To make matters worse, she avoids him in school so that he doesn't see her. On-chan tries to make amends to Soga, whom she really likes despite his being a playboy, but he rejects her efforts.
Meanwhile, as a last ditch effort to talk to Niki, Hotaku leaves her a note in her shoe locker.
Review:
Well, the Evergreen volume 2 manga went down some roads I didn't expect, but roads I understood all too well.
I really felt badly for Hotaku in this volume. After the girl of his dreams and he get off to a seemingly good start (despite his calling it just friendship), even to the point where she pays him a visit in his classroom at lunch, she then starts avoiding him. I could completely understand Hotaku's pain and confusion because he couldn't understand why even as a friend, she wasn't bothering to answer his texts and such.
As to Niki, I'm not sure what to make of her. I think she does like Hotaku, otherwise she wouldn't be wondering about Hotaku's relationship with On-chan. I have a difficult time thinking that she would have the issues she seems to be having over this. She doesn't seem to lack for self confidence. She easily stood up to Sugou and friends.
What's terrible is that she is hiding from Hotaku and avoiding him. It is just so wrong that she wouldn't respond to his texts. Even if Hotaku were in a relationship with On-chan, if he's making an effort to text Niki, Niki should go ahead and respond. She can then casually find out whom On-chan is and have her answers, rather than do what she's doing. I want to like Niki, but this is making her less likable to me.
One interesting turn in this manga that I didn't expect is the fact that On-chan likes Soga romantically. I had been afraid that we'd get a love triangle between On-chan, Hotaku, and Niki. However, since On-chan does like Soga, I guess that rules that out. (I hope so.)
I think it is also clear that Soga likes On-chan, but doesn't know how to express it properly. Plus, On-chan doesn't fawn over him like other girls, so he probably respects and likes On-chan for this. They clash a lot, but I look forward to seeing them become a couple.
Finally, the house key plotline only got touched in this volume. I expect we'll get more of that down the road since they have to get to summer break before that plotline will advance.
On the Seven Seas side of things, we get the Japanese honorifics in the adaptation. There are two color pages up front, no translator notes, and the 4-koma comic strip on the inside back cover.
In the end, I liked the Evergreen volume 2 manga, though I was frustrated with Niki's actions. That aside, I do look forward to seeing where things go.