ハヤテのごとく!/Hayate no Gotoku Manga
Hayate the Combat Butler Chapter 526 Review
SPOILER Summary/Synopsis: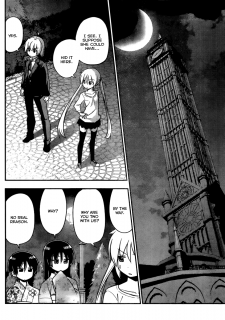 Nagi decides to name the missing key the Loto Key before she and Hayate head to the Saginomiya mansion to visit Isumi and her mother Hatsuho, who was a best friend of Nagi's mother. However, Nagi warns that Hatsuho is going to give them tons of boke (stupid comedy things).
Upon arrival at the Saginomiya residence, Hatsuho claims to know about the Loto Key even though Nagi had only just invented the name. Hatsuho recalls being with Yukariko as Yukariko played a video game and announced that the thief key in the game is in Najimi Tower. Nagi patiently puts up with Hatsuho's stupid comedy remarks as Isumi arrives, claiming to know about Najimi Tower. Isumi claims that Yukariko had stated something about using the iPhone 3D Touch, which hadn't been invented when Yukariko was alive.
Nagi's patience is being tried by this level of boke, but Isumi points to the distant clock tower at Hakuou Academy and states that this is the Najimi Tower Yukariko spoke of.  As such, the group heads to the tower that evening, where Hayate realizes that it will be difficult to search such a large tower for a small key. Hatsuho produces a crystal ball and asks it to reveal the key's location. An arrow appears inside the ball and points to the tower, but that's as far as it goes.
Hina shows up with a bag of groceries for her sister Yukiji and the trio of idiot students Izumi, Risa, and Miki. Hina says the girls will be glad to help and take a break from studying. As Hina stated, the girls are ready for a break, but Izumi and Risa don't know of any rooms except for the Student Council Room at the top of the tower. Yukiji steps in to say that the Student Council Room isn't at the top of the tower as there is a secret staircase that goes to a room called the Celestial Room. This triggers a reaction from Hayate, who recalls a similar room in the Royal Garden.
Meanwhile, Hisui's maid Yozora is observing from a distance.
Thoughts/Review:
This chapter goes to show how Hata-sensei can do the gag humor he's so fond of while continuing to push the manga's plotline forward.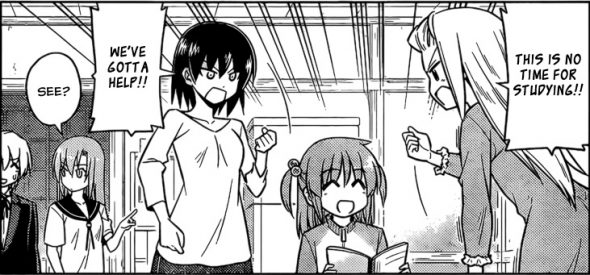 I can't help but get a kick out of Hatsuho and Isumi. The way they earnestly get into things, even though they have no clue always makes me smile at the very least. In some ways, it makes it more amazing that Isumi is so impressive as a mage when she's so clueless about modern technology.
I loved the nod back  to an early time in the manga by showing Izumi, Risa, and Miki still having study sessions with Yukiji and having Hina buy and make meals for them. It is interesting that Yukiji is still tutoring and teaching, despite having won all that money. I guess she's matured a bit 'cause I think I might have quit immediately. 😉
We've long known that the Hakuou Academy Tower would play a role of some sort in Sanzenin Inheritance. I'm glad that is finally coming into focus. The weird thing is that Yukariko would apparently hide the key in that tower. However, I'm hoping we learn more about the tower since that element was teased years ago.
The Celestial Room in the tower might explain in part why Athena was able to see Maria when Hayate was staying at the Royal Garden. I'm looking forward to having this explored as well.
With Yozora spying on the group again, I'm kinda hoping for a rematch between her and Isumi. It would be awesome if Isumi got the drop of Yozora, especially since Isumi has the ability to just appear in whatever location in an instant.
In the end, this was a fun chapter that continued to push the plot forward.