ユーキューホルダー! Manga Review
UQ Holder Chapter 121
SPOILER Summary/Synopsis: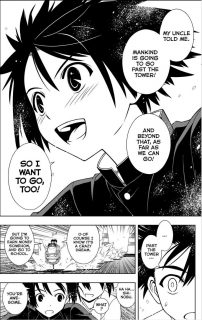 Touta manages to get Shinobu's swimsuit back on, so Mizore gets her Touta to take control of their speeder so that she can be rid of Shinobu once and for all.  She leaps off the speeder and performs the Yukihiro School Undressing Technique on Shinobu, causing Shinobu's clothing to vanish into Mizore's hands. Mizore lands on her speeder bike, declaring victory, as Shinobu's embarrassment and Touta's failed attempts to cover her womanhood cause them to crash.
Touta gives Shinobu his shirt, after which Shinobu decides she's going to get serious. With that, Shinobu shows her skills and to the surprise of Karin and company, Shinobu starts to catch back up to Mizore. Meanwhile, Shinobu tells the story of her uncle (or man she considers an uncle) and tells Touta that beyond her dream of going to the Tower, she wants to ride on the Mayflower III, which is an interstellar ship being built. This impresses Touta so much, he again confesses his love for her.
Shinobu catches up to Mizore, and to help Shinobu get her speeder up into the air and through the first loop gate, Touta does a shundou to meet her on the other side. Mizore's Touta attempts to counter Shinobu's Touta, but Shinobu's Touta has a stored Flans Exarmatio spell, which he casts on Mizore, stripping her and causing her to crash.
Thoughts/Review:
Yay, more loli nakedness. 🙄 I guess Akamatsu-sensei is trying to make up for the long dearth of ecchiness in UQ Holder.
The sexual posing of the (naked and near naked) loli babes aside (and yeah, I know he did this in Negima too, but it just seems a bit more overt here), this was a Shinobu chapter and we did get a bit more info through here.
For starters, I suspect the man she calls "uncle" (whom she addresses as "Ojisan") is likely not her real uncle. It is always difficult to tell with Japanese, but I get the feeling that he's more of an older mentor rather than her real uncle. Regardless, it served as a reminder of Shinobu's motivation. (Other than defeating Mizore, of course.)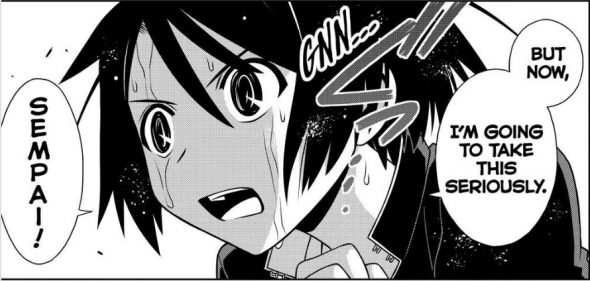 Secondly, we learn that Earth is building an interstellar ship, known as the Mayflower 3. Since it has been introduced, I wonder if it will serve a more important role down the line. I kinda hope it does, allowing a greater melding of sci-fi and fantasy elements.
As to the race itself, I really don't have anything to say. Shinobu's Touta proved quick witted in storing that spell and in realizing that using a shundou to lighten the load on Shinobu's speeder helps her. Yay.
Well, I guess I do like Touta's being impressed with Shinobu and her dream. I suspect we'll see Touta find a new goal too (beyond rescuing Negi).
In the end, the chapter is just more loli ecchi content with very little substance. Well, two weeks to wait before the loli ecchi stuff continues.