ユーキューホルダー! Manga Review
UQ Holder Chapter 119
SPOILER Summary/Synopsis: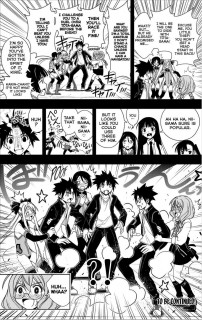 Negi is struggling on the outside of the space station when he is joined by Yue, Nodoka, Al, and Jack, all of whom encourage him to join him to save the world.
On Earth, Mizore and Shinobu are in a speeder bike race, which ends in a tie. Shinobu is impressed that Mizore is so good without any experience and Mizore is impressed Shinobu is so good with what is a junk bike, unlike Mizore's new, advanced model. Mizore is not too happy that Touta seems OK with their tie since Mizore had determined the winner of this race would marry Touta. Touta is shocked because he wasn't aware of this. Shinobu apologizes, stating the true purpose of the race was to see whom Touta would ride with in the race.
Karin, Ikkuu, Kuroumaru, and Kirie observe this over beverages, whereupon the group decides Kirie should be with Touta. Kirie demands to know why Kuroumaru is going along with this, leading Kuroumaru to state that whether male or female, she just wants to be by his side. Karin declares Kirie to be wed to Touta and tonight to be her bridal night.
Mizore challenges Kirie for Touta, stating that the loser will be banned from future contact with him. The competition will be the speeder bike race. Karin gets herself (and Kuroumaru?) into the competition, but changes the conditions so that the loser has to walk around the island on their hands, naked.
Kirie is opposed to all of this since she doesn't know how to ride a bike, so Touta offers to ride with her to help her. Honoka and Isana show up, whereupon the amused Honoka puts an ofuda spell strip on his head, causing him to split into three people.
On the day of the race, Kirie and Mizore are in skimpy bikinis as Shinobu wears a one piece. Kirie isn't happy with this, but Mizore says it is all about boosting the popularity of the event.
Thoughts/Review:
And so our first 18 page chapter is published.
The introductory pages dealing with Negi was a surprise. I say this because Touta wasn't involved in this part of the story. I know that for a brief time, Touta was buried by Sayoko, allowing Santa to have some solo time, but that is truly an exception. Normally, nothing is shown without Touta being present. Frankly, I think Akamatsu-sensei should do more stuff with other characters and not force things to just center on Touta.
That being said, it appears that MotB tempts her victims into caving into her by creating illusions (or the like) of people known to the victim. I don't think Negi has broken yet, but one can see how close he is.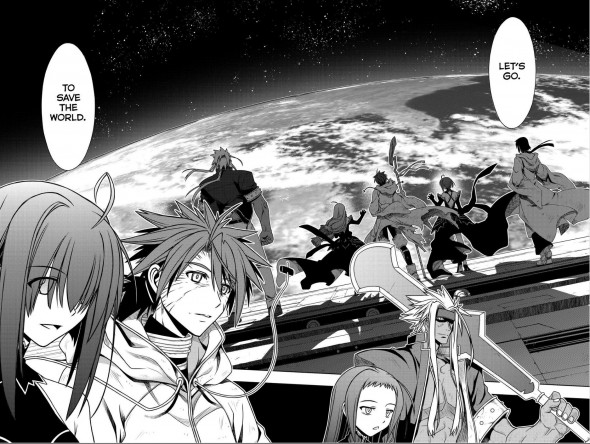 As an aside, it is nice to see Akamatsu-sensei actually draw the old characters with both eyes. 😉  Also, kudos to Crunchyroll for making the 2-page spread fairly seamless.
The harem hijinks continue, fueled by Mizore. Sorry, but I can't help but like Mizore and get a kick out of her antics.
Akamatsu-sensei continues to push Kirie forward from the original UQH crew. I guess he wants the main competition to be a loli one. Frankly, I want to see Karin and Kuroumaru get roped in massively. Yeah, Karin does appear to have joined in (or prehaps, she is using Kirie as a surrogate), but I want her feelings for Touta to be brought forth to a greater degree.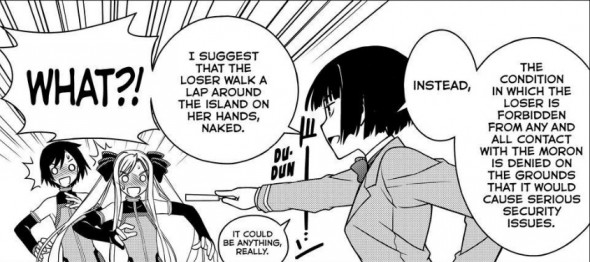 Kuroumaru has pretty much relegated herself to the role of a mistress, should she become a girl (which I think she will). I still want Kuroumaru to become full female and go for Touta all out again, not settle for a concubine status.
Akamatsu-sensei keeps things ecchi with the bikinis of Mizore and Kirie, but slightly less ecchi since they aren't naked. One thing that stood out to me is Mizore explaining how the sponsors and the like would love it if the girl's skimpy outfits experienced a malfunction and they showed off the goods. I recently watched an episode of Nurse Witch Komugi-chan R, where this very topic came up, though there, the folks running the event were trying to get someone to cause the girls to lose their tops. This makes me wonder if this is an actual attitude in Japan regarding idol girls.
Finally, there's Honoka. Creating two clones of Touta so easily again shows she's a pretty nifty mage. It is similar to what happened with Setsuna teaching Negi how to use those paper dolls (shikigami) to make clones of himself. Honoka's method is a bit more impressive to me since she only used a single ofuda slip.
Honoka can also be a fun person to stir the harem pot, based on how she so quickly got into this competition.