Macross Delta 08
Macross Δ 08
マクロスΔ 08
SPOILER Summary/Synopsis: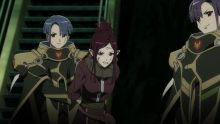 Mirage, Hayate, and Freyja are captured by the White Knights, resulting in Mirage and Hayate getting a beating for attempting to defend Freyja and for attempting to escape. Roid stops Bogue from killing Freyja as Mikumo joins her fellow Walküre members and the now injured Messer, who then put on an impromptu concert from their location, allowing the other girls to magically sing while still performing a rescue mission. Keith encounters Messer and once he realizes whom his opponent is, decides to finish Messer off in the sky. A rescue team from Aether arrives, along with fighters for Hayate and Messer.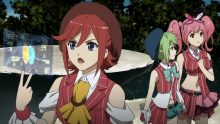 On Windermere, Heinz starts singing, causing the Protoculture ruins on Voldor to react. Walküre put on another concert as Messer starts succumbing to Var Syndrome. The girls hear Heinz's song, but Kaname detects that the ruins are reacting to them now. Hayate is forced to battle Captain Alberto Larrazába. Freyja decides to sing her heart out to turn the captain as Hayate defends her. Freyja heals the captain as Kaname detects that Hayate is resonating with Freyja, who has returned to the sky to battle Bogue. Hayate wins, so with their objectives achieved, Delta Squad and Walküre return to Aether. On the ship, Mikumo seems to accept Freyja and her reason for singing.
Thoughts/Review:
Man, after piquing my interest, this episode had me cringing like mad.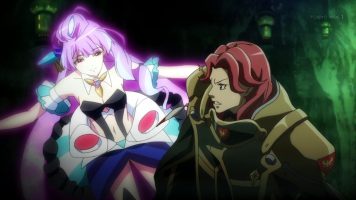 I'll start with some elements that I liked (which weren't many), starting with the fact that Mirage and Hayate weren't able to get away with Freyja. After they'd been captured and beaten to a degree, Mirage reveals she has a flash grenade. I thought for sure they'd get away and start the chase, which would then lead them to the other magical idol girls. So I was pleasantly surprised when all that resulted from Mirage's actions was Bogue getting stunned, but Mirage and Hayate getting a beating.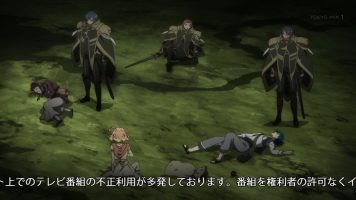 Although it wasn't surprising to me, I liked seeing Messer briefly get afflicted by the Var Syndrome. Just for his own character development, I'd like to see this explored further in the show, though I doubt it will have time with all of the magical idol concerts that have to happen. (And don't forget, BUY THE MUSIC CDs!)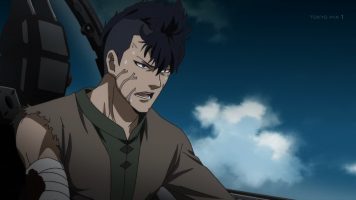 Hayate defending Freyja is not unexpected and yeah, he does that a lot. But there's a difference between doing that from the relative safety of a mecha-fighter and standing there to protect Freyja when you know you are going to get a vicious beating. So even though I hate Hayate (and I wish that his injuries were worse than it appeared), I'll give the character marks for his act of chivalry.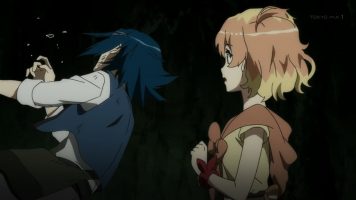 On the other hand, I was annoyed by Hayate's decision to not kill anyone else. It was fine when he just damaged Alberto's plane because the man is a possessed ally. However, when he had a chance to kill Bogue, he lets him go. It is a shame that Hayate likely won't pay a price for this because he's the MC. However, in war, you kill the enemy; you don't try to be clever by half and allow them to live another day to possibly take your life or the life of one of your comrades.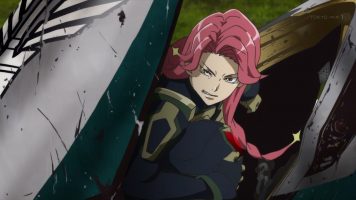 I will admit to being mildly amused by Freyja being upset over her countrymen using apples as an act of war.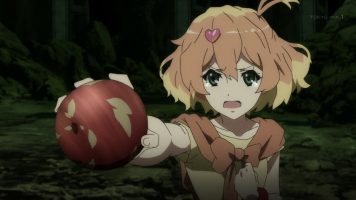 Because I've been calling the members of Walküre "magic girls," I laughed out loud at the fact that they now have some magical (yeah, I know — it is technology, but it is used in a magic girl fashion) attacks.  Their holograms can be weaponized, depending on the situation. They can be used as stun fields or to take out incoming missiles. Magic idol girls are doing it for themselves!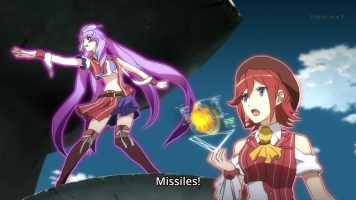 Of course the real laugher here is that while their songs MUST be live to have any affect, we are constantly shown how the Walküre magical idol girls aren't singing, but the singing is still going. Even while they discuss Heinz singing (while their own song is still bleating on), the Protoculture ruin is actively reacting to their singing, which they aren't doing, even though their song is still playing. Heck, the singing continues even when they stop singing because of massive explosions in the area.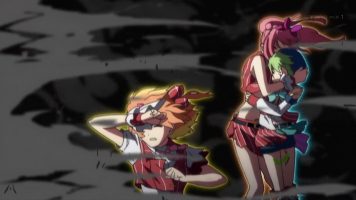 While on the topic of singing and music, the hideous, pretentious, impromptu idol concerts anywhere, anytime, battlefields be damned, makes me cringe. I can't stand it and I end up muting the sound. It is laughably bad and clearly just another, "BUY THIS MUSIC CD!" advertisement. Not that any of the folks who might get mad reading this are going to buy jack, especially a music CD (or rather CDs) from Japan that costs an arm and a leg to buy, then the other arm and leg to get shipped out of Japan.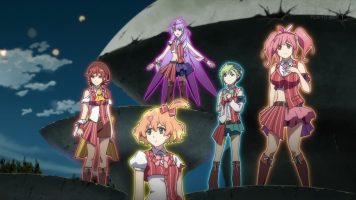 Look, there's a difference between playing music of any kind during action scenes and the stupidity of trying to capitalize on the idol craze by trotting these girls out for impromptu concerts in the middle of what should be a bloody battlefield. If Walküre  were just using their tech to help Delta Squad and their music was blatting in the background, I'd probably just roll my eyes. But the fact that they change to their idol getup and do their idol thing while supposedly singing live (ha!ha!) is just extreme stupidity.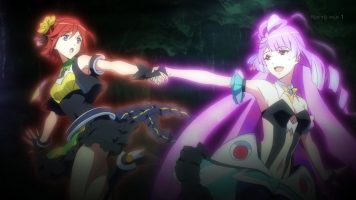 Finally, I guess Mikumo is shifting from bitch mode to oneechan mode when it comes to her dealing with Freyja. Whatever. Go be with Hayate, Mikumo, even though the story is setting up the Freyja x Hayate element with their resonance.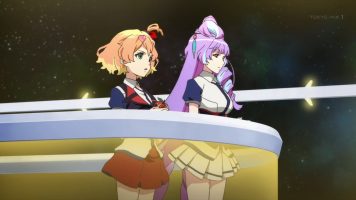 In the end, this episode is another one where everything is structured for trying to get otaku to make purchases, mostly of music, and the plot be damned.