Here is some SPOILER info for the upcoming UQ Holder Chapter 125, courtesy of 2ch.  (My review of UQ Holder Chapter 125 should come out late Tuesday night or Wednesday, U.S. time, depending on when Crunchyroll publishes the chapter.)
UQ HOLDER Chapter 125 SPOILERS
The UQ Holder Chapter 125 goodness begins. This looks to be the chapter's spoilers. ^_^
時間停止能力者・カトラス

キリヱこそリセットを警戒されて手出しされずにいるが
刀太が1/3のままでは劣勢……のはずが、停止直前の時点で
3人とも肩を組んでいたとかで3人とも動ける
それでも不利に変わりなく、時間停止を解除したが

カトラスは前座、はじまほinネギ降臨

■『始まりの魔法使い』に憑依されているネギ――!!
その"憑依"を解いてネギを救いたい雪姫――!! ついに相まみえる―――!!!
待つのは悲劇か、それとも――!!! 次号につづく!!
DerGilga's translation .
the person who can stop time, Curtlass

Kiriwe is on the guard for a reset yet isn't interfering, but
with Touta currently being at 1/3, he is at an disadvantage… … or so it should be, but at the moment just before the stop
with something like all 3 were linking/crossing their shoulder, all 3 can move
neverthelesshe is still at an disadvantage and the time stop was released, but

Curtlass opening move, the descent of the MotB in Negi
■ Negi who's possed by the "The Mage of the Beginning"――!!
Yukihime, who wants to save and free him from that possession――!! Finally they meet―――!!!
?The waiting will be a disaster?, or――!!! Continuing in the next issue!!

—
The one sentence at the end, I can't figure it out
Thanks for this. Things are moving along now.
Update #1: MK's spoiler images.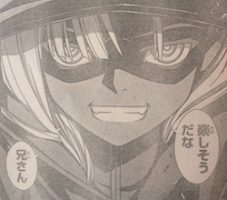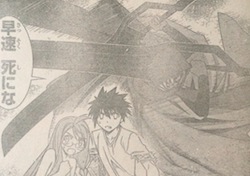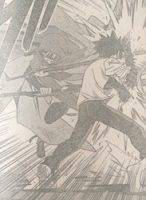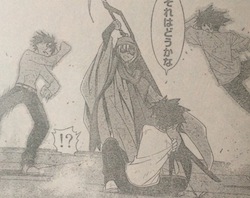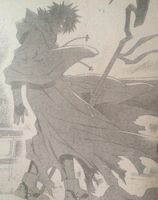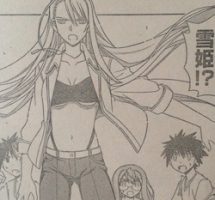 Well, I can't wait to see the actual chapter.