Paradise Residence Volume 01 Manga Review
パラダイス レジデンス
***SPOILERS***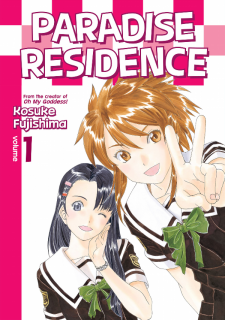 For those interested in my chapter reviews, follow this Paradise Residence link to see my old posts. 🙂
When Paradise Residence was being published as a side project for Fujishima-sensei while he wrapped up Ah! My Goddess, I remember thinking that I really would love for Paradise Residence to become a full fledged series. Fortunately, it did, at least for a little while.
For those who aren't aware of the series, Paradise Residence centers around TAKANASHI Hatsune and her best friend and roommate MISAWA Suzuka, both of whom are attending the all female Kikka Academy (high school). They live with their fellow dorm mates in Kikka Academy Dorm 1, which sits on top of a large hill and which is a very old dorm, unlike Dorm 2, which is not on the hill and is a very modern, new dorm. The manga features several slice of life stories involving the girls.
Reading back through this, I found it to be mostly a delight of mindless fun following the adventures of Hatsune, which invariably get Suzuka roped in on. There's no plot, just just the slice of life stories about the girls, their dorm, and their school. The only down side is that we don't really learn a lot about these girls and their backgrounds, but we do learn enough to make the characters likeable (at least to me). I suppose in the end, that's the important thing.
One thing I should warn folks who were fans of Ah! My Goddess is that Fujishima-sensei crosses the line a few times and shows unobstructed, topless nudity for these high school babes, primarily from Stephanie, the British foreign exchange student who lives in the dorm. Paradise Residence is a seinen manga, so for the demographic, this kind of nudity is not unexpected. And Kodansha Comics does NOT censor the art at all.
Speaking of Kodansha Comics, I really have to praise them on this release. When I got the manga in the mail, I initially thought, "Wait! I thought Paradise Residence was a Kodansha title. This looks like a Dark Horse, Seven Seas, or Yen Press release."  That's because Paradise Residence volume 01 has book dimensions of 5.75″ wide by 8.5″ high. I think this is the first Kodansha Comics title that I've purchased that has been at a much larger book size.
Secondly, Kodansha Comics included color pages in this release. Yes, I was shocked by this as it is rare for Kodansha Comics to do this, but it is a welcome shock and I am glad they included them, all of which are color art pages from Fujishima-sensei. It reminded me of some of the CLAMP titles Dark Horse released and included color art pages.
While the manga is officially titled Paradise Residence volume 01, the manga not only includes the first seven full chapters of the series, but also includes all nine mini-chapters from the so called "volume 0" release. So in effect, we are getting two books in a single release (though I believe Kodansha Comics considers the volume 0 material to be extra stuff).
For those of you who read the chapters as they came out, this volume of the manga has two extra, mini chapters at the beginning and end of the volume 0 section.
This volume also includes a strange short story, written by NORIHARA Kanan, who has written a couple of Paradise Residence light novels.
There are two sections of translator notes, one for each volume of the manga. So I appreciate Kodansha Comics and translator Stephen Paul for this.
In the end, Paradise Residence volume 01 is a fun, slice of life manga dealing the the residence of a dorm at an all girls high school. Add to this the extra effort Kodansha Comics put into this and I'm happy with this purchase.