ユーキューホルダー! Manga Review
UQ Holder Chapter 122
SPOILER Summary/Synopsis: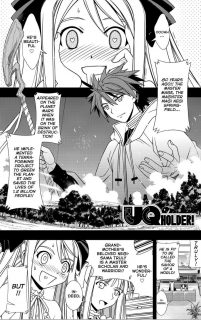 Prior to her arrival at UQ Holder's HQ, Mizore had been sitting with Chachamaru, where the android told the story of Negi and the tragic ending of his life to save the world. Chachamaru tells the crying Mizore that Negi has a grandson. Mizore's grandmother, Ayaka, barges in at this point and is surprised to hear that Negi has a grandson. Mizore and her grandmother are on the same page as Mizore vows to make Ayaka's dream to be with Negi a reality by marrying Touta.
In the present, Mizore is thrilled to be held (princess carry style) by Touta. She pulls a button down shirt previously worn by Touta and some hair ribbons, stating the naked button down shirt look tops Shinobu's naked jacket look, but doesn't beat the naked apron look.
Touta apologizes for causing them to lose the race. Mizore finds him to be cute and kisses him on the cheek. She says that as the first man she's ever acknowledged, he can do anything. To that end, she informs Touta that they will use his power on a special, new engine that will allow them to catch up with the other racers. Touta agrees to help and is excited by how fast they are going.
As they speed forward, Mizore lays out her case for why she's a superior choice over Shinobu and Kirie. She knows of Touta's goal to save the world, and she likes this since he's Negi's grandson. However, she wants him to be greater than Negi, which she feels he won't be able to do with the other girls, or with Eva. Touta notices that Mizore has an injured knee, but Mizore won't stop, citing the fact that the woman of the man who's going to save the world cannot give into a minor injury.
As they catch up, Kirie's Touta defends Kirie from spells. Mizore and her Touta catch up with Shinobu and her Touta as the two of them are hot on Kirie and her Touta's heels.
Thoughts/Review:
Well, we certainly got more loli fanservice, but it wasn't nearly as heavy as I expected.
The plus for me in this chapter is having the flashback showing how Mizore ended up coming to UQ Holder with Chachamaru and Ayaka. I still want to see the meeting those two had with Eva regarding their reasons for coming by, but I've no doubt that they were honest with Eva about their motives. And since Eva allowed Mizore in… 😉
I'm so glad that we not only get to see Chachamaru and Ayaka, but we see Negi with both eyes again. I hope that from here on, there are no one eyed drawings of characters from Negima.
It is interesting that Ayaka did marry someone and obviously have children with that person. I had wondered if Mizore might be a clone of Ayaka, but this chapter appears to all but rule that out. Frankly, I like the idea of Mizore being her own person and not just a clone of Ayaka.
And it still amuses me to see the elderly Ayaka wanting to talk about hot boys. 😆
I do like the case Mizore lays out to Touta for being his wife and companion. I know some of you don't care for Mizore (and I can understand that), but this chapter made me like her even more. In many ways, Mizore is a good match for Touta. She might not be able to stand by his side when it comes to battles, but the power of her family could make achieving his goals much easier.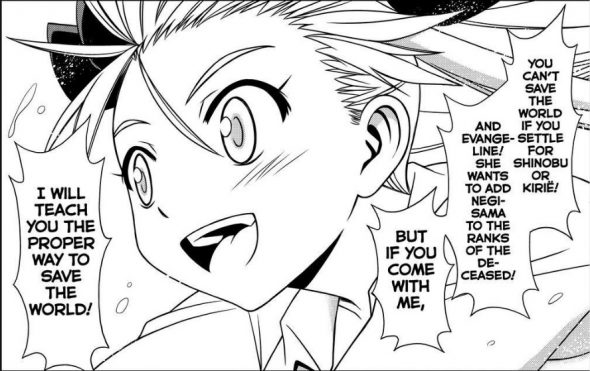 Kirie gets a bit of love here. I'm not big on the tsundere girl, so her tsundere attitude is old to me. That doesn't mean I don't like Kirie, but I would like to see her be less tsun and more dere. 😉
Anyway, the three racers are caught up to each other, so we'll see who comes out on top. We haven't seen Isana and Honoka, so I wouldn't be surprised if they win this race.
In the end, this chapter's positives for me were explaining why Mizore showed up, seeing Chachamaru as well as Ayaka, and seeing Mizore's motivation for being with Touta.