Hey gang!
I finally had a weekend off, so I decided just goof off and have some fun. As a result, I've got to see both the dentist AND a medical specialist this week. 😆 (I shouldn't laugh, but thankfully, it isn't worse than it is.)
Anyway, the medical harm of done to myself not withstanding, stuff I had planned to post yesterday and today are out the window. We'll see if I can get back on track tomorrow. (I guess it depends on how many follow up trips to see doctors I have this week, to say nothing of my workload from my job.)
As a result, here's an image post for the few of you left who haven't seen the Tenchi Muyo! Ryo-ohki OVA 4 art.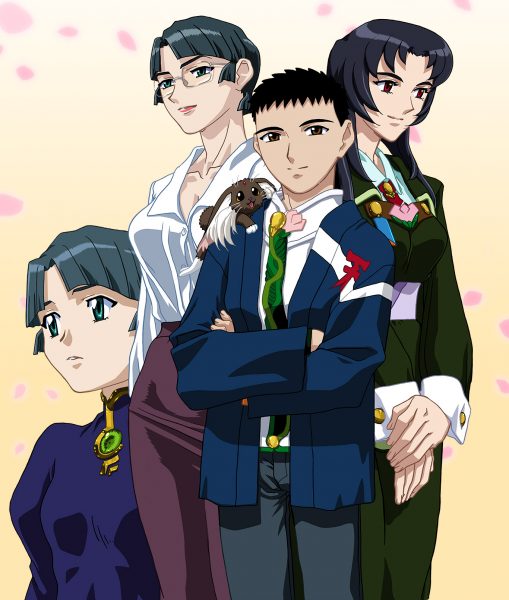 I find it interesting that the first promo art from the new series is to have a young Rea (Tenchi's step mother), and older Rea, an older Tenchi (with Ryo-ohki-chan), and Tenchi's aunt, Minaho. Minaho only got a brief cameo in OVA 3, and had a small roll in GXP, serving on KAMIKI Seto Jurai's staff. I wouldn't mind seeing her get more screen time and more development as a character. (I doubt the series would take time to explain the great lengths her mother Airi went through to make sure Minaho was born and not killed prior to birth.)
Since Rea is Tenchi's step mother, it doesn't surprise me that she's featured. However, she's featured twice, so it is possible that OVA 4 may further explain how and why Tenchi's half-brother Kenshi was sent to Geminar (Tenchi Muyo! War on Geminar).
Folks have asked me about my expectations of OVA 4, so I'll post some thoughts here.
With the story of who Tenchi is being resolved (for the most part) in OVA 3, I don't expect we'll see some massive villain the likes of Kagato or Z. We might get some pirate action though, especially if there are kids involved. 😉
I strongly suspect we'll mostly get "day in the life of the Masaki home" stories, which will show Tenchi and his harem as well as their children. (Based off of the -If- doujinshi.)
I wouldn't mind the series showing Tenchi and his harem moving to Jurai at the end of the last episode. That's supposed to happen sometime after Sasami graduates from high school.
Beyond that, I really don't have a lot of expectations.
Am I looking forward to the new OVA series? You bet. And I hope Kajishima-sensei learned a few lessons about story structure from OVA 3 (but I'm not holding my breath there).
I really wish Kajishima-sensei would get his Shin Tenchi Muyo! novels animated, and then have his GXP novels animated properly so that we get the story he wanted to tell, but for which Nabeshin mostly trashed.
Still, I'm curious to hear your thoughts on all of this. What expectations do you have? Post in the comments. Remember, don't attack others who have a differing opinion.