ユーキューホルダー! Manga Review
UQ Holder Chapter 124
SPOILER Summary/Synopsis: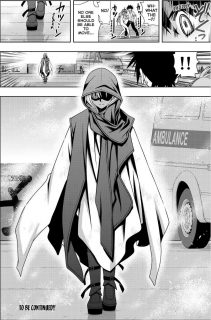 With Mizore, Kirie, and Shinobu stripped by Isana, their respective Touta's cover them up as they continue the race. The Touta's know they need to help one of the girls, but can't decide, which causes Kirie to go off on them. In the end, the three Touta's get on Mizore's speeder since they will power it and compensate for the extra weight. With no passengers on Kirie's or Shinobu's machine, the two of them are able to keep up with Mizore.
Isana and Honoka are surprised that Touta caught up and apparently chose Mizore, but they then realize what has happened as Isana uses a Shinmeiryuu attack on them. Touta deflects it into the crowd, so Honoka uses her Eastern magic to cast a Flans Siege Exarmatio spell. The Touta's turn the spell right back on Isana and Honoka, stripping them and causing a massive accident at the finish line.
Touta and Kirie accidentally kiss as they fly through the air across the finish, stopping time. Touta is amused by the frozen spectacle at the finish line. Kirie tells him the Shinobu and Mizore are better choices to help him reach his goal and catch up to Negi. Touta tells Kirie she's been a huge help to him and that he's going to stay by her side forever. He wants to kiss her to unfreeze time, but they hear impossible footsteps. They look and see Cutlass approaching.
Thoughts/Review:
Meh. This chapter was all ecchi with the long awaited return of Cutlass at the end.
From a story perspective, stripping your opponents in a race or fight and causing them shame/embarrassment makes sense to me.  However, with Shinobu, Kirie, and Mizore already showing off their naked loli bodies to the max, it doesn't make sense that Isana would decide that yet another stripping spell would do the trick. Further to that, it makes even less sense that Honoka would decide to use an even more powerful stripping spell, especially since Isana's stripping attack was deflected into the stands.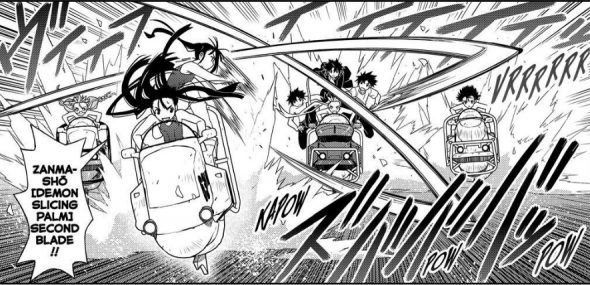 Yeah, yeah, I know — Akamatsu-sensei needed to get Isana and Honoka naked again, and this is how he does it. *_*
As to this theme of Touta choosing a babe, the only thing I got out of this is that Mizore, Shinobu, and Kirie have things to offer. As such, it has to be a harem and nothing else. With those three down, then he ropes in Karin and Kuroumaru (who completes the journey to becoming a lovely girl), and then he can start working on Cutlass.
Cutlass arriving at the end of the chapter is the event I expected to happen going into Golden Week.  The big question is, "Why is she able to move around?" If the time stop power has no effect on Cutlass, than they are toast, assuming Cutlass attacks. Kirie gets booted back to her last save point, and she might take her Touta with her, but otherwise, there's not much they can do.
Regardless, we'll see what happens next week. For now, the race appears to be finally over.
In the end, the chapter was mostly about getting loli babes naked, which I could do without.