Cardcaptor Sakura Clear Card Arc 02
カードキャプターさくら クリアカード編 chapter 02
SPOILER Summary/Synopsis: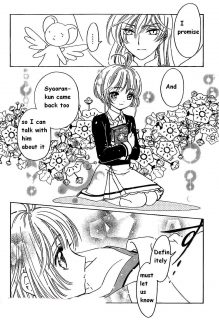 Sakura pays a visit to Yukito's house in order to consult with Yue. Yukito transforms to Yue, where Sakura reveals her cards are now transparent. Further, the cards have no magic. However, Sakura's magic still exists as she's able to convert her key into her magic staff. Sakura then tells Yue about the figure she met in her dream. Since Sakura can't provide more info, Kero-chan states that he'll stay with Sakura for now. Yue requests Sakura talk with Yukito  about this issue. She promises to do so. She cites that she can also speak with Syaoran as well.
Sakura briefs Tomoyo and Syaoran about the situation with her cards and her dream. Syaoran worries about this, stating his belief that the person in Sakura's dream is connected to the issue. The prospect of Sakura performing as a Cardcaptor excites Tomoyo, who has costumes already at the ready. She also has them ready for Kero-chan. After Sakura leaves, Syaoran makes a remark to Tomoyo about how she distracted Sakura with her costume remark. She responds that she believes that everyone will help Sakura. With that, she joins Sakura, leaving a worried Syaoran behind.
At school, Chiharu worries about Syaoran being in the same class as Yamazaki since her boyfriend has a reputation for falsehoods. Sure enough, Yamazaki spins a tale for Syaoran, backed up by  Naoko.
That evening, Sakura waits for a response to her text from Eriol. Kero-chan gives her some reassurance regarding his lack of response.
That night, Sakura falls asleep where she sees the same figure in her dream. The figure doesn't respond to Sakura's inquiry. However, the figure produces a new key for Sakura. When Sakura wakes up, she discovers the key in her hand. Sakura hears noise from outside, so she opens her curtains. As she does, there is a wind apparently blowing out. In the sky, swirling around is what appears to be a massive snake body.
Thoughts/Review:
Welp, time for a new chapter with more Cardcaptor Sakura goodness.
As expected, the Sakura Cards are now transparent and non-magical. So I guess it isn't much of a stretch to guess Sakura has to restore her cards, one at a time.
It is nice seeing Yue again. I like how Sakura consults with him. There's something about that moment that makes Sakura come off a bit more mature.
Tomoyo-chan basically steals the chapter with her appearance. Not only do we get an enjoyable moment showing her excitement over Sakura returning to the Cardcaptor business, she also comes off awesomely when she talks with Syaoran a little later. CLAMP really has gone out of the way to increase her cuteness level. 🙂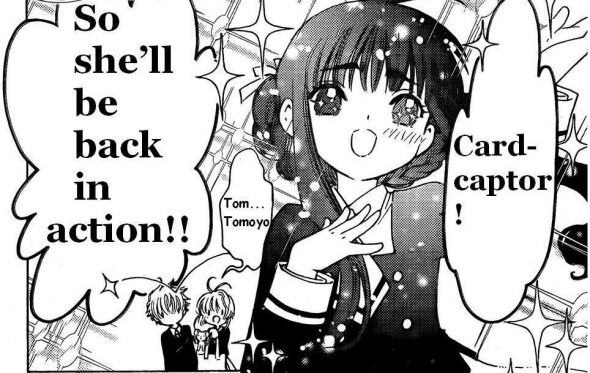 Syaoran is a worrywart. I'm not sure why he seems to express great concern when he sees Sakura and Tomoyo go off together. Is it jealousy? Is it just some other form of worry. I guess we'll have to wait and see.
While we are on the subject of Syaoran, I notice that his teddy bear comes into focus when Sakura starts dreaming. Maybe Syaoran is the figure in Sakura's dreams. I hope not, but then I hope that it isn't Eriol either.
Still, whomever this person is in Sakura's dream, they provided Sakura with a new key. I'm guessing this will be a new staff. I'm also guessing we'll get some new incantation. That is, unless this new key produced the giant snake creature outside. It is hard to say for sure.
Finally, Naoko and Yamazuki finally have a speaking role in this chapter. It appears the two of them will used for comic relief to toy with the naive Syaoran.
In the end, Cardcaptor Sakura Clear Card Arc 02 is a fun manga chapter that continues to set the plot table.