ハヤテのごとく!/Hayate no Gotoku Manga
Hayate the Combat Butler Chapter 534 Review
SPOILER Summary/Synopsis: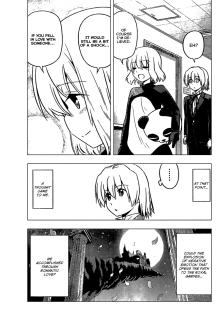 Chiharu goes to change her clothing, leaving Hayate with Ruka. Ruka asks if Hayate has kissed anyone since her. Hayate denies this, then recalls Konoha kissing him. Hayate's pause lets Ruka know the truth. As such, Hayate defends himself by telling Ruka the girl kissed him. Ruka teases Hayate about his popularity, which he denies.
Chiharu says goodbye to Ruka before departing for Nagi's home. While Chiharu helps Nagi with her manga, she asks Nagi if she is in love with Hayate. Nagi concedes the point, then tells the story of how she and Hayate met. Chiharu now sees Hayate as a lolicon. Since Nagi figures she and Hayate will marry, Chiharu states that Nagi will need money. When Nagi asks why, Chiharu tells her that Nagi will need the money to keep the attention of a lolicon.
Chiharu's words offend Nagi, so Chiharu lays out her case. Nagi has to concede Chihari's points. However, the conversation causes Chiharu to reveal her parents are getting a divorce. Chiharu concludes her shocking revelation by stating that money is important to Nagi's future with Hayate.
Ruka prepares to leave, telling Hayate she's glad he's not in love with someone since this event would shock her. Because of this, Hayate has a thought. If the explosion of negative emotion can be accomplished through romantic love, maybe he should love someone for that purpose, to help Nagi.
Thoughts/Review:
She was only in two chapters, but Ruka takes her exit. I have a feeling she'll be back in the near future.
Ruka teasing Hayate about him kissing another girl after her amused me. It is rather clear that she is still in love with Hayate.
Of course, Nagi's conversation with Chiharu made for some very amusing moments at Hayate's expense. It is cute seeing Nagi and Chiharu blush so much. I also like it that Nagi opened up about her feelings for Hayate. It isn't surprising that Nagi believes she and Hayate will marry.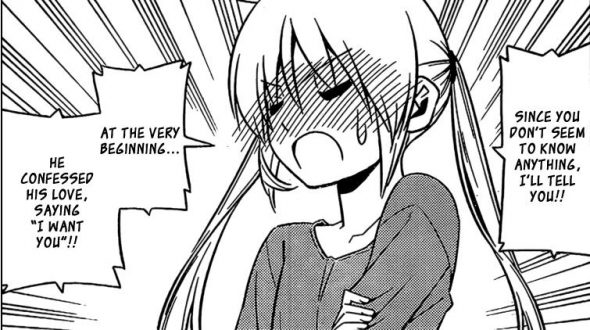 I find it interesting that Hata-sensei appears to be using Chiharu has a vehicle to get Nagi to care about the Sanzenin inheritance. Throughout the entire manga, she's never been that interested in it. So Chiharu branding Hayate as a lolicon, thus becoming uninterested in girls by the time they hit their 20s, forces Nagi to now consider obtaining the inheritance for the money and keeping Hayate's interest.
(As an aside, it is a shame about Chiharu's family, but it gives her an excuse to remain in Yukari-chan house as a renter.)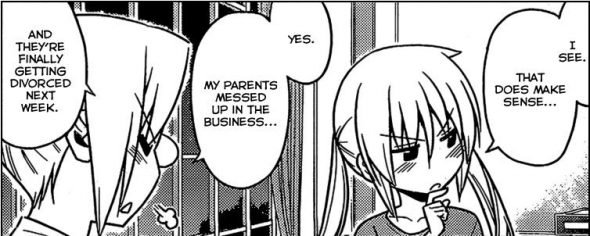 Transversely, Hayate is attempting to gain the Sanzenin legacy so that Nagi will receive protection from it for life. I'm not sure if Hata-sensei has anything specific in mind when he had Hayate think back to his romantic encounters with Ayumu, Athena, Hina, and Ruka. Hayate could be thinking of using one of those girls to open a pathway by loving them and leaving them.
However, I still think that Nagi will be the one opening the path. I think the "bomb" of misunderstanding that was set at their initial meeting will soon go off. Nagi will come to understand that Hayate's feelings for her aren't the same as her feelings for him.
I also still think that when all is said and done, Hata-sensei will have Nagi and Hayate hook up since that was the original plan.
In the end, Hayate the Combat Butler chapter 534 is a good one, merging humor and plot. I'm looking forward to the next chapter.