A Bit of UQ Holder News
Hey gang. The limited edition version of UQ Holder Volume 12 is being advertised in Japan.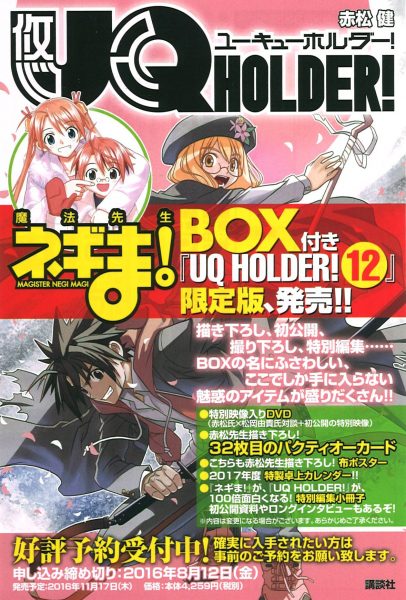 I don't know if it actually means anything, but Touta's mode of dress is different and Kirie seems to have Nagi's/Negi's staff.
And this information from Hata.
08/06
Akamatsu Studio after 1.5 months rest, restart drawing UQ.

09/20
first deadline for UQ on BSM
(meaning for each chapter we should start to hear about spoiler around the end of the month and raw the beginning of the month, as BSM is officially published each month on the 9th. the obvious point setter would be Titans, just like FT on SM. when Titans spoiler is out then it is the time to look.)

further information released on the limited edition.

DVD, includes dialogues between Akamatsu and Yuki Matsuoka (Eva)

the 32nd Akamatsu drawn pactio card

Akamatsu drawn fibre poster (wall scroll)

2017 desk calendar

Negima and UQ design info booklet
So, I guess I'll need to do some research to try to determine when the UQH spoilers might come out, assuming they come out at all.
Also, the DVD is a "Negima Series Special Video" for those wondering. Not sure what that will entail other than the Akamatsu-sensei stuff Hata mentioned.
There's still time before UQ Holder comes back to us. However, it will be here before you know it. 😉
Thanks to Hata for the information!
Update: If folks want to discuss where they'd like to see UQ Holder go, feel free to do so in the comments. Remember, don't attack other commenters who have different opinions from you. In other words, play nice. 😉