ハヤテのごとく!/Hayate no Gotoku Manga
Hayate the Combat Butler Chapter 540 Review
SPOILER Summary/Synopsis: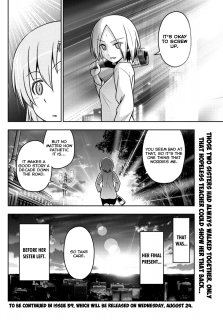 At the end of the school trip to Las Vegas, Yukiji throws a massive party. Hina gets upset that her sister is blowing all this money instead of using it with care. Yukiji rejects this, believing money is about spending. She then buys an expensive car, then tells everyone she's buying souvenirs for everyone.
Hayate tells Hina that Yukiji is going to blow all of her ¥2.4 billion. As such, the two of them go to where she's blowing her money. While Hayate wants Yukiji to buy him things as well, he warns her that she'll spend all of her money in now time. Yukiji scoffs at this idea. After all, spending ¥2.4 billion isn't so easy. However, when her students blow ¥270 million, she concedes Hayate's point. That just makes her think she needs to gamble to get it back. Hina reminds Yukiji that she sucks at gambling.
Yukiji challenges Hina to a poker game, where if Yukiji loses, she calls off the party. Hina agrees, stating that Yukiji has to budget her money if Hina wins. Yukiji agrees and loses. As such, she decides to spend anyway and ignore the bet.
As dawn approaches, Hina scolds Yukiji for blowing another ¥500 million. However, Hina decides she won't bother Yukiji about this any more since it is her sister's money to do with as she wills. With that, Yukiji hands the cash card over to Hina with ¥1 billion still on it. Hina is surprised by this, but Yukiji says she's doing what she wants with the money. With that, Yukiji tells Hina that it is OK to screw up and then leaves.
Thoughts/Review:
You know, for a Yukiji chapter, this ended up being rather poignant.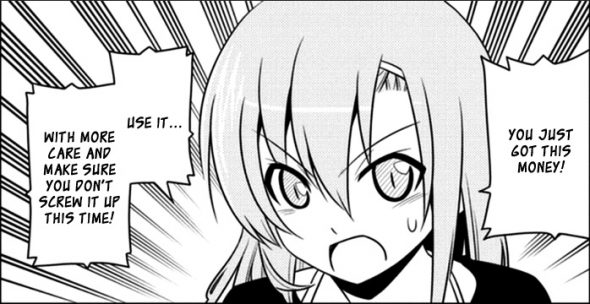 Since the return from Las Vegas, I can't remember if Yukiji has shown up or not. The way this chapter ends, it makes it seem as if Yukiji parted ways with Hina for good. "That was her final present before her sister left" is how the unofficial English put it. With Yukiji walking off into the sunrise, it just made it seem like this is the last Yukiji story.
Whether it is the last Yukiji story or not, I'm glad to see her again. I wondered how she'd react to having ¥2.4 billion to spend. Apparently in one night, she blows ¥1.4 billion (~$13.7 million). So that leaves Hina with the ¥1 billion (~$9.8 million). Not a bad gift. I'm not sure how it works in Japan, but that simple act in the U.S. would have Hina owing a MASSIVE tax bill that would take away a massive chunk of it. But I digress…
Beyond that, there's not a lot to discuss in this chapter. I do get the feeling that Hata-sensei felt the need to establish that Hina is on her own and has ¥1 billion at her disposal.
In the end, Hayate the Combat Butler chapter 540 is a fun chapter that seems to be setting up things for later.