げんしけん: 二代目Chapter 126 Manga Review
Genshiken Nidaime chapter 126 Manga Review
SPOILER Summary/Synopsis: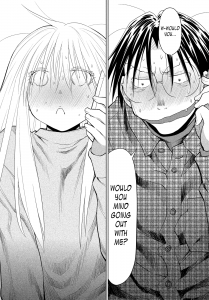 Sasahara calls Ogiue regarding Madarame getting to talk to Sue, but since he's not doing a good job, Saki takes the phone. Saki explains that they are going to have Madarame confess to Sue and that Saki will take the blame for any problems. Ogiue asks if Sue wants to take to Madarame. Sue blushes hard as a result and hugs Ogiue. Ogiue realizes that Sue has been clingy due to a broken heart and puts Sue on the phone.
Madarame doesn't know what to tell Sue, so Saki tells him to just ask her out. He is flustered, so he resorts to an otaku line which Sue responds to. Madarame uses another line, pleasing Sasahara. Madarame then shifts to his own words, telling Sue she's moe, but gives it an otaku twist. Why he likes her best over the others in the harem. Further, he cites how he felt Saki was moe, so maybe to him, love and moe aren't that different. After saying his piece, he asks her out.
As everyone waits, Sue responds by quoting the famous Lupin III: Castle of Cagliostro line from Zenigata. However, she modifies the ending so that she references the time that Ogiue used the line to refer to Sue having borrowed Ogiue's panties and having taken them back to America. Ogiue yells at Sue for this while Madarame tells the others around him that he didn't steal any panties.
Sue gives the phone back to Ogiue. Ogiue gets permission to tell Madarame that Sue will go out with him. Madarame hands the phone back to Sasahara, but now wonders what to do since he planned to move. Saki assures him that his new location won't be a problem. With that, Saki considers her work to be done and leaves it up to Madarame. With that, she orders an adult beverage (Nabeshima). Ogiue calls Ohno to let her know what happened.
On the day of Madarame's move, he's joined by Rika, Hato, and Yajima. They see him off and wish him well. Rika marvels at Saki's ability to resolve the harem situation when Rika couldn't do it. At the train station, they meet Sue, Ohno, and Ogiue. Ohno suggests that Sue to with Madarame. He's worried since this is moving day, but Ohno believes he should make this massive change in his life with Sue at his side. With that, Madarame and Sue leave to catch a train.
Thoughts/Review:
As a long time Sue shipper, Genshiken Nidaime chapter 126 made me feel quite emotional.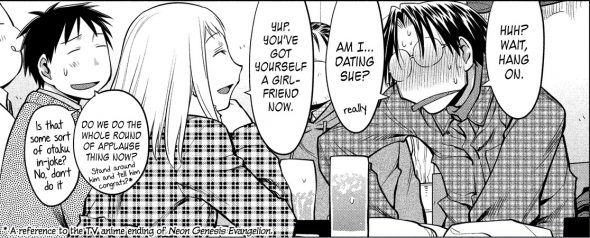 You know, when Sue first appeared in Genshiken, I didn't care about her as a character. She was this weird, devious seeming, somewhat obnoxious character. A lot of that came from how Kio-sensei drew her.
Then in Genshiken Nidaime, she stopped being obnoxious. Part of this was a softening of Sue's character design. Part of this is that Sue didn't seem devious anymore. I began to like Sue at that point, even liking her otaku quote spouting. She suddenly became a scene stealer though. That was unfortunate because it caused Kio-sensei to only use her in a limited fashion and not explore her character and allow us to better understand her.
Despite a lack of character development or exploration of Sue, I began to like her a lot. When the Madarame harem stuff started happening, I jumped on the Sue x Madarame ship right away. Yeah, a part of me wanted the Saki x Madarame thing to happen because it would make Spotted Flower canon and that would be a rather unique thing in manga storytelling. But that's a tale for another time.
I know there are some who believe that Sue was just sprung into the mix, but I disagree there. While I acknowledge that Kio-sensei did little with Sue, lest she steal the manga, Madarame did see her as a girl during Sue's and Angela's winter visit to Japan at the end of Genshiken. Madarame was the only other person Sue opens up to other than Ogiue. Sue even rides on Madarame's shoulders. Madarame was very aware of Sue as a girl during that time.
As to Madarame's and Sue's conversation, I liked it. They communicated in the way they know best. It would be nice if Sue communicated more in her own words, but as we saw from the most recent Spotted Flower chapter, that's just never going to happen. Still, it does make for amusing moments, especially when Sue quotes things from the Genshiken manga. 😀
Without realizing it, Kio-sensei created the ultimate weeaboo character. For those who don't know, weeaboo is the insulting,degrading term to describe (mostly white) folks who are so deep into Japanese culture, they adopt a lot of Japanese things as part of their life. Dirty little secret is that folks who might be triggered if the "N" word was used against a black person or the "F" word used against a homosexual will have no problem using the "W" word against those who are way into Japanese culture. 🙄
That being said, I doubt Kio-sensei even knows what a weebaboo is. As he described Sue, her initial character type was that of an otaku who doesn't say much with a hint of yuri and a whole bunch of blushing. So the weeaboo concept wasn't in his mind when he created Sue. Yet that's what Sue would be called if she were a real person. I guess I just find that interesting.
While Saki may have been the one to get the ball rolling, it amused me that Madarame's confession to Sue had her confused and even a bit put out at times. It is interesting how much she still cares for Madarame to go so far as to set him and Sue up as a couple. The chapter indicates she's done, but lets be honest, as much as Saki has done for Madarame, she'd be back to help him again if the need arose.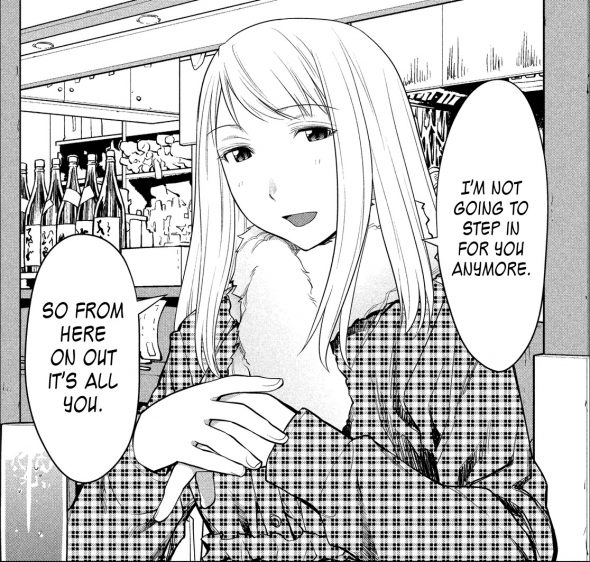 So, does this mean that Spotted Flower won't be canon? This chapter does nothing to dissuade that. However, if Genshiken Nidaime went on for a while, we could have seen that journey would have taken. Maybe if Spotted Flower goes full time, we'll see that journey. That way, Kio-sensei would have the best of both worlds – one where Madarame ends up with Sue (and they live happily ever after) and one where Madarame ends up with Saki.
Ogiue looked pretty cute in this chapter, happily blushing over Madarame's confession to Sue. Then there was her call to Ohno. I got a chuckle over that.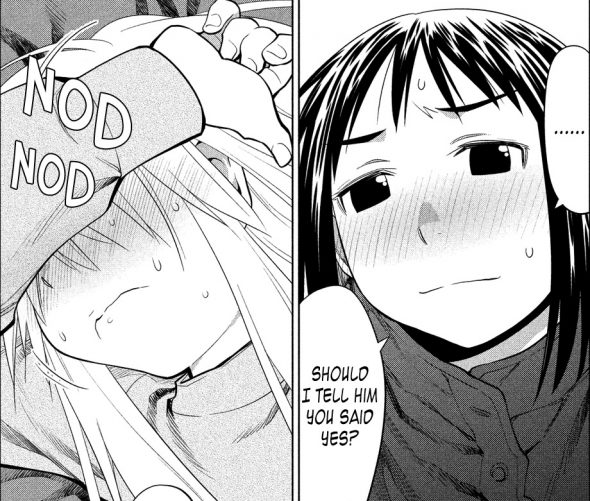 Anyway, it is nice to see how all of the current members of Genshiken saw Madarame off to his new life with Sue. Their happiness is pretty much what I felt. 🙂 It is too bad that Sasahara and the others couldn't have been there as well, but I suppose work comes first.

In the end, Genshiken Nidaime chapter 126 is a touching yet fun chapter, allowing Madarame to finally hook up with Sue. One one chapter to go.