Spotted Flower Chapter 19.5 (Manga)
Spotted Flower manga chapter 19.5 review

SPOILER Summary/Synopsis:
NOTE: For the purposes of this and future reviews, until the characters are given names, since these characters are obviously from Genshiken (or Genshiken Nidaime), I will call the "not-Saki" character !Saki, the "not Madarame" character !Madarame, and so forth for all other unnamed Genshiken characters.
!Sue is at the summer doujinshi event, carrying a ton of goods. She stops at the booth run by !Hato and !Yajima. The two offer the hot and tired !Sue a chair and water.
After she chugs the water, she gets close to !Yajima and cops a feel, causing !Yajima to have to leave to fix her bra. !Hato asks !Sue to keep her hands off !Yajima. !Sue says that she likes to sometimes feel big breasts. !Hato tells her to speak with her own words. !Sue tells !Hato that their senpai would be hurt to know !Hato said that.
Thoughts/Review:
Well, since I'm pressed for time and this is a tiny chapter, I may as well review it now. 😉
It is amusing to me that Kio-sensei uses these 2-page ".5" chapters to feature !Hato and !Yajima. Well, he usually tells what he wants to tell within the confines of two pages, so its all good.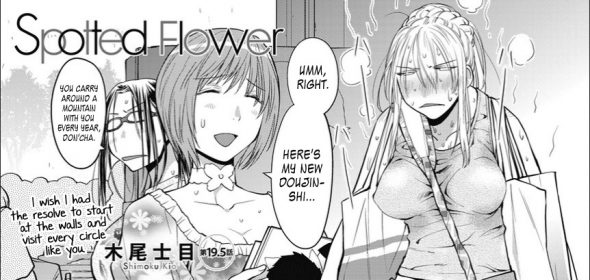 For this chapter, we already know !Sue was around. It is humorous seeing her in an older form, and with a larger bust size.
What I gleam from the chapter is that !Sue appears to have had cosmetic surgery done like !Hato had done. I base this on the fact that !Hato remarked on how the two of them had strayed from the blueprints their bodies were built on. It would be wild if Kio-sensei told a tale of how this came about. Somehow, I envision a certain !Sue deciding to get them after breaking up with a certain !Madarame, who never gave up on a certain !Saki. 😉
And, Sue still speaks by quoting others, usually manga or anime.
I liked the nod to !Ohno here. Well, I think it is a nod to Ohno from Genshiken and the bath she had with Saki. It is very late as I write this, so someone can correct me if I'm wrong. My eyes can barely read the screen from being on fire. 😯
In the end, Spotted Flower Chapter 19.5 is kind of an amusing chapter for what it is.