Fate/kaleid liner PRISMA☆ILLYA 3rei!! Episode 11 REVIEW
Fate/kaleid liner プリズマ☆イリヤ 3rei!!
Fate/kaleid liner Prisma Illya 3rei!! 11

SPOILER Summary/Synopsis: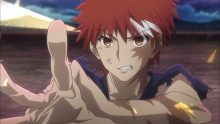 Shirou goes up against Angelica, but is unable to overcome her. Kuro joins him, learning new Archer skills by observing Shirou. As such, the two are able to defeat Angelica and cause the Gilgamesh Archer card to uninstall from her. Shirou attempts to launch himself at Julian. However, Sakura, with the Lancelot Berserker card installed, emerges from the black mud and severely injures him. Miyu races to help her oniichan, grabbing the Gilgamesh Archer Class Card. Sapphire gets kicked out as Miyu attacks. However, Sakura is not touched by the barrage of swords.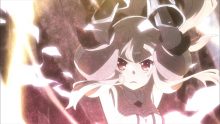 Julian has Beatrice knock Shirou a long way away. Because the Gilgamesh Archer Card is taking over Miyu, Julian pulls it from Miyu and sends Sakura back to the mud by taking the guise of Shirou. Gil-kun arrives to take it from Julian. Beatrice finds herself quickly ensnared by Enkidu's chains. The black mud covered Erika addresses Gil-kun, causing him to have insight into the Ainsworth plan. A stunned Gil-kun disappears after Beatrice breaks free and announces he'll watch from the sideline. Meanwhile, the corrupted Heroic Spirits get stronger as Rin tries to heal Shirou. Kuro puts up a barrier as Ilya uses Saber Lily to attack with Excalibur.
Thoughts/Review:
Wow! The hits just keep on coming with Fate/kaleid liner Prisma Illya 3rei!! 11. Good freaking grief.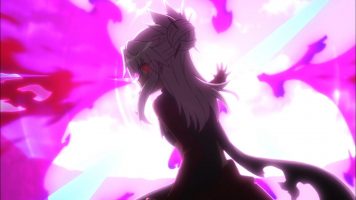 Shirou Archer and Kuro
It is nice seeing a powerful Shirou here, going up against the more powerful Angelica. The episode allowed for a small reunion for Shirou and Miyu, which was nice. I was disappointed that Shirou didn't speak his incantation to activate his Reality Marble in English. However, that's a minor point.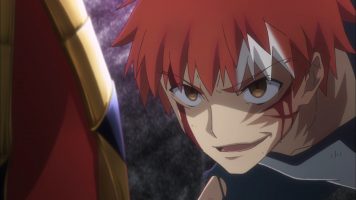 What I loved most about seeing Shirou in action was his team up with Kuro. I got the feeling that Kuro didn't know Shirou is in fact the Archer Card within her. However, I got the feeling that she suspects. Further to that, I loved that Kuro became better just by observing how Shirou used his abilities. Without Kuro's help, Shirou would never have defeated Angelica. More on that in a bit.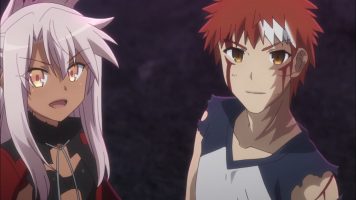 Gilgamesh Archer Class Card
If it does nothing else, Fate/kaleid liner Prisma Illya 3rei!! 11 shows just how truly strong the Gilgamesh personality is. We already knew that the process that the Ainsworth used to transform Heroic Spirits into Class Cards removed the personality from said Heroic Spirit. For Gilgamesh, not only did his humanoid form remain, though as a kid, but his mind is still present in the card!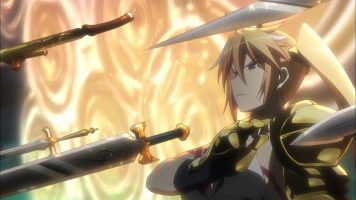 That begs the question of how Angelica was able to control it. When Miyu did the install, the first thing the Gilgamesh Archer Card did was give Sapphire the boot. Then it immediately started taking over Miyu's body. Angelica always seemed to control it. Of course, she's always been fairly emotionless and methodical in her attacks. Miyu, on the other hand, was highly emotional. Maybe that's part of the difference.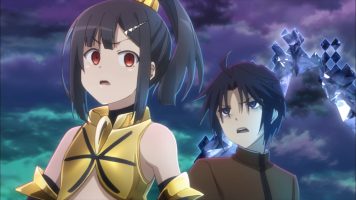 Gil-kun and Erika
I never liked Gilgamesh in Fate/Zero nor in the Fate/stay night stories. In my mind, there's no way adult Gilgamesh would have helped Ilya and company the way Gil-kun has. Gil-kun has all of the arrogance of Gilgamesh, but without all of the power of Gilgamesh, he's kinda like a joker trump card in battle. As such, it amused me to see Gil-kun show flashes of Gilgamesh when he talked with the Ainsworth.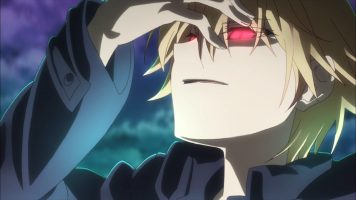 However, all of that arrogance died when Erika spoke. Gil-kun appears to have recognized her for what she truly is. Whatever she is, it initially horrified Gil-kun, which shocked me. I'm not sure how accurate this is (someone complained about the accuracy of the CR subtitles), but Gil-kun called her the Mud Doll of Calamity. Man, just what the heck is Erika to cause Gilgamesh to react the way he did?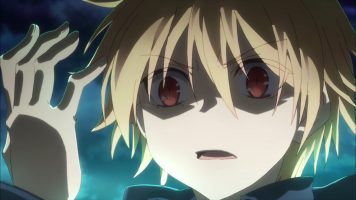 Erika mentioned opening the pithos for Julian. I'm guessing the pithos is that Borg cube thing that is pouring out the black mud. I'm guessing that Erika's abilities are producing the corrupted Heroic Spirits. Is that also the Cube that Julian spoke of, whereby he created the Class Cards? If so, is Erika somehow tied into that process.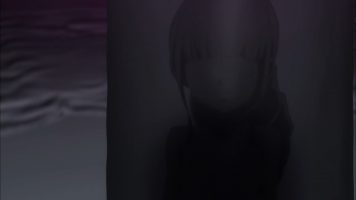 I guess Gil-kun is gone. Now that he has his Class Card, he's free to become full Gilgamesh again. Whether he does this or not, I don't think we'll see any form of Gilgamesh for a long time.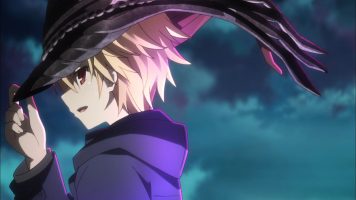 Beatrice and Angelica
I honestly didn't expect Angelica to be defeated. However, the Kuro and Shirou combo allows her defeat to make sense. Once she was defeated, was surprised me is Beatrice's attitude toward her former comrade. Julian ordered Beatrice to do somethings, but not to help Angelica. Granted, Angelica using the Gilgamesh Archer Class Card made her the strongest, but even with a "lesser" card, I think Angelica would still make a powerful Saber Class, as an example. Instead, she's apparently left to die.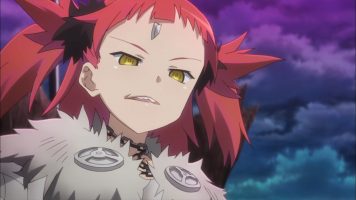 The other shock came from Beatrice breaking free from Enkidu. I remember what Gilgamesh has done with Enkidu in Fate/Zero and Fate/stay night. As Thor, Beatrice shouldn't have been able to break free, but she did. The question is, "How?" Not only that, but she wasn't damaged either and came free with full power.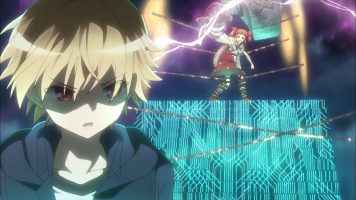 Enter Sakura
I'll admit it. The biggest surprise for me was Sakura arriving out of the black mud. Initially, I thought she come out as Rider, though not Medusa Rider. Her Heroic Spirit costume looked familiar to me, so I did look it up and found it that it is Lancelot Berserker. Considering Sakura's mental state, I guess I'm not surprised.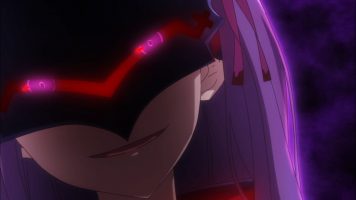 Still, insane Sakura as Berserker is scary powerful. I'm used to Berserker types just growling and roaring. Sakura is obviously broken, but she is able to communicate very clearly. That causes this Sakura to take the "Senpai, notice me!" meme to its extreme for sure.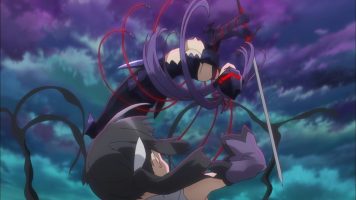 I wasn't clear on what Sakura did with the weapons Miyu fired at her as Gilgamesh. She's grabbing them and then using them after altering them somehow. Does this mean they've left Gilgamesh's treasury for good and now belong to Sakura? (I was never quite clear on what became of Gilgamesh's weapons after they were fired. I always presumed they returned to the treasury.)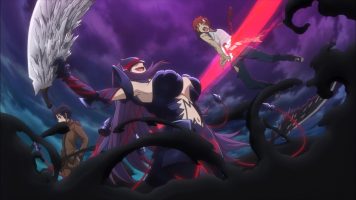 I figure we'll see more of Sakura in the future. I'm hoping that somehow, the gang can rescue her from the Ainsworth and cure her broken state.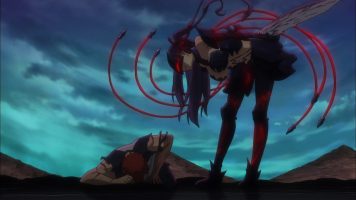 Final Thoughts and Conclusion
Sadly, Bazett, Rin, and Luvia have been pretty worthless for this last fight. However, I did get a chuckle out of them doing the poor man's version of the Cannon Ball Special to launch Rin to save the falling Shirou.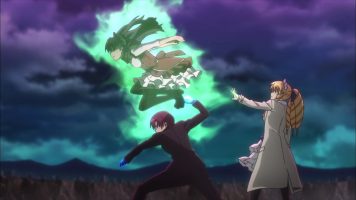 In the end, Fate/kaleid liner Prisma Illya 3rei!! 11 turned out to be an excellent episode. There were lots of surprises to go with the action. I'm really looking forward to seeing how this all concludes.