ViVid Strike! 03
SPOILER Summary/Synopsis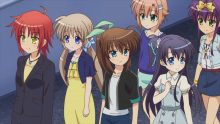 Rinne is shown training before getting dressed and joining her adopted, wealthy parents for breakfast. Later, Nove leads her girls to the tournament, where they have a VIP lounge to watch the fights. Rinne's coach, Jill, has a chat with Nove about things. Afterward, Rinne crushes her tournament opponent, then crushes the girl's feelings while coming off as polite. She then issues a challenge to Einhart, Vivio, and Miura to battle her in the Under 15 part of the upcoming Winter Cup tournament. They accept, but have Fuka also join. Rinne then challenges the entire Nakajima Gym group. Later, the girls encounter Rinne in the hall, where she and Fuka have a dust up.
Thoughts/Review
As I thought, boring, cliche-filled tournament stuff, coming up. And if that doesn't jazz you, hot, naked U15 anime babes might do the trick via long henshin sequences. I mean, you NEED to see these girls transform completely, right? 🙄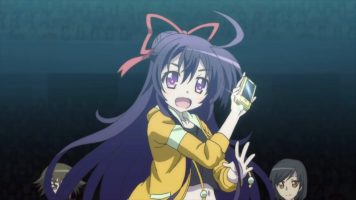 Cliché
Sadly, Rinne's story is a walking cliché. Yeah, I get it. She's the abused, bullied girl who was always protected by Fuka and hated herself for being weak. It is hard for me to tell, but I sense that even after she was adopted, she continued to be bullied for a time. Eventually she snapped (I'm guessing the jewel in the toilet incident) and now she'll never be bullied again. In the process, she has disdain for everyone else. Sorry, but I'm not really interested in that story.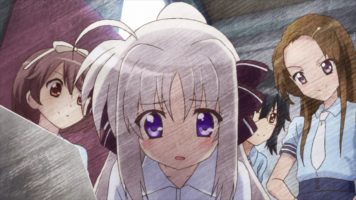 Everything is clearly pointing to a Rinne vs Fuka showdown. If we go full cliché, during the course of their fight, Rinne and Fuka will reconcile. I think this episode laid out the groundwork for that to happen. First, Fuka points out Rinne's apparent discomfort at what she's doing. Second is the initial clash between Rinne and Fuka. And there are other moments I could point out, but I'm pressed for time this month.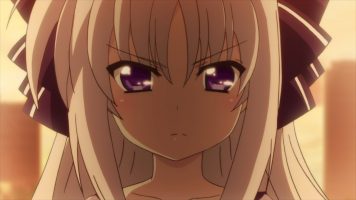 The ultimate cliché is Rinne challenging the girls of Nakajima Gym. Now we have our groundwork to involve everyone. Sadly, I fear this will mean that Vivio is going to get her butt handed to her as well as Einhart. That's because Fuka is the main character of this series. I'm not going to like seeing Vivio getting beaten 'cause Fuka needs to shine. But that too has already been set up.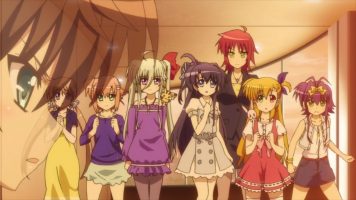 The Surprise
After two episodes, I was thinking that maybe Rinne's change of personality and attitude might follow another cliché. I envisioned the wealthy family adopting her with some sinister purpose in mind.  Maybe sinister isn't the right word. However, I saw a scenario where Rinne was sent through brutal training to toughen her up. I could see her beaten and forced to do things to make her cold and callous.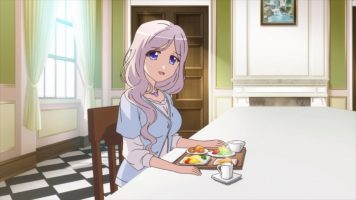 If the first part of this episode is any indication, that cliché is out the door. Rinne is driving herself to be stronger. Her adoptive parents seem loving and caring. Rinne is treated like the ojousama she has now become. The staff even address her as such with great respect. And at home, Rinne puts forward a kind, loving air, which I do believe is genuine.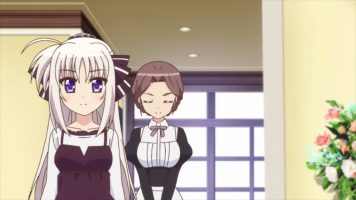 So I'll give kudos for the writers not going the cliché route I expected.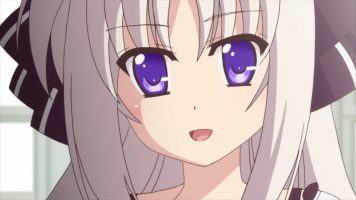 Final Thoughts and Conclusion
While I expected this, I am disappointed with the direction that ViVid Strike is going. There's not going to be anything important for the girls to deal with. The only heroics will be in a tournament setting, which don't matter to me. And as I stated earlier, I'm not looking forward to Vivio getting destroyed in order to allow Fuka to shine. But I'll discuss that more when and if we cross that bridge.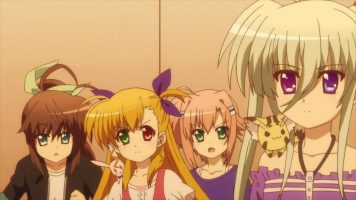 In the end, ViVid Strike! 03 set the stage for a tournament showdown, using a clichéd background story for the antagonist as a foundation. That's not ringing my bells.