Info From Japan on UQ Holder Volume 12 LE Manga
Hey gang! Hata has provided us some information for the UQ Holder Volume 12 limited edition manga release.
the limited edition of UQ 12 boxset hit the store, and the first review is out.

– the Eva fabre poster is basically another takeoff of the Kirie fan service blanket, enough said, probably only people with melonpan's attitude can openly hang it in their room. 🙂

– the design booklet has some interesting details, including 81 pages of the initial ch. 1 sketch, from the one page posted we see the boy was not originally named Tota, and Eva was shown nerfed with a missing eye, of course now it was only hinted at that Eva was weaker than before without the eyepatch.

– in the DVD, there was the expected interview with Akamatsu and Matsuoka Yuki (Eva), it also has three PV of old Negima songs, the one new info is there will be an OAD before the anime, the reviewer of course speculate it would be in another one of those limited edition boxset.

– the desktop calendar consisted of 12 Super deformed Negima (no UQ) characters, one for each of the 2017 month, only generic patterned background.

– the new 32nd Eva pactio card has the exact attributes as the old one, the only difference is Eva instead of dress up Negima loli witch style, here is in a more mature UQ civil style (during the kiss with Tota for book 11 cover)

– last there will be an Akamatsu lifetime drawing exhibition in Tokyo, from next year March 18th to 26th, I suspect it is done to hype the anime, so I am guessing the earliest anime is probably next year's spring season? (April) maybe even later.
The Japanese source for the above info is Beatarai. There are two blog posts, here and here. Beatarai has several images in the posts, so do check them out to see everything.
I think Eva with an eye patch would have been interesting. It would certainly have caused speculation on how she was unable to regenerate an eye, unless the eye patch was part of Eva's adult illusion.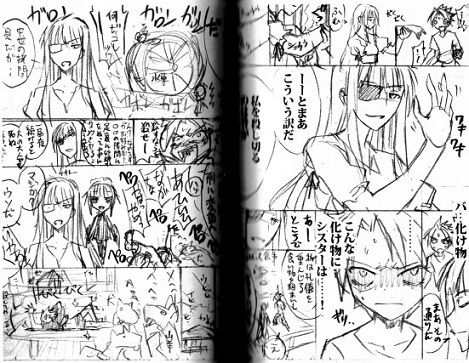 I had thought about buying UQ Holder Volume 12 LE, but finances are tight. I wouldn't mind seeing the original draft version of the first chapter of UQ Holder, but oh well.
If any of you pick this up, let me know your thoughts about the release!