Sweetness and Lightning Volume 01 Manga Review
Amaama to Inazuma Manga Volume 01
Buy Sweetness and Lightning Volume 01 from Amazon.com
***SPOILERS***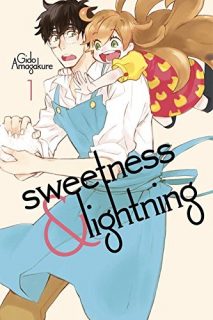 It is often said that anime today is mostly used as an advertisement for some product. Usually, that product is a source manga or light novel series. In the case of the Sweetness and Lightning anime, it was to promote the Sweetness and Lightning (Amaama to Inazuma in the Japanese) manga. Thanks to Crunchyroll running both the anime simulcast and the manga simulpub, the advertising campaign was a success on me, leading me to purchase the first volume from Kodansha Comics.
The Story In Brief

For those unaware, Sweetness and Lightning is the story of the widowed INUZUKA Kouhei and his kindergarten daughter Tsumugi. Kouhei worries about making good food for his daughter, but he's not a good cook. While taking Tsumugi to a flower viewing, father and daughter chance upon a sad teen girl named IIDA Kotori. Because of Tsumugi's conversation with Kotori, Kotori invites them to her mother's restaurant, Megumi's Restaurant.
One evening, seeing Tsumugi's desperate desire for good food, Kouhei takes her to Megumi's Restaurant. Although closed, it opens for them. There, the girl Kotori waits, explaining her mom is out working elsewhere. Although Kotori's not experienced, she manages to make good rice for Kouhei and Tsumugi. Thus begins an unlikely friendship between Kouhei and the girl who turns out to be in his homeroom class, Kotori. Together, the two learn to cook, based on recipes from Kotori's mom, to make dishes that they and Tsumugi enjoy.
Part Cooking Manga, Part Slice of Life Manga
There are five chapters in this first volume of the manga. The slice of life aspect is the thread that ties the series together. Within that, there are two storylines. The first story thread is for Kouhei and Tsumugi. It isn't heavily focused on, but it is clear that Kouhei is still dealing with the loss of his wife and Tsumugi's mother. Tsumugi also misses her mom. Kouhei wants to make his daughter happy, and food is one way to do that.
This volume of the manga does establish other elements such as Kouhei's life as a teacher and Tsumugi's life at kindergarten.  Kouhei has a couple of fellow teachers whom he interacts with some. Tsumugi has her friends at school, and a boy that caused her a great deal of grief. Since we are early in the manga, not a lot of ground is covered here.
The other story thread is Kotori's. Because Kouhei and Tsumugi are the primary, driving force behind the manga, Kotori's personal life doesn't get as much focus. However, we do learn enough to know that she's a lonely girl, being raised by a single mom after her mom and dad divorced. Her mom appears on TV and does whatever other stuff she does instead of running her own restaurant.
Whatever happens in a particular chapter determines what kind of food Kouhei and Kotori will ultimately make. With each chapter, the two characters gain confidence in their skills and try new things. The recipe for one dish is presented in a chapter is displayed at the end of the chapter.
Anime vs Manga: The First Three Chapters
For whatever reason, the anime only adopted the first three chapters of volume 1. They did a really good job of adaptation. However, the anime dropped any overt references to romance between Kotori and Kouhei. For example, in chapter two, Kotori understands that Kouhei wouldn't want anyone to know he's seeing a female student outside of class. She decides to pretend she doesn't know him on a personal level, but then wonders what she'd do if Kouhei fell in love with her.
Outside of that, the first three chapters were adapted quite well. The anime padded a bit here and there, but considering they were adopting a single chapter per anime episode. But then, there's the question of the final two chapters that the anime didn't adapt, other than the introduction of Shinobu's character in chapter five.
Anime vs Manga: Skipping Chapters Four and Five
In chapter four, Kouhei and Kotori make food for Golden Week picnics, not planning to spend any time together. However, Kotori's mom has to work and bails on her daughter. At the same time, rain causes Kouhei to have to cancel his picnic with Tsumugi. And thanks to Tsumugi, they have their picnic at Kotori's place, complete with a small nap tent they erect in her home. This certainly helps evoke a sense of intimacy and family.
For chapter five, Tsumugi gets sick. Kotori becomes concerned and decides to pay a covert visit to Kouhei's home. After delivering some food, she then becomes concerned about how Kouhei must feel about her visit. However, Kouhei has her babysit the sick Tsugumi while he goes out to get canned peaches for Tsumugi. This allows for Kotori to get even closer to Tsumugi while getting to see a picture of Kouhei's deceased wife at the little shrine they have.
Then after they do their cooking bit, Kotori and Kouhei are just chatting when she realizes she's not in a normal situation and flees. Kouhei is her teacher, and while she still addresses him as Sensei, she's at his home in the evening and chatting with him as friends, not as student-teacher. This is all completely inappropriate, more so in Japanese society. It makes her wonder what their relationship would be were he not her teacher.
The Romantic Element
I suspect that the anime dropped chapters four and five from being adapted because these two chapters continue the romantic aspect, at least as far as Kotori's feelings for Kouhei are concerned. For me, this romantic element is the icing on the cake. There must be some concern about even hinting at a student-teacher romance in an anime. That made sense to me when it is really weird and creepy, such as Cardcaptor Sakura. With Sweetness and Lightning, there is no weird nor creepy vibe from the manga story, at least at present.
Kouhei is oblivious to any romantic elements at this point. He understands that his friendship with Kotori would not be looked on well. However, since Kotori is mature enough to understand this, the two can have their friendship at school and keep it under wraps. And thanks to Tsumugi, there's a plot device to make sure Kouhei has a reason to overcome caution to see Kotori in a friendly fashion outside of school.
I'm hoping that the romantic element continues in future volumes. I'd like to see Kouhei eventually become aware of this and explore his own feelings for Kotori, especially since the two of them are building a friendship that could be seen as a husband and wife relationship, sans the sex.
The Kodansha Comics Release
The Sweetness and Lightning volume 01 manga is larger in size than traditional manga. The volume clocks in at 5.7 x 0.6 x 8.1 inches instead of normal 5 x 0.7 x 7.5 inches. The cover doesn't have the heavy weight that normal covers do, which is unfortunate. There are six color pages at the start of the volume, four dedicated to the actual manga story.
Japanese honorifics are used in this volume, except for when it comes to Tsumugi's stuffed animal, Galigali-san. For some weird reason, as in the anime, this is translated as Mr. Galigali. What happens if Galigai-san is a girl?
When it comes to the Japanese foods, the majority of the time, the Japanese food names are used, which I prefer since Japanese foods I learn about in anime in manga are ones I seek out in authentic Japanese restaurants. So I was happy to see "tamagoyaki" used. "Rice omelet" was used instead of "omurice." That one didn't bother me.
However, "fried chicken" was used instead of "karage." Both karage and chicken tempura are boneless fried chicken. Karage is battered with potato starch instead of tempura batter. Further, Karage has the chicken cut into bite sized pieces before battering and frying. For me, using "fried chicken" evokes thoughts of KFC, Popeyes, Church's, or the like. Karage isn't the same, even if it is a type of fried chicken.
There are a couple of pages of translator notes. Most of these are dedicated to explaining the Japanese foods. I very much appreciate those.
There's a small omake manga chapter at the end of the volume, depicting Shinobu and Kotori in middle school, which was fun. There's a traditional page from Amagakure-sensei, thanking folks and such.
Finally, Kodansha Comics has several pages of ads for their other manga products.
Conclusion
In the end, Sweetness and Lightning volume 01 is wholesome slice of life fun with a generous side hunger inducing cooking. If you enjoyed the anime, I highly recommend picking up the manga to get the rest of the story. If you haven't watched the anime, I still highly recommend this series for its wholesomeness and fun.