ViVid Strike! 05
SPOILER Summary/Synopsis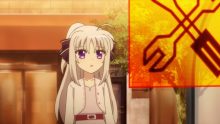 Yumina continues her briefing to Nove and Fuuka. She informs them that after Rinne's crushing of the three bullies, she was forced to transfer schools and given probation. Rinne didn't feel worthy of the Berlinetta name, so she attempted to leave them, worrying her adoptive parents. While on the streets contemplating things, she's kidnapped by a group of thugs. Their leader was the older brother of one of the girls severely injured by Rinne. The thugs beat on her, but a woman named Jill comes in ad defeats all but the leader. When Rinne learns that the girl Sara lied about what she'd done to Rinne, Rinne breaks free and injures her brother before leaving with Jill.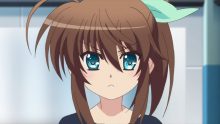 Having heard the story, Rinne continues to train with Vivio, Einhart, and company. One day after training, they go to a bath house. There, the girls let Fuka know that they know the story about Rinne. Fuka says that she now understands why Rinne did what she did. However, she cannot accept the look of disdain Rinne had for them. As such, Fuka vows to do something about the look in Fuka's eyes by defeating her. Sometime later, Fuka is given her Intelligent Device, named Huracan. It is a cat based on Einhart's Tio. Tove has several older girls come as sparing partners. The first is Mikaya Chevelle, who surprises Fuka with her sword skills and quickness.
Thoughts/Review
Well, Fate and especially Nanoha may have been flushed down the toilet. However, it looks like King Records wants to make more ties between ViVid Strike! and Mahou Shoujo Lyrical Nanoha ViVid.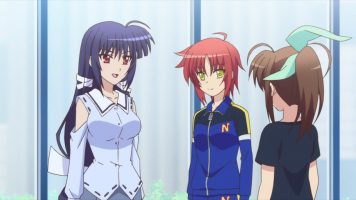 The Rest of the Story
The writers decided to treat us to another tale of abuse for Rinne, in case we didn't feel bad about Rinne's tale of bullying from the previous episode. This time, one of the bully's older brother comes in to kidnap and abuse Rinne. Having Rinne getting beaten by a bunch of men wasn't the easiest thing to watch. However, I was afraid they'd rape Rinne, and I wouldn't have been able to handle that. Fortunately, it didn't go down that way.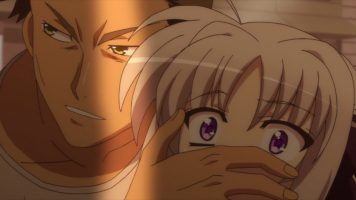 That said, we now now how Rinne's coach Jill came into the picture. This removes the theories that she might have some sinister angle. For her, she was simply saving a kidnapped girl from a bunch of thugs.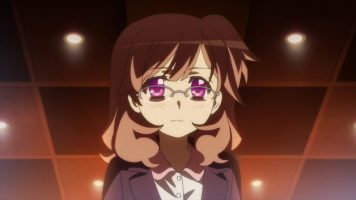 Also, Rinne's breaking free after hearing Sara's brother repeat the lies Sara had told about Rinne said something to me. Rinne had been giving up and maybe she hoped the thugs would kill her. But then she snapped again and hurt the chief thug. I kinda suspect that had Rinne not been depressed, she might have taken all of these thugs out herself.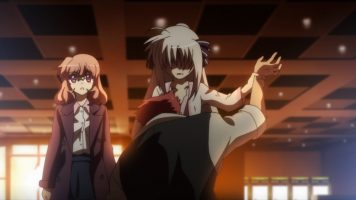 Mahou Shoujo Lyrical Nanoha ViVid – Sort Of
While ViVid Strike! hadn't exactly shied away from elements of previous Nanoha series, ViVid Strike! 05 went out of its way to bring in elements from Mahou Shoujo Lyrical Nanoha ViVid. Or rather, the writers went out of their way to bring in some of the tournament people from ViVid Strike!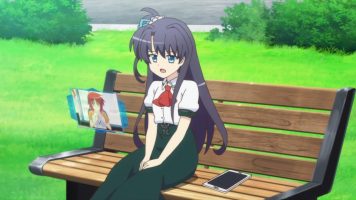 As such, we had four girls return. Mikaya Chevelle came back as the miko samurai. She seems to have more of a stake in things at Nakajima Gym.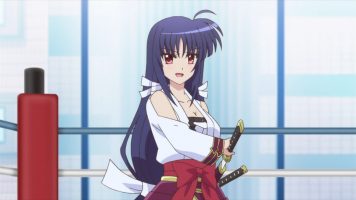 Els Tasmin came back, having been defeated early on in the ViVid series. Hallie (Harry) Tribeca came back. I remembered her more because the Japanese can't decide if she should have a male name or not. 🙄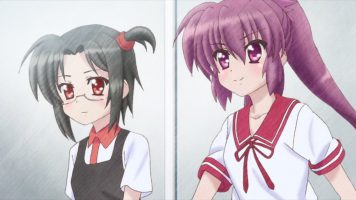 I didn't recognize Fabia Crozelg at all until I looked her up. She was the witch girl in ViVid. She showed up simply to deliver Huracan to Fuka. Then she just hung around.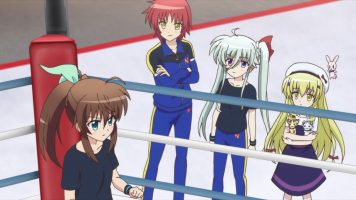 Finally, the over the top Chantez Apinion returned. I do remember her since she's supposed to be a nun, yet in ViVid, during the tournament, she had a very non-conservative outfit she wore.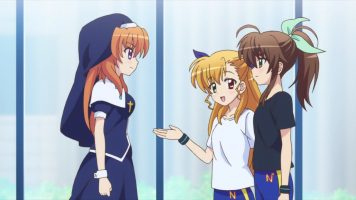 We'll see if these returning characters from ViVid do more than just have cameos. There doesn't seem much reason to bring them back other than to say, "Hey fans! Even though we hate Nanoha because her seiyuu left, we still care about the canon to a degree."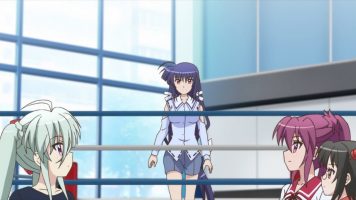 Final Thoughts and Conclusion
I don't have a ton more to say, so I'll just wrap this up with some final bullet points.
I know that Midchilda often seems like Earth, but in ViVid Strike! 05, that Earth feel was really brought home even more than usual. The place may as well be 2016 Japan with some holographic screens and techno-magic.
I don't think we'll see more than a tournament setting for the ViVid Strike series.
I still think that Fuka and Rinne will make up at the end of the series after they've pounded each other.
Jill chasing after the car with the kidnapped Rinne reminded me of Hayate doing something similar to save Nagi in Hayate the Combat Butler.
I'm told that Yumina is a ViVid character as well. I don't remember her in the anime, so she must be a manga character.
And of course, we had to have our loli fanservice. 🙄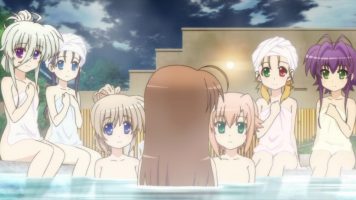 In the end, ViVid Strike! 05 finishes giving some more backstory for Rinne, then sets course for a tournament, bringing in tournament characters from the Mahou Shoujo Lyrical Nanoha ViVid series to assist. As a result, we have an episode that is OK for what it is.