Here is some SPOILER images for the upcoming UQ Holder Chapter 130, courtesy of Japanese sources.  (My review of UQ Holder Chapter 130 should come out as soon as they appear on Crunchyroll, depending on when Crunchyroll publishes the chapter.)
UQ HOLDER Chapter 130 SPOILERS
The UQ Holder Chapter 130 goodness begins after an incredibly long wait. Let's get to the images, which are all low res in nature.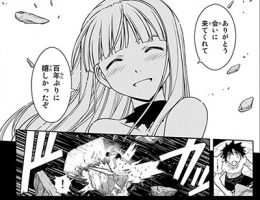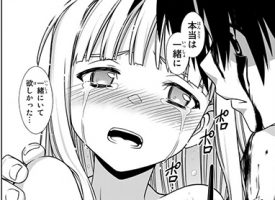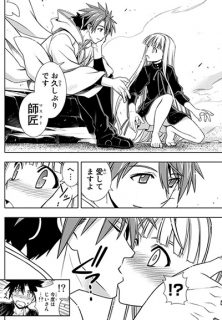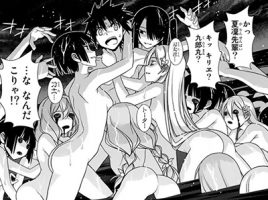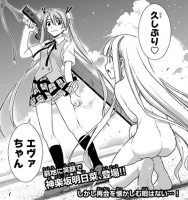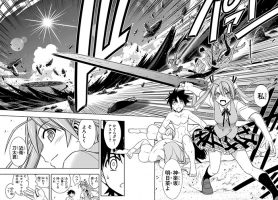 Well now, well now. Two things stand out from this. First, Asuna has been brought into the mix somehow. So how does that work exactly so that she's able to fight alongside Touta? Well, if they are still in the phantasmagoria that the Mage of the Beginning made real with her Lifemaker power, then Asuna would have been there. So that might explain it.
The second item I noticed is that Touta's own harem of Karin, Kuroumaru, Kirie, and I guess Yukihime (not really sure since she doesn't look big or tall enough, unless it is the Yukihime face in the Eva body) show up. They seem to be generated from the shadow/black substance. That could explain Negi's companions — creations of the Lifemaker.
Well, it will be interesting to see how all this pans out when the chapter comes around. More updates as needed, so check back from time to time. 🙂
Update #1: Another images has appeared.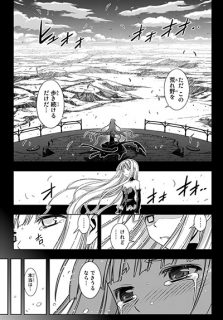 I don't like seeing a sad Eva, but that's just me. More updates, as they come.
Update #2: Not a spoiler, but it is an advertisement for anime.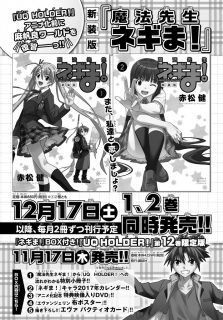 If someone cares to unlock the secrets here, let me know. 😀
Update #3: Another round of low-res images.  Doing some checking, they are coming from MK, so I'm going to send a link that way.
Can't wait to read this. ^_^