ハヤテのごとく!/Hayate no Gotoku Manga
Hayate the Combat Butler Chapter 550 Review
SPOILER Summary/Synopsis: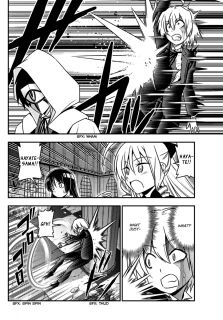 Himegami introduces himself to Hayate, thanking him for serving Nagi for nearly a year. Isumi doesn't believe this is truly Himegami, though he insists it is true. A battle ensues as Himegami targets Hayate, whom he has determined is the weakest link. Hayate is stunned by Himegami's strength. Himegami informs Hisui that Hayate has a King's Jewel. Athena and Isumi attempt to prevent it from being taken, but are unsuccessful.
After Hisui has Hayate's stone, she reveals the power she's been granted by Yozora. She easily knocks out Hayate, Isumi, and Athena, but demolishes her mansion in the process. Hisui now has two King's Jewels and sets off to find a means of causing an explosion of negative emotion.
Hayate manages to grab Himegami's pants to stop him. Himegami pities Hayate for being so weak and causing problems for Nagi. Hayate makes one last attack attempt, but is knocked out. With that, Himegami leaves to follow Hisui.
Thoughts/Review:
Well, so much for the power duo of Athena and Isumi, to say nothing of Hayate.
Himegami
I get the feeling that Himegami has made sure to keep aware of Nagi's situation. I also got the feeling that regardless of what happened between him and Nagi, Himegami still thinks fondly of Nagi. He wants the best for her, leading to his interest in Hayate as Nagi's butler.
We really got a taste of how strong Himegami is. He effortlessly defeated Hayate, whom we know is no weakling. Yet in this circumstance, Hayate is weak and no match for Himegami.
Not only that, but Himegami is too clever for Athena and Isumi. He deftly avoided their attacks while at the same time, continuing to beat on Hayate and dislodge his stones.
I wonder why Isumi thinks he's not the real Himegami. Isumi is not stupid. She sees things others do not. So I think there's something there. Maybe it is Himegami's body, but there's someone else inhabiting it? Someone who would have a better reason to care for Nagi than Himegami would. Maybe someone who would work with Hisui to ultimately protect Nagi. Just possibly, someone who'd be disappointed that Hayate is not as strong as he could be to protect the precious Nagi. Possibly, this someone is connected with the Kurotsubaki. Maybe. 😉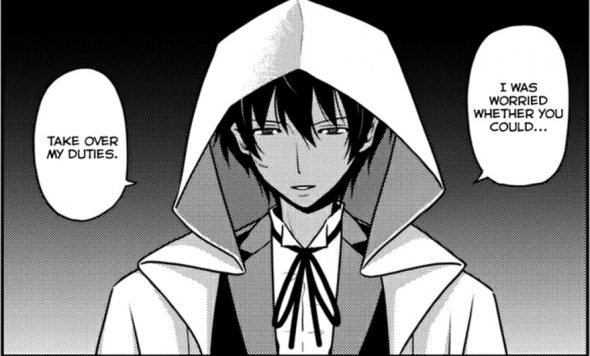 Hisui
Hisui certainly seems to have mastered her new powers rather quickly. We saw the giant King Midas skeletal hands, but we also saw what I believe are giant forms of Yozora's hands. I guess Yozora passed on the knowledge of how to use this new power.
Speaking of Yozora, I wonder where she actually went. Maybe she's in a gold statue in the Royal Garden.
Anyway, back to Hisui, I find it interesting that she didn't kill anyone. She's completely nuts, but she only rendered Isumi, Athena, and Hayate unconscious. I know that Hayate no Gotoku is just a shounen manga, so it isn't like we'd see characters getting killed so easily.  Hisui could have killed them after knocking them all out, but she didn't. I wonder if that means something or not.
Final Thoughts and Conclusion
Time to wrap this review up so I can get back to work.
I'm really disappointed that Athena and Isumi were so easily crushed. Isumi didn't get much of a revenge match on Yozora. Now I can only hope for Athena and Isumi to get revenge on Hisui.
How will Hisui and Himegami cause the explosion of negative emotion?
Will Hina show up to render her assistance before everything is said and done?
What will Hayate, Isumi, and Athena do next?
In the end, Hayate the Combat Butler chapter 550 skips the comedy and just goes for the plot, leaving me with some interesting thoughts. I'm looking forward to the new chapter.