ハヤテのごとく!/Hayate no Gotoku Manga
Hayate the Combat Butler Chapter 556 Review
SPOILER Summary/Synopsis: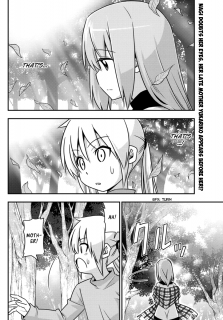 Nagi sees a woman who looks identical to her mother, Yukariko, even down to her dress. The woman coughs up blood and says she escaped from the hospital because she didn't want to have surgery, but now she doesn't know how to get back. Nagi offers to take her back. The woman agrees, but wants a latte from Starbucks.
At the hospital, Nagi sees the name on the room door is Kanzaki, meaning this can't be her mother. Nagi inquires if Kanzaki is OK. Kanzaki says she is, but even if that were not true, it still wouldn't be a problem. That's because she's alone. She can live as she likes and has money for some reason. If she'd gotten married, she'd have a kid Nagi's age.
Coming home, Nagi sees that this woman is alone as Nagi is. However, Nagi remembers she has Hayate and perks up a bit. When Nagi gets home, she's disappointed to learn that Hayate is at school, busy on some project.
At school, Hayate worries because now that he knows Nagi's feelings, he has a hard time wanting to go back. Hina shows up, surprised to see Hayate. Hayate explains it is for Nagi's inheritance and thus part of his job as a butler. Hina see it differently since Hayate doesn't have a debt any more. Thus it must be love.
Mikado shows up, revealing he's been briefed on the situation with Hisui and Himegami. He questions their plan to stop the pair here since if Hisui and Himegami make it to the palace, there won't be a way to pursue. Hayate wants to get the stones back from Hisui. Mikado wonders how this will happen since Hayate was defeated.
Since Hayate vows to put his life on the line for Nagi, Mikado gives him a King's Jewel and reminds him of what he told Hayate as a child about the hard worker having the last laugh. Mikado wants him to prove that statement true. However, at that moment, Himegami shows up.
Thoughts/Review:
Hata-sensei is a master troll. That is all. 😉
Yukariko or Kanzaki
I have a hard time believing that some woman named Kanzaki could look 100% like Yukariko, act like Yukariko, have health problems like Yukariko, dress like Yukariko, have an identical shawl to Yukariko, be the same age Yukariko would be if she were alive, but not be Yukariko. So, there are some possibilities.
This is Yukariko, sans her memories. She still has access to money, but doesn't seem to know how or why. So it is possible that the funeral for Yukariko was actually faked. That could also explain Mikado's inability to let her go because she's not dead. She's just been missing for years.
This is Yukariko's ghost. The Kanzaki room is the room Yukariko was in when she died. She'd still have to have amnesia to make this work, or she'd have to be helping Nagi in a silly fashion. As to drinking the coffee, We didn't see her do it. And remember, Father Radiostar can interact with the physical world as a ghost.
Nagi experienced a vision of some kind. She was thinking strongly about her mom and gripping the King's Jewel when !Yukariko shows up. The jewels have been implied to be more than something to open the path to the Royal Garden. As such, maybe the power of the stone helped create this vision based on Nagi's current situation and mental state.
I find the first and third of these theories equally plausible.
Pounding the Square Peg Into the Round Hole
Hata-sensei continues to pound the Hayate x Nagi ship come hell or high water. That square peg will go into that round hole 'cause Hata-sensei always wanted the Hayate x Nagi pairing. Using Hina as the hammer is something Hata-sensei hopes is the most effective way of forcing Hayate to say, "Yeah, I guess I love Nagi and want to marry her."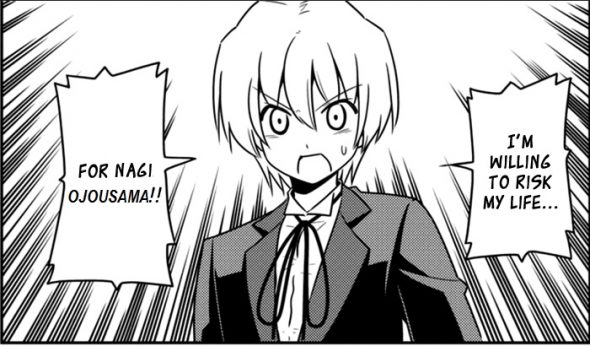 Here's the deal. I believe Hayate does love Nagi, just not romantically. He never has loved her that way. Hayate has done a ton for the people he cares for. It doesn't mean he wants to marry them and have sex with them.
What Hata-sensei is trying to do is force Hayate look at Nagi and start considering the possibility of having sex with her. Let's face it, at the root of attraction is sex. The moment you think, "Yeah, I could have sex with that person" is when you are attracted to someone, even if those words aren't your actual thoughts. They are there as a seed of attraction.
Taking it a step further, if you say, "I could have sex with that person, not want to kill myself the next morning for doing the nasty, and still want to hang out with this person as I have always done with or without sex," then you can say that there's a romantic love element involved. And this is the square peg that Hata-sensei is so desperate to pound into that round hole, even if it makes the audience say, "Put a bullet to me. Bullet in the brain pan. Squish."
Final Thoughts and Conclusion
Himegami shows up. But is he alone? Or is he secretly working for Mikado?
I don't remember Hayate ever being told for sure that Mikado was Santa-san from his childhood. If that's true, he took Mikado's words about their first meeting as if it were no big thing. Not only that, but Hayate remembered what Mikado said.
Hina is finally in a position to help with a battle, should one happen.
In the end, Hata-sensei proves himself in Hayate the Combat Butler chapter 556 to be a master troll while speeding the Hayate x Nagi ship to shore, even if it crashed into the pier.