ハヤテのごとく!/Hayate no Gotoku Manga
Hayate the Combat Butler Chapter 557 Review
SPOILER Summary/Synopsis: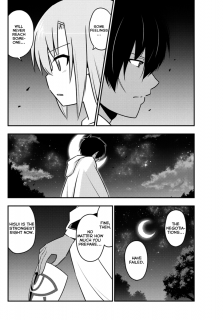 Himegami arrives with a proposal. In exchange for the final King's Jewel, he will give Nagi the Sanzenin inheritance. Himegami knows that Hayate, Nagi, and even Hisui have no wish in mind. However, Hisui gaining the legacy on top of Yozora's power would be dangerous.
Himegami recounts meeting Yukariko as a child as she was attempting to free a captured god. Himegami used the Royal Power to get Yukariko's attention, even though it cost him 50 years of his life. In the end, Himegami made a promise with Yukariko that she would enter the Royal Garden and make a wish that Himegami's wish would not have happened. Though this would leave Yukariko trapped there, Himegami vowed to rescue her since he would then be allowed to touch a King's Jewel again. Yukariko did go to the palace in the Royal Garden, but she didn't make the wish Himegami wanted, though she did use the power.
Isumi's Great-Grandmother Ginka shows up, scolding Himegami for fleeing when Yukariko got married by touching a King's Jewel and becoming cursed. That aside, Himegami wants to use the Royal Power to meet Yukariko again. In doing this, Nagi won't be lonely any more. Athena shows up, reminding Himegami that King Midas made a similar wish. Himegami isn't swayed by that since King Midas was ultimately defeated, despite being undead for a time.
Hina states that even if Himegami sees Yukariko again, she would not fall in love with him. Seeing his plan rejected, Himegami announces that he and Hisui will obtain everything and he vanishes.
At the mansion, Nagi mentions to Maria how it being just the two of them reminded her of the time after Himegami left her service, but before Hayate arrived. Nagi remarks on how that was fun, so Maria offers to do something fun now.
Thoughts/Review:
Some interesting items revealed in Hayate the Combat Butler chapter 557. Let's get started.
Yukariko is Likely Alive
There has been a lot of speculation of late on whether Yukariko is actually dead or not. Based on what Himegami said about using the Royal Power to meet Yukariko again, it seems very likely that she is very much alive. I find it hard to believe she'd be stuck in the Royal Garden (though that is a possibility), but this may be another clue that the woman Nagi met is in fact Yukariko with amnesia.
Another clue that Yukariko is alive actually comes from the canon splash page for volume 32 of the manga.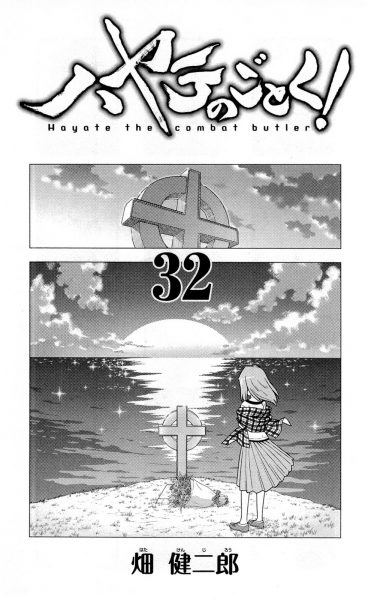 Obviously, we don't have context here, but I do find this very interesting.
Finally, we know Yukariko has communed with Hayate. I believe she was responsible for depositing Hayate and Nagi at her grave-site after the UFO incident. I also think she summoned all of Nagi's friends that day to cheer Nagi up. 🙂
Himegami isn't Nagi's Father
Hata-sensei appears to have trolled some of us by having Isumi state that Himegami isn't who he says he is. Since body swapping was an element to introduce Nagi's dad in the no longer canon anime Can't Take My Eyes Off You, it is understandable that folks like myself hoped that maybe Himegami would have Nagi's father within him. While Himegami may not be Himegami, the fact that he had an unrequited love of Yukariko would seem to put him out as Nagi's father.
Still, Himegami does care for Nagi. I do believe he's being honest when he says that he would give Nagi the inheritance.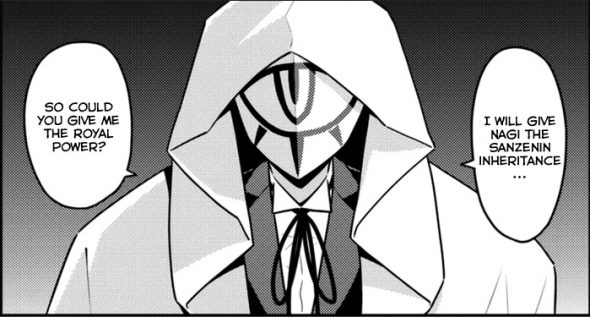 Unrequited Love
Unrequited love has been one of the major themes of Hayate the Combat Butler. Only two characters have been in an unrequited love situation — Hayate and Athena with each other. Indeed, Athena still loves Hayate, but while she does nothing to resume her relationship with Hayate ('cause "plot"), Hayate still loves Athena, at least as he told Hina.
Those two aside, all of the other girls who love Hayate are in an unrequited love situation. He may be attracted to many of the girls, but he's always been a duty kind of guy and used that as an excuse to just avoid the topic.
Hata-sensei uses Hina as a torpedo to sink her ship with Hayate. She is acknowledging that Hayate will never be in love with her. Obviously, this is so Hata-sensei can clear the board and force the Nagi (whom I like as a character) x Hayate ship come hell or high water. At the same time, Himegami's reaction to Hina's words suggest that the Royal Power cannot be made to cause someone to love another.
Final Thoughts and Conclusion
Man, I'm so far behind and nothing has gone as planned. But at least I managed to write this review tonight and get it posted before work drags me away again. Here are some final thoughts.
I loved the little moment between Nagi and Maria at the end. I sense that Maria's and Nagi's fun may be a way for Hata-sensei to inject humor into the story at times.
Hina is at ground zero, so I would guess that she'll be in the final battle. I hope she is 'cause she has Shirozakura (or Shirosakura if you like) at her disposal. That sword has always been something that was supposed to play an important role in the story.
I wonder what Yukariko did wish for while at the Royal Garden.
I've joked that since Yukariko can apparently call to Hayate and he answers her summons, Yukariko might summon Hayate to the past. There, he becomes her butler, falls in love with her, and ends up becoming Nagi's father. That would explain why Nagi's father looks like Hayate. And at Hayate's core, maybe this is why he's never seen Nagi as more than family. 😉 (I honestly don't believe this theory will happen, but I would laugh if it did.)
In the end, Hayate the Combat Butler chapter 557 is an interesting chapter.