ユーキューホルダー! 魔法先生 ネギま!2 Manga Review
UQ Holder! Mahou Sensei Negima 2
UQ Holder!: Magister Negi Magi! 2 Chapter 132
UQ Holder Chapter 132

SPOILER Summary/Synopsis: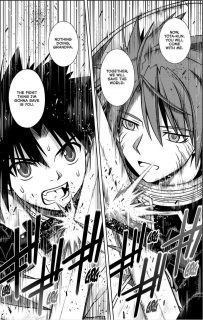 As a Magia Erebea enhanced Touta battles MotB-Negi, Eva a light-haired Karin attacks Jack, only to get punched in the gut. Santa goes after Al, who's impressed with Santa's design as a revenant. Al uses necromancy to summon undead skeletons to attack Santa. Yue and Nodoka are snared by a binding spell, but Yue is already breaking free. Kuroumaru wonders if it is possible to do what Asuna says and keep their opponents engaged for 37 seconds.
Meanwhile, Touta attempts to reach out to the real Negi. A massive form, composed of the dead, begins to rise. MotB-Negi is going for a finishing blow, but is stopped when Yukihime and Fate step in to help block the blow. Fate casts a spell that apparently pulls the souls out of the bodies, revealing the true forms of the quartet. Negi is impressed by Fate's spell. Fate tells Negi that Touta is the first artificial immortal, thus his plan to save humanity is to turn them all into immortals. As such, this will rid the world of suffering.
Eva rejects the plan, angering Fate. Negi is amused, then reminds Fate that his plan will save the victors of the future, but Ialda is driven by the failures of the past. Fate protests that the plan will work. Negi thinks it is possible, but Negi would have to die in the process. Fate is devastated by this and Negi's willingness to die to make the plan work.
Negi calls Touta over, telling his grandson that he wants Touta to follow Negi's footsteps in following Nagi. That's because there are brief periods of time where Negi gains control. During these times, Negi can help Nodoka and Yue. Negi stops when he sees Eva's sad face. Eva hugs Negi, causing Negi to cry and apologize for not being able to save Nagi. Negi is passing on instructions to Eva on what to do, but she cuts him off, knowing what's in store.
The connection is broken, so Yukihime and Fate immediately seal MotB-Negi in ice. MotB-Negi immediately breaks free. In 0.01 seconds, Fate is defeated. In 0.03 seconds, Yukihime is defeated. MotB-Negi goes for Touta, who escapes thanks to having just mastered Negi's lightning form. The two battle, causing major damage to the tower in the process. However, Touta's lack of experience causes MotB-Negi to gain the advantage, where he again asks Touta to come with him.
Thoughts/Review:
The Negima story continues to be told in UQ Holder chapter 132. I like this.
The Battle
For Eva vs. Jack, Eva uses a new attack. "Holy Fist" and "Grace of God." I'm not surprised that even though Jack couldn't dodge the hits, he was able to absorb them and sucker punch Eva. However, we lose track of Eva after she's punched. She then shows up as Yukihime to assist Touta. So where was Jack to prevent that from happening?
Update: Pheeb pointed out to me that although she looks remarkably like Eva, this is in fact Karin, who's hair has turned a light color (possibly white). Her hair started changing color in chapter 131 when she and Kirie first attacked Jack. Now things make more sense to me. I just didn't notice that the girl in the images had Karin's hair cut.
For Santa vs. Al, I liked how Al praised Sayoko's necromancy skills in creating Santa. I also liked Al's interest in Sayoko's life and in Santa's. Considering his pactio artifact, Al's interest doesn't surprise me. What did surprise me is that Al has some necromancy skills. Should UQ Holder continue as a manga and with it, Al as a character, I'd like to see this part of Al explored more. Why does he know necromancy at all?
For Kuroumaru vs Yue and Nodoka, Kuroumaru's solution to bind the pair reminded me of Negi's binding of Eva and Chachamaru in volume 3 of Negima. As happened there, the trapped Yue and Nodoka are quickly escaping here. Still, I like how Kuroumaru was able to trap this dynamic duo in the first place.
The question that remains is what Asuna is planning that requires 37 seconds.
A Meeting of Kids
I'm not sure if Fate's spell pulled the souls out of Touta, Eva, Negi, and him, but I do note that it caused all of them to appear in their true form as kids. Eva was turned immortal as a kid, which we already knew about. Fate was created as an eternal kid, so that's not surprising. Touta already was a kid, but outside his body, he was without Magia Erebea.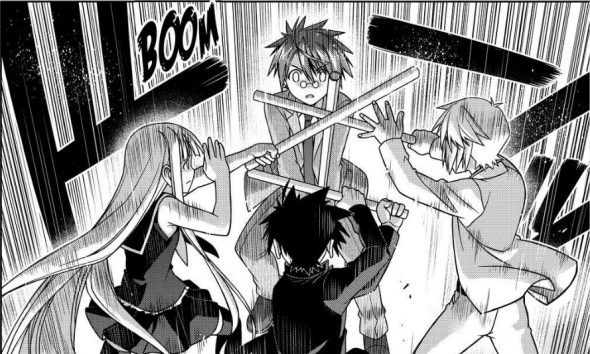 Negi showing up as a kid would seem to confirm that Negi's true form is that of a kid. That would suggest that like Eva, he's using illusionary magic to appear as an adult. And that would make sense in a lot of ways.
The meeting finally revealed Fate's plan for the world. Frankly, I think his plan to turn all humans into immortals is a silly one. I understand that he thinks this will get rid of suffering and thus MotB won't suffer any more, but I think it is still foolish.
One big reveal from the meeting is that Negi will have control over himself from time to time as Nagi had done in Negima. We still aren't clear how MotB could be sealed under the World Tree at Mahora and still roam. But maybe the principle is the same as how MotB is able to bring Nagi back now.
And speaking of Nagi, I guess this means he is truly dead. Eva's sad look and Negi's tearful apology would seem to confirm that. To me, it doesn't make sense that Negi would sacrifice his dad though. Negi has always been about finding that solution that no one else could find. That's why I theorized that Negi may have come up with a deal with MotB to spare Nagi. Akamatsu-sensei doesn't come out and say Nagi is dead, only that Negi couldn't save him. So I figure it is 99% likely that Nagi is dead. I would prefer he were still sealed under the World Tree, just in limbo.
Super Touta Returns
I don't think we've seen Super Touta in a long while. What I mean by that is where Touta suddenly masters someone else's power. Here, Touta masters Negi's lightning form. However, since this has long been an established trait of Touta's, I didn't mind. I couldn't help but notice it though.
Still, even though Touta is able to now take lightning form, I liked that Negi still schooled him. With Negi's superior experience, that's exactly how it should be.
The fun part of Touta's second battle with Negi in lightning form is that they heavily damage the tower. We didn't get to see it fall, but I think it would be neat to see that happen in the next chapter. Frankly, the total destruction of the tower would be a very interesting change, especially since getting to the top was always Touta's goal.
Final Thoughts and Conclusion
As usual, I'm way behind. I should have had this written hours ago. But, here are some final thoughts of mine.
I think we have confirmation that Nodoka and Yue are real based on Negi's desire to work with Touta during Negi's moments of control. I hope that's the case.
What's Cutlass doing now?
What is Karin doing as part of the plan? (Update: She was the one attacking Jack.)
I get the feeling that Akamatsu-sensei still isn't quite used to doing these longer chapters. Hopefully, he continues to improve.
I also feel that the story is being constructed so that if the anime fails and the manga sales don't improve, UQ Holder can end by wrapping up the Negima story. However, if the anime is a success and the manga does well, UQ Holder can continue beyond the Negima story.
In the end, UQ Holder chapter 132 continues the Negima story. For me, that's not a bad thing at all.