ハヤテのごとく!/Hayate no Gotoku Manga
Hayate the Combat Butler Chapter 559 Review
SPOILER Summary/Synopsis: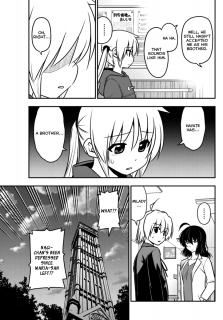 Ayumu recalls that last Christmas Eve, she was unable to find Hayate to bring him to a Christmas party. As such, this year she's determined to spend Christmas Eve with him. When Hayate shows up at Yukari-chan House, Ayumu invites him to a Christmas party. Hayate recalls not going the previous year, but doesn't hear Ayumu state that her party would be for just the two of them. As such, Ayumu decides that she'll worry about getting alone time with Hayate at the party.
A month later, and one week after Maria left, Nagi is very depressed and won't read Maria's letter. Hayate gets Nagi to get up to see Kanzaki-san, the woman who's the identical image of Nagi's mother. When they come to the hospital, they find that Kanzaki-san is not taking visitors. Dr. Kurosu shows up, explaining that her patient isn't doing well. Kanzaki is an old patient of Dr. Kurosu's, which is why she's here.
Dr. Kurosu knows that Hayate met up with his amnesiac brother. As Hayate and Dr. Kurosu talk about his brother, Nagi gets depressed, remembering that Hayate has family.
Hayate reports Nagi's depression to Izumi, Miki, Risa, Kayura, Hina, and Aika. Risa decides they need to perform the most fearsome of all Hakuou Academy's traditions — the Big Bubble Christmas Party. This would mean throwing a party that spends tons of money. Kananiwa arrives to give her approval, mainly because she wants a date.
Meanwhile at Yukari-chan House, the salesman is taking to Chiharu about things. That night, Hayate tries to cheer Nagi with news of the party, including Ruka attending. Nagi asks if Hayate will stay by her side. Hayate says he will always be on her side.
Thoughts/Review:
And so the manga continues its rapid move to completion and depression.
The Ayumu Ship
Based on the events of Hayate the Combat Butler chapter 559, Hata-sensei is setting up Ayumu for her ship to be sunk. Unlike Athena and Hina, who sank themselves 'cause reasons, Ayumu might actually get a proper exit. I hope so 'cause she deserves one.
Still, this whole thing of her wanting a private Christmas party with Hayate which he turns into a group party with his old high school friends doesn't bode well for a proper exit. Since Hakuou will be throwing a massive party, I can see Hayate going to that party and forgetting Ayumu, crushing her. I hope that doesn't happen.
Nagi's Depression
Nagi's depression is all based on abandonment issues. She never knew her father, and in the manga we really don't know what happened to him. Her mother died when Nagi was very young. Whatever Isumi did back then to try to help didn't help. Maria was brought in as a caretaker and maid for Nagi. She became the "oneesan" figure for Nagi as well as a partial mother figure. (I say partial because they don't have a great age difference, but Maria did act as a mother to Nagi by forcing her to go to school and stuff.)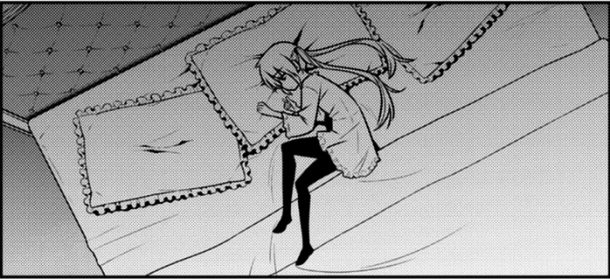 Nagi has been shown to get somewhat depressed when she sees happy families. I think back strongly to the birthday party Sakuya had, where Sakuya and her siblings are cutting up with their dad. One of the reasons I think Nagi was keen on helping Hayate reunite with his brother is because of this. And yet in Hayate the Combat Butler chapter 559, Nagi remembering that Hayate has a brother really depresses her.
So Maria leaving Nagi is yet another family member leaving her. It is no wonder that she feels so depressed. Nagi's longing for family is why I think she decided to go with Hayate to the hospital to see the woman who looks 100% identical to her mother. Short of Kanzaki turning out to be Yukariko with amnesia (and this has become a stronger possibility since Dr. Kurosu has returned), I don't see much raising Nagi's spirits.
Final Thoughts and Conclusion
I'm behind (as always), so let's wrap this sucker up.
While I think that Hayate's response to Nagi's "you'll always be by my side" does NOT sink the Hayate x Nagi ship, I do think it reflects the fact that he knows he has no romantic feelings for her. Instead, he will always be on Nagi's side, meaning he will sacrifice everything for Nagi to be happy, including his own happiness (something Hina scolded him for).
I wonder if Maria's letter has the truth about Hayate's feelings for Nagi in it. Somehow, I think it will and that will be the straw that breaks Nagi's back.
Man, I hope Kanzaki does turn out to be Nagi's mother. Then Nagi can finally get the one thing I think she truly wants — a family. (Mikado doesn't really count, even though he's her grandfather, because she's never been close to him.)
Kananiwa seems to have replaced Yukari-sensei's role as someone who longs for a man. I've nothing against Kananiwa (although her only purpose in the manga seems to be as a nod to Dolly from the Can't Take My Eyes Off You anime), but this did make me miss Yukari.
The sales guy who's supposed to get Nagi sell her place certainly isn't doing much to get this accomplished. It actually cracks me up.
In the end, Hayate the Combat Butler chapter 559 continues our rapid march to ending the manga. It is sad seeing Nagi depressed, more so since I believe she has a much greater fall still to come.