Sweetness and Lightning Volume 02 Manga Review
Amaama to Inazuma Manga Volume 02
–> Buy Sweetness and Lightning Volume 02 from Amazon.com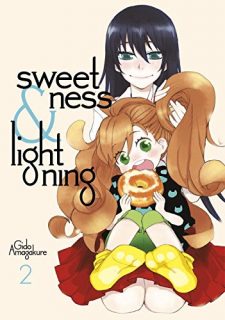 I love vanilla stories, so when I watched the Sweetness and Lightning anime, I got a vanilla story with a single dad, his adorable little girl, and the cute high school girl whom the single dad teaches in class. Naturally, I picked up the first volume of the source manga and liked it a lot, especially since it had stuff the anime decided to skip. As such, it wasn't a difficult choice to pick up Sweetness and Lightning Volume 02 to continue to get some vanilla goodness.
***SPOILERS***
The Volume 2 Story in Brief

For Sweetness and Lightning Volume 02, chapter 6 gets us started with Kouhei getting a bunch of vegetables for free, then attempting to get Tsumugi to eat bell peppers. As such, Kotori comes up with a plan for them to cook a mean that will get Tsumugi to eat peppers. In chapter 7, Kotori discovers Tsumugi with a strange man. Thinking it is a kidnapping, Kotori attempts to intervene, only to discover the man is a friend of Kouhei's named Yagi. This ends up resulting in Kotori, Tsumugi, and Kouhei making donuts.
For chapter 8, Kouhei attends a function at his daughter's kindergarten. This leads to Kotori, Tsumugi, and Kouhei making Ika to Satoimo no Nimono – squid with taro root stew, something that Kouhei's wife and Tsumugi's mother used to make when she was alive. In chapter 9, Kotori's best friend Shinobu discovers Kotori and Kouhei-sensei are cooking together regularly at Kotori's mother's restaurant. Kotori gets a little jealous when Shinobu invites herself into the mix. At the gyoza party, Shinobu realizes what she's done and chats with Kotori about it.
Finally, in chapter 10, Kouhei takes Tsumugi to the festival at the local temple. Tsumugi is playing with some neighbor kids as Kouhei spaces out and remembers an incident at Tsumugi's school, where some of the mothers offer their support to him. Tsumugi wanders off, leading Kouhei on a desperate search. Kotori runs into him and helps. She finds Tsumugi. Kouhei is angry with Tsumugi, causing Tsumugi to throw a fit. They all retreat to the Megumi Restaurant, where Kotori turns burnt rice into Gohei Mochi.
Cooking and Slice of Life
As expected, Sweetness and Lightning Volume 02 continues the slice of life stories that always culminate in some sort of cooking exercise. In this volume, we get to learn how to make gratin, yeast donuts, squid with taro root stew, gyoza, and gohei mochi. While the recipes are included at the end of every chapter, I've no interest in making any of the dishes, even though I love donuts and gyoza. But I'd rather just go out and buy them ready made. 😉
Still, I cannot deny that when I read this manga, I can't help but get hungry. It isn't quite as bad as when I watched the anime (which has more of the visual enticements as well as audio enticements), but it still works on me. I could go for either donuts (chocolate cream filled) or gyoza right now. Or both! 😆
On the slice of life side, I like seeing Kotori becoming more and more fond of Kouhei and Tsumugi. I really hope that when the manga ends, the two can get married when Kotori graduates. That would be sweetness for sure. Of course the manga would need to address Kouhei's feelings for Kotori. At the moment, he's fond of her, but it isn't at the romantic level. But he's thick, so I can see Shinobu being the element that opens Kouhei's eyes…that and Yagi.
What the Anime Changed
Unlike volume one of the manga, volume two was faithfully adapted for the most part. There were a couple of modifications. First, the manga makes it much more clear that Kotori is struggling with her feelings for Kouhei. On one hand, Kouhei is a father figure. On the other hand, the age difference between the two isn't that great, so she sees him as a guy as well. The anime was very careful on this topic, avoiding the topic for the most part. However, in episode 6 of the anime, I could tell that Shinobu understood Kotori has feelings for Kouhei. It is Kotori's response that the anime cuts out.
The other modification came from the final chapter in the manga. For whatever reason, the anime cut the entire bit about the festival and took the part of Kouhei's and Tsumugi's being upset with each other and linked it to when Tsumugi went to find Kotori when Kouhei got sick. Actually, now that I think about it, the manga story when Kouhei gets sick has Kotori visiting him at home, which would help further the notion that Kotori has romantic feelings for Kouhei. The anime didn't want to go there, thus why I believe we got the changes we did.
I guess this is why anime adaptations are merely advertisements for the source manga. If I want the real story, I have to get the manga. It worked on me. 😉
Kodansha Comics
For the Kodansha Comics release, Japanese honorifics are used, for which I'm always thankful. There are translator notes in the margins, which I presume is a carryover from the manga first being published in English on Crunchyroll. However, there's also an additional page of translator notes for those interested in these kinds of things.
The other extras included are a 2 page omake chapter, a thank you from Amagakure-sensei, a one page preview teaser for volume 3, and several pages advertising other Kodansha Comic titles.
Conclusion
In  the end, Sweetness and Lightning Volume 02 continues the vanilla goodness of a friendship between a teacher, his child, and his student as they learn to cook together and act like a family. I'm looking forward to reading volume 3.