ユーキューホルダー! 魔法先生 ネギま!2 Manga Review
UQ Holder! Mahou Sensei Negima 2
UQ Holder!: Magister Negi Magi! 2 Chapter 140
UQ Holder Chapter 140

SPOILER Summary/Synopsis: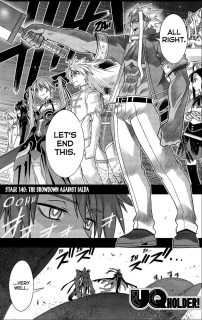 Negi prepares to battle Nagi-MotB as Negi's allies prepare to battle the forces of CE. Asuna uses her magic cancel on the sentient asteroid that is MotB. Nagi-MotB gets an advantage on Negi, but Negi is saved by Jack. Negi goes for a final charge attack, punching out Nagi's heart. Nagi is still alive despite not having a heart and tells Negi to stand back. Nagi calls for Asuna, then snaps his finger to destroy his heart in Negi's hand.
Kotaro prevents Negi from going to his father as MotB emerges from Nagi's body. MotB has a hideous, monstrous form. Fate has Koyomi use her Horaria Porticus pactio artifact to freeze time on MotB. Nagi and Asuna combine their powers into her artifact sword and attack the body. This causes the asteroid to be destroyed. Negi brings Negi's body to the asteroid where the non-battle participants of his harem await.
Nagi is dead despite Konoka's use of her healing magic. Ako uses her artifact to determines that Nagi is still alive. Jack, Takamichi, and Al are stunned by this, calling it a miracle. Fate seems to think that Ialda (MotB) is ultimately responsible for this. Two years later, Nagi awakens from a coma and is visited by Asuna and Eva. Sometime later, Nagi leaves the hospital. Sometime later still, a celebration is held where all of Negi's classmates attend as well as Jack and Cocone.
Touta likes how things ended, but Kirie wants to know more. As such, Dana produces a photo showing Negi marrying Chisame some five years later. Dana states that they don't have the time to go into how the pair got there. This pleases Kirie. Dana produces a photo showing Nagi marrying Eva. She states her belief that they had a happy end in a world without Touta. Touta isn't bothered by this, stating that they have a right to be happy and that UQ Holder will make their own happy ending.
Thoughts/Review:
And so the end of Negima is fleshed out a bit in UQ Holder chapter 140, but in typical fashion, Akamatsu-sensei still cuts things short to move along.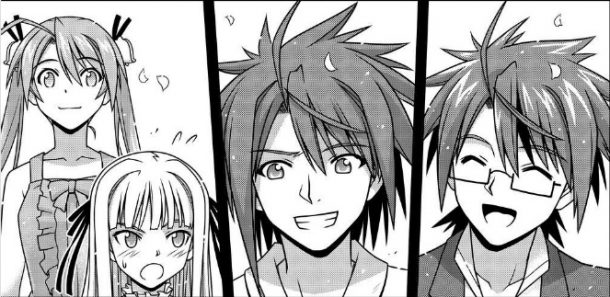 Setting Up the UQ Holder Win
I "laughed" at Touta calling Negi's victory a super cheat due to Asuna returning from the future. However, by Dana showing Touta what happened in another timeline, Touta and UQ Holder have their own cheat.
So what do we have here?
They need to use a time-stop ability on MotB. Lucky Kirie has that ability by smooching Touta, eh?
They need to use magic cancel ability. Lucky Touta has this.
They need Magia Erebia ability to combine with magic cancel. Yeah, Touta again.
They need a battle group to take on CE folks, or at the very least, Konoka, Yue, Al, and Jack. And we have that.
MotB needs to be kind as she dies for Negi to survive this.
So everything is mapped out and since UQ Holder members are immortal, they have an advantage there in that they can't die.
Five Years Past Negima
Akamatsu-sensei had two favorites out of Negima — Eva and Chisame. So even though Negima ended with Chisame being a recluse, in UQ Holder, he can make Chisame marry Negi and live happily ever after. Naturally, he has to poke fans in the eyes for this bit of retcon by stating that there aren't enough pages in UQ Holder chapter 140 to tell that tale. At the same time, he can telegraph that his ship for Touta is Kirie. So expect more Kirie rammed down our throats come hell or high water.
For Eva, he allows her to have her "good end" by marrying Nagi. Nagi looks like he got forced into this somehow. Eva got her wish and finally scores with Nagi. "Yay Eva!" is how we are supposed to go. Speaking personally, I'm not feeling it. I would rather that Negi and Eva hooked up, but with Akamats-sensei lusting for megane girls, it was never going to happen.
What About Arika?
I know fans are screaming, "But what about Arika?!" To that I answer, "Whom is this Arika you speak of?" 😉
In all seriousness, I've long believed Arika is a retcon character. I don't think Akamatsu-sensei ever had any plans to bring in Negi's mother into the story. Indeed, one of the reasons for my old "Negi is Nagi in disguise" theory was the fact that Negi apparently didn't have a mom. Negi was born about the time Nagi disappeared. Negi was an orphan. No one in Negi's village talked about Negi's infamous mom, but they sure talked the heck about Negi's infamous dad. Nagi never talked or thought about his mom until he's shown the movie of Arika and thinks, "I wonder if that's my mom." 🙄
As a character, Arika only works during the war on the Magic World. After that, Arika stops working because she can't fit into the timeline thanks to Eva. Sometime after the war, Eva hooks up with Ala Rubra and hangs out with them long enough to become a trusted companion of theirs. Jack inherits her Magia Erebia scroll. Takamichi mentions training with her as a fellow student. While we don't know for sure how long Eva was with Ala Rubra, it is implied to have been a long time.
Not only that, but Eva travels the globe with Nagi for a time until one day, he gets sick of it, curses her, and sends her packing to Mahora. Yet in all that time, no one in Ala Rubra ever spoke of Arika. Arika never showed up with them while Eva was there. And Nagi never mentioned Arika to Eva when Eva was following him around.
If Akamatsu-sensei even attempts to tackle the Arika issue, I will be stunned beyond belief.
Final Thoughts and Conclusion
Sorry my review is so late. After the insane work week and dealing with getting a replacement motherboard for my PC, I took Saturday and most of Sunday off to sleep and stuff my gourd. *_* So I now need to get my review of UQ Holder chapter 140 wrapped up.
I didn't comment much on the fight 'cause there wasn't much to discuss. We got to see the cameos of Negi's battle harem and allies do their thing and that was it.
I will say that Negi punching out Nagi's heart was pretty gory.
With the Negima flashback over to rapidly tie up the story there, I guess our UQ Holder cast will take center stage once again.
MotB's current "true" form looks like something out of Neon Genesis Evangelion. 😆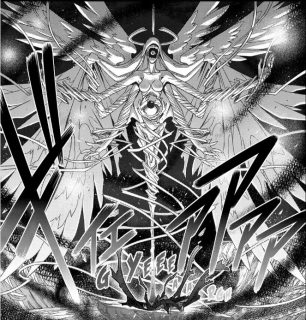 In the end, UQ Holder chapter 140 rapidly wraps up the Negima story and drops a couple new dangling threads. At the same time, it provides a blueprint for how Touta and company will defeat Negi-MotB.